Our Rehearsal Dinner at POP Champagne & Dessert Bar
Dec 10th, 2010 | By
Lindsay
| Category:
My Movie-Themed Wedding
,
This and That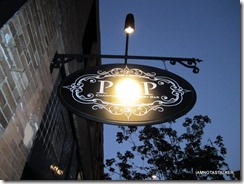 As I've mentioned many times before on this blog, POP Champagne & Dessert Bar in Old Town Pasadena is my very favorite restaurant and, even though I wasn't even engaged at the time, when I first walked through its front doors over a year and a half ago, I immediately knew it was the place where I wanted to hold the rehearsal dinner for my wedding.  The only problem was that the Grim Cheaper and I had long been planning on getting married in Malibu and having a rehearsal dinner at a restaurant located over fifty miles away from the wedding venue wasn't exactly the most viable of options.  After the GC finally proposed, though, and we sat down to begin our wedding planning, my mom suggested that we hold the actual wedding rehearsal in the backyard of my parent's Pasadena home, which is located just about two miles from POP, and an idea was born – our nuptials would be a two-city celebration!  Much to the GC's chagrin, I had long before decided that all of our wedding guests would be invited to our rehearsal dinner.  Because weddings seem to go by in such a blur and because the vast majority of our guests were from out of town, I did not want the time spent with our closest loved ones to be limited to one short evening.  I was a little worried, though, that our family and friends might be upset over the fact that each night's festivities would be held in a different city, which would entail everyone having to rent a car AND moving hotel rooms from one night to the other.  As it turned out, though, people absolutely LOVED the idea!  Because most of our family and friends were not from the area, many of them told me afterwards that they loved getting to experience two very different parts of Southern California over the course of our wedding weekend.  YAY!
Holding the rehearsal in my parents' backyard actually turned out to be very memorable for my family, because just two weeks after the wedding my mom and dad put their beloved house up for sale  – the same house they had lived in for the better part of a decade.  So, it was nice to make one last and very significant memory there before we had to say good-bye.  And yes, as you can see in the above photographs, during the rehearsal I did wear the Carrie Bradshaw veil that my best friend, Kylee, made for my Sex and the City-themed bachelorette party.
Because fifty people would be attending, I did not want our rehearsal dinner to be a formal, sit-down event.  I wanted our friends and family to be able to mingle and get to know each other and a formal sit-down dinner would not have been very conducive to that.  So, we asked Kristin and Matt, the owners of POP Champagne Bar, if they could create a cocktail party-type atmosphere for us and they ended up pulling it off beautifully!  In fact, they couldn't have facilitated it better had I given them a roadmap!  They wound up giving us the entire front portion of the restaurant and had several different groupings of tables and chairs set up for people if they wanted to sit down, while servers walked around with tray-passed food.  There was also a buffet table set up with wine and champagne and a sampling of the food so that guests could also help themselves.  The evening turned out perfect!  Not only did the GC and I get to walk around and talk to all of our closest friends, but most of our guests also spent the evening mingling and speaking with different groups of people, so, by the time the wedding rolled around, everyone had really gotten know each other, which was so incredibly cool!  And while I realize that it is a (large) added expense, if you can swing it, I honestly cannot more highly recommend inviting all of your guests to the rehearsal dinner.  Doing so made our special day that much more memorable.
Not to mention the food was ABSOLUTELY INCREDIBLE – and almost unbelievably reasonably priced.  There are several different special events menu choices available at POP and we chose the most expensive one, which was only $12 per person!  Included in that price were seven different menu items of our choosing.  We ended up picking the deviled eggs with chive truffle, bacon onion, and blue cheese flavoring (my favorite), POPcorn chicken (pictured above to the right), chorizo and Anaheim chili meatballs, sliders with three different toppings including bacon-gorgonzola mayonnaise, Pasilla chili-chorizo, and goat cheese & date (the GC's favorite), the flatbread pizza du jour, wild mushroom and goat cheese bruschetta, and olive, mushroom, and sun-dried tomato flavored tapenade crostini (pictured above to the left).  And there was no shortage of food!  Amazingly enough, after two and a half hours of being there, Matt informed us that we hadn't even eaten fifty percent of the food we had paid for!  LOL  For dessert we picked the three-item menu at $6 per person which included chocolate-covered strawberries, a trio of homemade cookies, and the house-made churros served with three different dipping sauces – spiced warm chocolate, Dulce de leche, and creamy strawberry.  Because the bottles of wine and champagne offered at POP are all on the pricier side, Matt offered to special order some lower-priced options for our rehearsal dinner.  We told him the amount we wanted to spend per bottle and gave him free reign to choose the brands he thought best and he ended up picking out some spectacular options for us.  So not only was the party absolutely fabulous – all of our guests were raving about both the atmosphere and the food – but it was also completely affordable!  And while not yet a filming location (although it was almost chosen to be in the soon-to-be released No Strings Attached movie, which would have been just about the coolest thing ever!), POP has become something of a celebrity hangout as of late. Such stars as Mila Kunis, Denzel Washington, Marc Curry, and The Bachelor's Jason Mesnick and Molly Malaney have all been spotted there and '80s pop star Tiffany even threw herself a birthday party at the restaurant! Love it!
Until next time, Happy Stalking! 

Stalk It: POP Champagne & Dessert Bar is located at 33 East Union Street in Old Town Pasadena.  You can visit the restaurant's official website here.
26679