Watching the Filming of "True Blood"
Jan 17th, 2011 | By
Lindsay
| Category:
TV Locations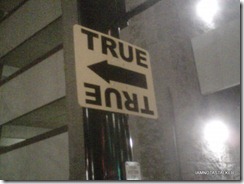 Last Wednesday evening I got a text from the owner of POP Champagne & Dessert Bar – my very favorite restaurant and the spot where the Grim Cheaper and I held the rehearsal dinner for our wedding last August – alerting me to the fact that the hit HBO television series True Blood would be filming at his eatery the following evening beginning at 9 p.m.  He invited me to come down to watch and even though I've never seen even one episode of the vampire series, I was beyond excited!  I immediately called up Mike, from MovieShotsLA, and asked him to join me as True Blood is his very favorite show.  So, the next night at around 8 p.m. the two of us headed out to POP and were floored to see those ubiquitous yellow filming signs that I so love on the streets surrounding the restaurant.
True Blood was actually first being shot inside of The Old Towne Pub, a bar that is located right next door to POP, and when filming wrapped there, the production was then set to move outside, to POP's back entrance, which, oddly enough, was standing in for the front entrance to The Old Towne Pub.  Confused?  I was.  For whatever reason though, even though the two doors look very similar (POP's back entrance is pictured above left and The Old Towne Pub's entrance is pictured above right), producers had decided that POP's back door suited their filming needs better than The Old Towne Pub's actual entrance.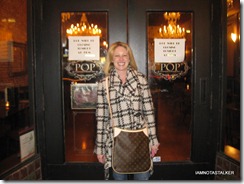 And even though only POP's back door and the alleyway directly outside of it would be appearing in the episode and none of the restaurant's actual interiors would be seen, the eatery was required to close its doors during the shoot.  So, I ,of course, just had to take a picture standing in front of the sign announcing that POP would be closing early that evening.  Love it!
According to one of the crew members that we spoke with, the Old Towne Pub and POP Champagne Bar were being used for a flashback scene that was taking place in a punk bar in 1980's London.  The courtyard outside of the two bars and the alleyway were dressed to look like 1980's London for the shoot and there were several British cars parked there, which was very cool to see. 
The sides of the alley were also packed to the brim with all sorts of filming equipment and props.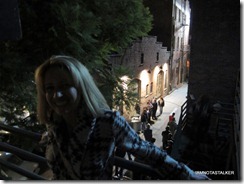 According to one of the security guards that we spoke with, actors Stephen Moyer, who plays Bill Compton on the series, and Ryan Kwanten, who plays Sookie Stackhouse's brother Jason, were in attendance that evening (at least I think that is what he said, but again I have never seen the show, so I cannot be positive of who was actually there).  Sadly though, we did not spot either of them.  We first watched the filming from a distance in the courtyard area behind the two bars, but we unfortunately could not see very much from there at all.  Then the owner of The Old Towne Pub, who had been standing with us, informed us that we should venture upstairs to the courtyard's outdoor patio where we would have a much better vantage point.  Well, wouldn't you know it, just as we made our way up to the second story patio, both Stephen and Ryan were wrapped for the night and walked off of the set.  Apparently they took photographs with several fans who were also watching the filming on their way out, too, so Mike and I majorly lost out!!!  While we were on the patio, we did get to watch a scene being filmed with some of the episode's guest stars, though, which I was floored about.  Even though I do not watch the show, as you all know I LOVE to watch filming of any sort, so I was in absolute heaven.  And the crew truly (pun intended!) could NOT have been nicer, either.  The first crew member that we spoke with upon arriving at POP was actually a real a-hole and I was fearful that they all might be unfriendly towards us.  But, as it turned out, I really needn't have worried as the rest of the crew was INCREDIBLY friendly and answered all of our questions about the filming and allowed us to take as many pictures as we wanted.  YAY!  One of them even came up to me to chat about the jacket I was wearing as he had just bought the exact same jacket for his girlfriend for Christmas.  LOVE IT! 
The following evening, I dragged the GC out to stalk the The Old Towne Pub so that I could snap some picture of the restaurant's interior where filming had taken place.  Our original plan was to grab a bite to eat there, but unfortunately the restaurant does not serve food and the two of us were absolutely starving, so we did not end up staying.  The server on duty was super nice, though, and let us take all of the photographs of the place that we wanted even though we were not actually eating there.  I definitely plan on re-stalking this location after the True Blood episode airs and doing a more in-depth post on it as an episode of the HBO series Hung was filmed there as was the 2000 movie Bedazzled.
True Blood Filming in Pasadena–1-12-2011
Mike took the above video on his iPhone of the two guest stars rehearsing the scene that we watched being filmed.  He also took all of the photographs which appear in this post, so, a big THANK YOU goes out to him for allowing me to share them all on my site.  THANK YOU, Mike, from MovieShotsLA! 

Until next time, Happy Stalking!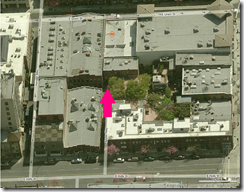 Stalk It: POP Champagne and Dessert Bar is located at 33 East Union Street in Old Town Pasadena.  You can visit the restaurant's official website here.  True Blood was filmed at POP's back entrance on Aayes Alley, which is denoted with the pink arrow in the above aerial view and which can be reached from East Holly Street.  The episode was also filmed inside of The Old Towne Pub, which is located at 66 North Fair Oaks Avenue, directly behind the Container Store, in Old Town Pasadena.  You can visit that restaurant's official website here.
28075