Paramount Studios – The Fifth Time Around
Feb 24th, 2011 | By
Lindsay
| Category:
Glee Filming Locations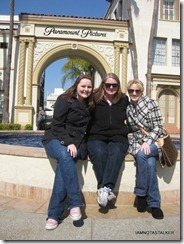 This past Tuesday, my good friend and fellow stalker Kerry and her daughter Jen and I embarked on a tour of Paramount Studios in Hollywood.  While it was Kerry and Jen's very first time visiting the historic lot, it was actually my fifth – I had previously been on three paid tours and one wedding venue tour.  Yes, yes, I know – I just can't seem to get enough of the place!  Sadly though, this tour was easily my least favorite of the bunch and if it had been my first visit to the lot, I doubt I would have ever returned.  Our tour guide was painfully, painfully slow and quite boring to listen to and she, sadly, made the tour boring, which is quite a feat being that the lot is so extremely fascinating and has such a vast filming history.  Worst of all, while she spent the majority of our tour showing us the exterior of various soundstages and telling us what had been filmed inside of them over the years, we only got to spend about ten minutes in the New York backlot area (my favorite part of the lot) and were only shown the perimeter of it.  But we still managed to have fun and, even though I feel like I know the lot like the back of my hand now and could probably host my own tours of the place

, I still learned a few new things that I thought I'd share with my fellow stalkers.
When arriving on the lot for a Paramount Studios tour, groups are always first led to the Studio Store to purchase their tickets. 
I was EXTREMELY excited about stalking the Store, which also doubles as a Coffee Bean & Tea Leaf, because I had recognized it pop up as the Lima Bean Café in a few recent episodes of Glee!  (I love that producers dubbed their faux café Lima Bean, by the way, being that the show is set in Lima, Ohio!  LOL LOL LOL)
The Studio Store first appeared in the Season 2 episode of Glee titled "The Sue Sylvester Shuffle", in the scene in which Blaine Anderson (aka Darren Criss – who I just found out graduated from the very same high school I did!!!!), Kurt Hummel (aka Chris Colfer), Rachel Berry (aka Lea Michele), and Mercedes Jones (aka Amber Riley) discuss the recent problems with the McKinley High football team.
The store also appeared multiple times in the Season 2 Valentine's Day-themed episode of Glee titled "Silly Love Songs", as the regular hangout of Kurt and Blaine.
And it was featured twice in this week's episode of the show which was titled "Blame It on the Alcohol".  It was first used as the spot where Blaine and Kurt discuss the fact that Blaine might actually have a crush on Rachel. 
And it next appeared in the scene in which Rachel kisses Blaine to see if the two have any chemistry.
After purchasing our tickets, our tour guide spent over 25 minutes (not kidding!) hosting a getting-to-know-you session, which seemed just slightly excessive being that the entire tour is only scheduled to last two hours. 

  Because that ate up such a significant portion of our time, the rest of the tour was quite harried and rushed and we did not get to see a whole lot.  We were first driven by the site of the studio's former film vaults, which, as you can see in the above photographs, have sadly just recently been demolished.
You can see what the vaults used to look like in the above photographs.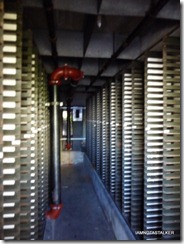 My dad was quite obsessed with the vaults when we took our wedding venue tour of Paramount back in July of 2009 and he managed to snap the above picture of the inside of one.  Even though the vaults had not been used in years, due to the fact that because they lacked air conditioning films were apt to melt while inside, it is incredibly sad to me that they are no longer standing.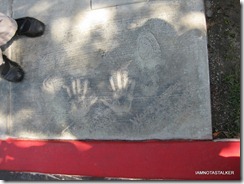 We were then taken to the Lucy Park area, where we were shown a  cement block that Woody Harrelson and Ted Danson had christened with their hand and footprints – a la the famous hand and footprint forecourt outside of Grauman's Chinese Theatre in Hollywood – in 1989 while they were filming Cheers.  And while Ted Danson just signed his name on the block, Woody's inscription reads, "Woody Harrelson was here (naked)".  Apparently Ted had dared Woody to run around the lot naked one day and while he was doing so, the two happened upon a block of wet cement and decided to make their mark on it.  LOL 
Lucy Park is also the site of the famous tree where Grey Brady (aka Barry Williams) smoked his first cigarette in the Season 2 episode of fave show The Brady Bunch titled "Where There's Smoke".  So I, of course, just had to get my pic taken in front of the tree. 

Our tour guide informed us that the very same tree and surrounding area were also used in the Season 2 episode of The Brady Bunch titled "A Fistful of Reasons", in the scene in which Buddy Hinton (aka Russell Schulman) teases Cindy Brady (aka Susan Olsen) about her lisp.
The tree was also where Peter Brady (aka Christopher Knight) beat up Buddy later in that same episode, knocking out his tooth and causing him to then lisp.  Ah, if only things worked out in the real world as they did in Brady world!
Lucy Park also appeared in the Season 1 episode of Community titled "The Science of Illusion", in which Shirley Bennett (aka Yvette Nicole Brown) and Annie Edison (aka Alison Brie) chase Jeff Winger (aka Joel McHale) after catching him with frog-sized mariachi band costumes (yeah, I don't really get it either

).
Lucy Park was also used regularly as Jefferson High School on the television series Happy Days, although that area looks quite a bit different today than it did back in the 1970's when the series was filmed.
You can see Greg's tree from The Brady Bunch in the screen captures pictured above, though. 
Next, we headed over to the exteriors of Stage 27 and 30, where the hit series Community is filmed.  The interior and exterior of both soundstages are used in the filming of the show.  As you can see above, the exterior of Stage 30 is used as the Greendale Community College Library (the sign of which is missing the letter "Y" – love it!);
while the exterior of Stage 27 stands in for the campus' Borchert Hall.
We were then taken inside of the two soundstages to tour a few of the sets used in Community and, even though I have never seen an episode of the show, the sets were extremely cool to see.  Unfortunately, we were not allowed to take any photographs while inside, but we were shown the Greendale Community College Library;
the Dean's Office;
and the cafeteria/game room – which was quite possibly one of the biggest sets that I have ever seen in my entire life!
By this time we were already an hour and forty minutes into the tour and only had twenty minutes left.  So we spent a brief ten minutes driving around the New York Street backlot area.  While there, we were shown the practical set pictured above, which has appeared in several productions, including Spiderman 3 which I blogged about in one of my previous Paramount Studios posts. 
On this tour I found out that the same spot was also the café where Indiana Jones (aka Harrison Ford) and Mutt Williams (aka Shia LaBeouf) met for the first time in Indiana Jones and the Kingdom of the Crystal Skull.
I also finally got to stalk the stoop where Naomi Clark (aka AnnaLynne McCord) and Liam Court (aka Matt Lanter –sigh!) sat during their Junior Prom in the Season 1 episode of 90210 titled "Zero Tolerance".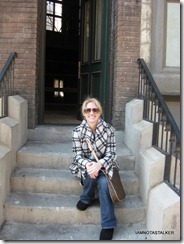 The last time I embarked on the tour, I snapped a photo while sitting on what I thought was Liam and Naomi's stoop, but as it turns out I was sitting a few stoops too far to the right.  So, this time I made sure to get a pic in the right spot, which I could NOT have been more excited about! 

  For those who would also like to take a picture where Liam and Naomi sat, their stoop is located on the Lower East Side portion of New York Street and is the stoop located closest to Washington Square.
After that, we drove by Stage 15 where NCIS: Los Angeles is filmed and I was able to get some great shots of the façade used as the exterior of the NCIS headquarters.
The last stop on our tour was the Paramount Theatre, the inside of which, our guide informed us, was used as Jeff's former law office in the Season 2 episode of Community titled "Accounting for Lawyers. 
And while we did not get to view the inside of the theatre on this particular tour, I snapped the above photographs on one of my previous tours.
The interior of the theatre was also used as an opera house in the Season 7 episode of Frasier titled "Out With Dad", although it was heavily decorated in that episode and is largely unrecognizable.
The exterior of the theatre was also used as Brooks Memorial Hospital, where Pierce Hawthorne (aka Chevy Chase) was admitted, in the Season 2 episode of Community titled "Intermediate Documentary Filmmaking".
Until next time, Happy Stalking! 

Stalk It: Paramount Studios is located at 5555 Melrose Avenue in Hollywood.  Tours are given daily, Monday through Friday, at 10 a.m., 11 a.m., 1 p.m., and 2 p.m. and cost $40 per person.  Reservations can be made by calling (323)956-1777.  Parking for the tour costs $7 per car and the tour lot is located on Bronson Avenue, directly across the street from the studio's main entrance.  I recommend booking your tour at least a week in advance, as they tend to sell out quickly.  You can find out more information about the Paramount Studios Tour here.
29755