Pappa Don's Delicatessen from "Modern Family"
May 24th, 2011 | By
Lindsay
| Category:
TV Locations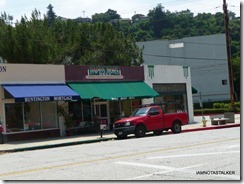 I must apologize in advance for the length of today's post.  I spent most of my day yesterday at the Walk of Fame star ceremony for American Idol creator Simon Fuller – an event which I will be writing about later this week – and therefore did not have time to write a very lengthy blog post for today, so I am sorry.  Anyway, a couple of weeks ago a fellow stalker named Cait wrote a comment on my blog post about Carmine's II Restaurant from the "Boy's Night" episode of Modern Family alerting me to the fact that the series had filmed its Season 1 episode titled "Fifteen Percent" at Pappa Don's Delicatessen in South Pasadena.  In her comment, Cait said she "you probably already know this (you know everything!) . . .", but I have to admit that not only did I NOT know that information, until reading Cait's comment I had never even heard of Pappa Don's!  So I immediately added the restaurant to my lengthy "To Stalk" list and finally made it out there to stalk the place this past Thursday afternoon.  Yay!
Pappa Don's Delicatessen was originally founded by the eponymous "Pappa Don" in the early 1960s.  Sometime during the 80s Pappa sold the restaurant to a chef named Harry – a man whom many diners came to refer to as the "Soup Nazi" due to his reportedly gruff exterior.  Harry apparently had no tolerance whatsoever for patrons who added what he felt were inappropriate additions to his sandwich creations.  LOL  Sadly, Harry passed away unexpectedly in August of 2007 at the tender age of 58 and Pappa's was forced to shutter its doors for a time.  On February 28th, 2008, the deli re-opened, this time under new owners who thankfully made very few changes to the restaurant or its menu.  Pappa Don's Delicatessen is a VERY cool little spot that serves up some fabulous sandwiches at EXTREMELY low prices.  Because I am diabetic and usually try to avoid carbs altogether, I was unfortunately not able to sample any of the deli's grub, but I purchased one of their "Anchor" sandwiches – which consisted of tuna salad on sourdough with Swiss cheese, tomatoes, cucumber, alfalfa sprouts, and mayo, all for only $4.95 – to take home to the Grim Cheaper and he absolutely devoured the thing.  Said it was one of the best tuna salad sandwiches he had ever eaten.
In the "Fifteen Percent" episode of Modern Family, Cameron Tucker (aka Eric Stonestreet) runs into his father-in-law, Jay Pritchett (aka Ed O'Neill), who is hanging out with his group of friends in front of Pappa Don's.  While there Jay ends up introducing Cameron not as his son-in-law, but as "a friend of my son's".
When Cameron tells his husband Mitchell Pritchett (aka Jesse Tyler Ferguson) how he was introduced, Mitchell marches right on over to the deli to confront his father.  While there, he ends up meeting Jay's friend, Shorty (aka Chazz Palminteri), whom he is convinced is gay.
The deli showed up once again at the very end of the episode in the scene in which Shorty, who has spent most of the episode adamantly denying that he is gay, gifts Jay with two tickets to see "the great Michael Buble", who "sings like an angel".  Ah, Shorty, I couldn't agree with you more on that count!  And he's not bad to look at, either. 

Susanne, the SUPER-nice owner of Pappa Don's, also informed me that the deli had been featured in the pilot episode of the new Fox television series Traffic Light, in the scene in which Mike (aka The Office's David Denman), Adam (aka Nelson Franklin), and Ethan (aka Love Actually's Kris Marshall) discuss the fact that Ethan can get away with saying anything, no matter how obnoxious, thanks to the fact that he has a British accent.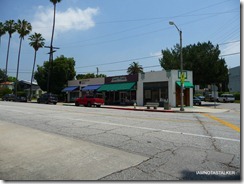 Big THANK YOU to fellow stalker Cait for telling me about this location! 

Until next time, Happy Stalking! 

Stalk It: Pappa Don's Delicatessen, from the "Fifteen Percent" episode of Modern Family, is located at 303 Pasadena Avenue in South Pasadena.  You can visit the restaurant's official website here.  Pappa Don's is open Monday through Saturday, from 11 a.m. to 3:30 p.m., and the place only accepts cash, so make sure to visit an ATM before you stop by.
34174