The "Doppelganger" Mansion
Oct 7th, 2011 | By
Lindsay
| Category:
Haunted Hollywood
,
Movie Locations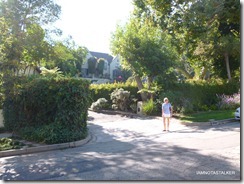 Another location from the 1993 thriller Doppelganger that I dragged the Grim Cheaper out to stalk this past weekend was the mansion where Holly Gooding (aka Drew Barrymore) grew up in the flick.  I found this locale, once again, thanks to Tony, my friend and fellow stalker who has the amazing Flickr photostream which I mentioned yesterday.  Incredibly enough, Tony has somehow managed to track down almost every single location featured in Doppelganger and he was kind enough to share them all with me so that I could blog about them during my Haunted Hollywood month – well, every location that is except for the supposed-Arcadia-area Our Lady of Mercy Psychiatric Institute which I have now become just a wee bit obsessed with finding.  But I digress.  Anyway, last weekend, after stopping by the apartment building featured in the movie, the GC and I headed a short two miles north to Los Feliz to do some stalking of the mansion.
The Doppelganger mansion is featured twice in the flick.  It first pops up in the scene in which Holly and her new roommate, struggling mystery writer Patrick Highsmith (aka George Newbern), meet with Holly's family lawyer, Mike Wallace (aka George Maharis), in order to get the keys to her former home which has been locked up and sealed since her father's murder four years prior.  While there, Patrick says that the abode is "right out of a Bette Davis movie" – a line which I, of course, loved. 

The large, English-country-style abode later pops up in the movie's climactic, rather odd, and definitely spooky final scene in which Holly returns to her childhood home in the middle of the night to confront her evil doppelganger and finally end the nightmare in which she has been living.
Patrick, of course, follows Holly and, carrying a baseball bat, climbs up the side of the house and through a second story window in the hopes that he can save her.
I believe that the interior of the mansion that was shown in the movie was just a set and not the home's real life interior.
According to fave website Zillow, the Doppelganger mansion, which was originally built in 1923, boasts 5 bedrooms, 2 baths, and 3,500 square feet of living space, although I would have guessed it to be much, much larger.  And amazingly, the property still looks almost exactly the same today as it did 18 years ago when Doppelganger was filmed.  Even the three large circular trees which flank the home's front door and front window still look exactly the same.   Love it!
Big THANK YOU to fellow stalker Tony for finding this location!   You can check out Tony's FANTASTIC Flickr photostream, which features countless filming locations, here.
Until next time, Happy Stalking! 

Stalk It: The Doppelganger mansion is located at 2421 Glendower Avenue in the Los Feliz section of Los Angeles.  Donna Martin's house from the B.Y.O.B. episode of Beverly Hills, 90210 is located just two doors south of the Doppelganger mansion at 2405 Glendower Avenue.  And the so-called "Los Feliz Murder House", which I blogged about back in January, is located just around the corner at 2475 Glendower Place.
40200