Dolly Green's House from "Eye for an Eye"
Nov 10th, 2011 | By
Lindsay
| Category:
Movie Locations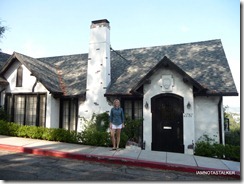 Taking a break today from my many Gossip Girl posts, I thought I would write about a residence that I stalked with fellow stalker Chas, from the It'sFilmedThere website, way back in mid-July.  While he was in town for a little Southern California stalking vacay, the two of us, along with his super-sweet mother, Cynthia, headed out to the Los Feliz area to visit the tiny Tudor-style bungalow where Dolly Green (aka Beverly D'Angelo, who will always be "Ellen Griswold" to me) and her husband, Peter (aka Darrell Larson), lived in the 1996 revenge thriller Eye for an Eye.  Chas had somehow managed to track down the property – despite only a small portion of it ever being shown – as well as all of the other locations featured in the movie, a little over a year ago.  And while I actually could not even remember what Dolly Green's abode looked like before we arrived there, let me tell you, I absolutely fell in love with the place on site!
Dolly Green's little fairy-tale-like dwelling, which was built over the side of a cascading cliff on the winding Glendower Avenue high up in the hills of Los Feliz, is absolutely ADORABLE in person.  The abode is so quaint and charming that it looks as if it jumped right out of a Disney cartoon.  I half expected the Seven Dwarfs to come walking out the front door, marching along to "Whistle While You Work", while we were there.
Although calling the home "little" is a bit misleading.  While it does appear to be small from the street, the residence is actually quite large.  According to fave website Zillow, the dwelling, which was originally built in 1926, boasts 3 bedrooms, 3 baths, and measures 2,972 square feet.  As you can see above, though, most of that square footage is located on the back side of the hill, below street level and out of view.
And speaking of views, the home boasts some incredible ones!  We happened to stalk the residence on a smog-free day and were able to see all the way to Downtown Los Angeles!  Amazing!
Dolly Green's residence only appears in one brief scene in Eye for an Eye, in which Karen McCann (aka Sally Field) and her husband, Mack (aka Ed Harris), spend the night at their friends' house immediately following the murder of their teenage daughter, Julie (aka Olivia Burnette).  Now that I have seen the property in person, I am shocked that only a small portion of it was shown in the movie.  I mean, talk about curb appeal!  This place has got it in spades!  Why more of it was not featured is beyond me.  But then again, I am not a filmmaker, so what do I know? 

Sadly, I was not able to find any photographs of the actual interior of the residence, so I am not able to say whether or not it was used in Eye for an Eye, but I would guess that it was.
Big THANK YOU to Chas, from the It'sFilmedThere website, for finding this location! 

You can check out Chas' extensive Eye for an Eye filming locations page here.
Until next time, Happy Stalking! 

Stalk It: Dolly Green's house from Eye for an Eye is located at 2757 Glendower Avenue in the Los Feliz section of Los Angeles.  Quite a few other filming locations can be found nearby – the Doppelganger mansion is at 2421 Glendower Avenue; Donna Martin's house from the B.Y.O.B. episode of Beverly Hills, 90210 is at 2405 Glendower Avenue; the so-called "Los Feliz Murder House" is at 2475 Glendower Place, and the legendary Ennis-Brown house, which I have yet to stalk, is at 2607 Glendower Avenue.
41047