Holden's House from "The Good Girl"
Aug 2nd, 2012 | By
Lindsay
| Category:
Jennifer Aniston Locations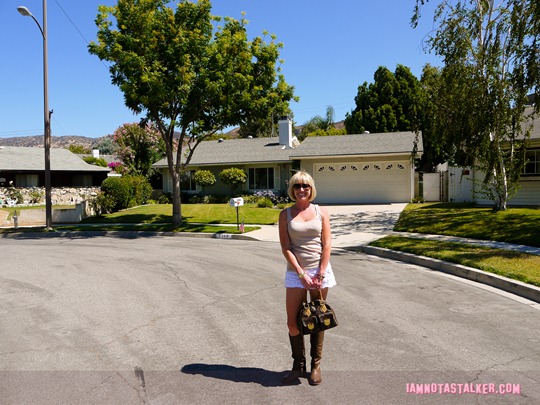 Another Simi Valley location that Mike, from MovieShotsLA, suggested I stalk this past Saturday after my and the Grim Cheaper's American Jewish University Brandeis-Barden Campus snafu (which you can read about here) was the supposed Texas-area home where Holden Worther (Jake Gyllenhaal) lived in my favorite movie of all-time, The Good Girl.  Ha, just kidding!  As I mentioned in yesterday's post about the Retail Rodeo, I actually hated the 2002 Jennifer Aniston flick.  But because the GC and I were pretty much right around the corner from Holden's house when Mike texted me its address, I figured we might as well stalk the place.
In real life, the charming one-story, Anywhere, U.S.A.-style residence was constructed in 1964 and measures two bedrooms, two baths and 1,267 square feet.  Mike, who lives in Simi Valley, actually tracked this location down way back in 2002 thanks to some local buzz that he heard while The Good Girl was being filmed.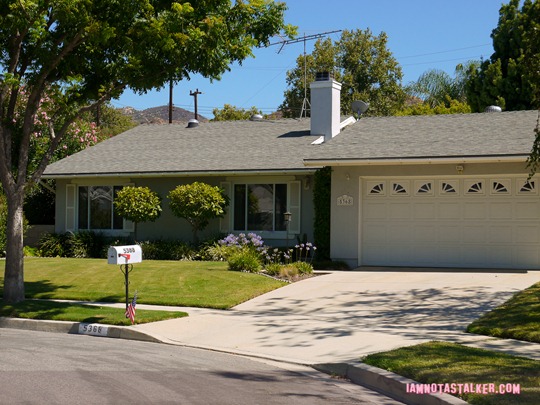 In The Good Girl, Holden lives at the house – after getting kicked out of college – with his spiritless, emotionless parents, Mr. Worther (John Doe – and yes, that is his actual stage name!) and Mrs. Worther (Roxanne Hart), neither of whom utter more than a single word during the entire movie.  As you can see below, the property looks very much the same in person as it did onscreen.  Even the number plaque next to the garage door is still exactly the same!  Yay!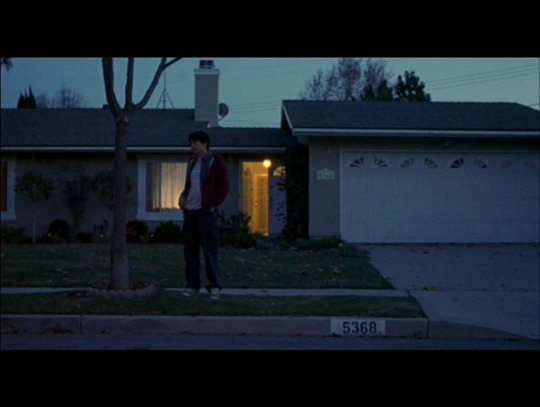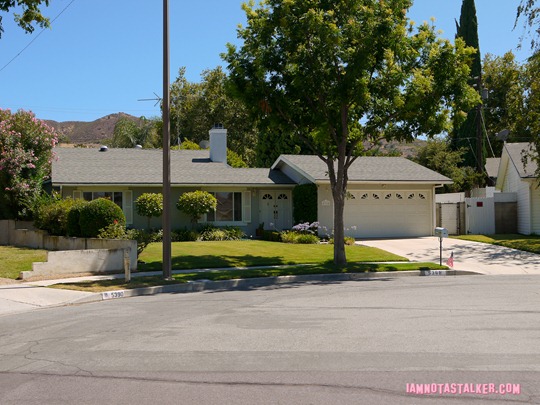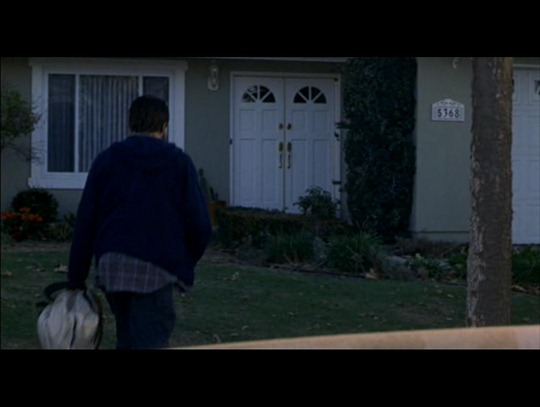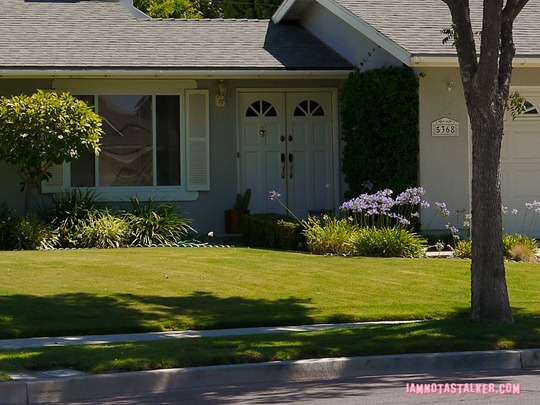 I find it pretty ironic that producers ended up choosing a home with a large mountain range visible behind it to stand in for Holden's in the flick.  As I mentioned above, The Good Girl is supposed to take place in a small Texas town and the Lone Star State isn't exactly known as being mountainous.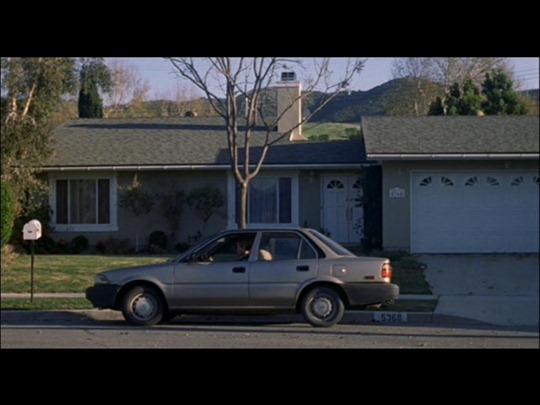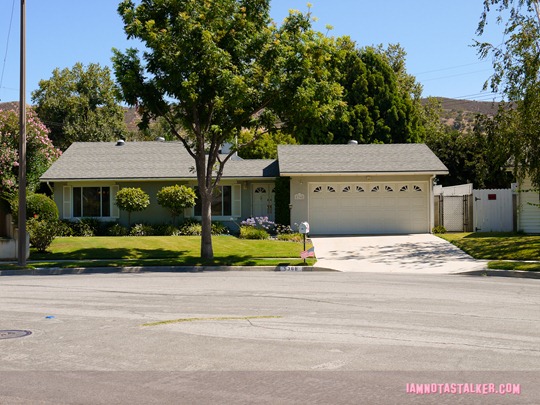 I am fairly certain that the real life interior of the house was also used in the flick, but I, unfortunately, could not find any photographs online with which to verify that hunch.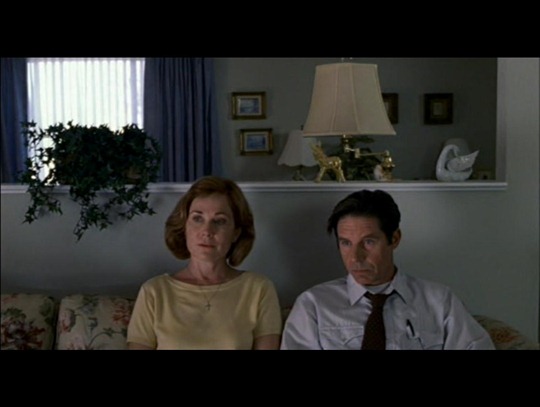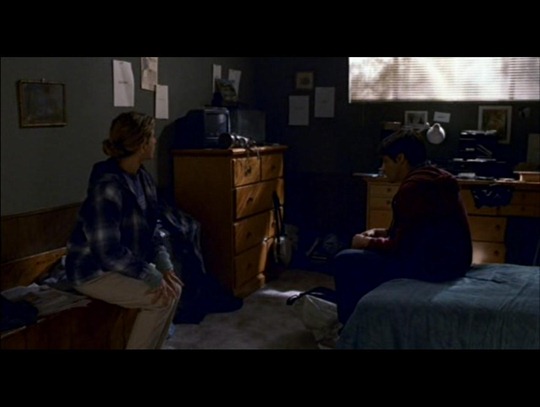 On an interesting The Good Girl side note – according to IMDB, director Miguel Arteta had Jennifer Aniston wear wrist weights prior to and during the filming in order to give her character, Justine Last, a worn-down look.  The trick worked as Justine was light years away from Rachel Green.  Her wardrobe only added to the effect, especially the drab shoes.  And while I realize that I have posted this quote before (back in October 2011 in my column about the What Ever Happened to Baby Jane? house), I absolutely love it, so I figured it bore repeating.  In the September 2009 issue of Elle Magazine, Jennifer Aniston said of her process of creating a character, "I'll never forget my high school acting teacher, Anthony Abeson, who said, 'It starts with the shoes.'  When I think about a character, it does start with the shoes: What kind would she wear?  How would she walk in them?  If I'm going to put on a dress for a role – I don't care if it's the hardest dress to put on – I have to put the shoes on first.  The physicality leads me to the character . . . Like Justine in The Good Girl: She was so disconnected from how she looked, that's what led to the discomfort of who she was."  She's right – Justine's shoes – and her flood pants – definitely made that character.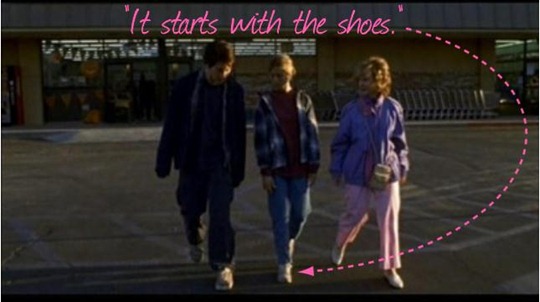 And on a Simi Valley side-note – the GC and I stumbled into Aubergine Emporium – the coolest, most unique antique store that I have ever been to in my life – while stalking in the area on Saturday.  The place is worth a visit just to check out its decor alone!  My favorite adornment was the antique ladder above the cash register, which the owners placed a sheet of glass on top of and now use as a shelf.  SO INCREDIBLY COOL AND UNIQUE!  Love, love, love it!  Aubergine was chock full of creative, whimsical touches like that and I honestly could have spent all day there, walking around gathering interior design ideas.  I cannot more highly recommend stalking the place!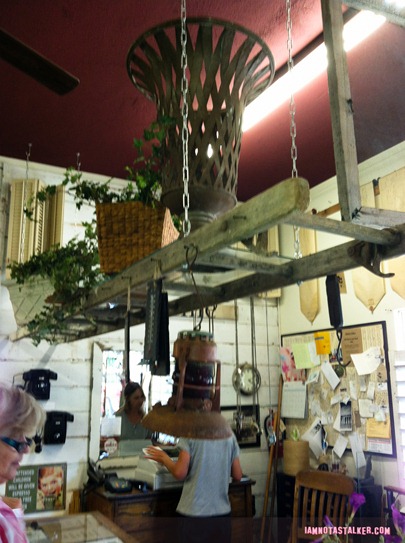 Be sure to "Like" IAMNOTASTALKER on Facebook here and "Friend" me on my personal page here.  You can also check out the IAMNOTASTALKER About Me page here and you can follow me on Twitter at @IAMNOTASTALKER.  And you can take a look at my latest post – about road trip eats – on my other blog, The Well-Heeled Diabetic, here.
Big THANK YOU to Mike, from MovieShotsLA, for finding this location!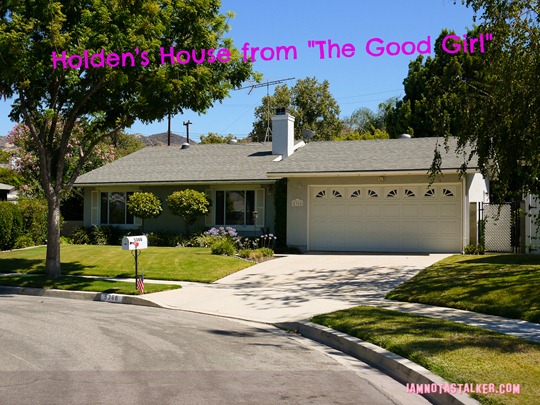 Until next time, Happy Stalking! 

Stalk It: Holden's house from The Good Girl is located at 5368 Leland Circle in Simi Valley.  While in the area, be sure to stop by Aubergine Emporium at 4385 Valley Fair Street for a little antique shopping.
56148