Rod's Grill from "Mad Men"
Nov 7th, 2012 | By
Lindsay
| Category:
TV Locations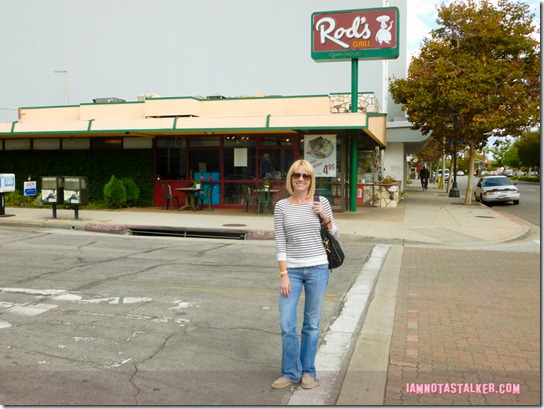 During last year's Haunted Hollywood postings, I blogged about the Mills View House in Monrovia, which was featured in both the Season 1 Halloween-themed episode of Picket Fences titled "Remembering Rosemary" and the 1986 horror flick House.  Well, as luck would have it, since that time I have been lucky enough to meet Sabin Gray and Bryan Gerber, the owners of the property who also run a really fun store in Pasadena called Friends of Dorothy.  While I was in their shop recently, Sabin happened to ask if I had ever stalked Rod's Grill in Arcadia as a Season 5 episode of Mad Men had been shot on the premises.  Well, believe you me, I absolutely freaked out upon learning this information because I had never before even heard of the place.  So I immediately added the restaurant to my To-Stalk list and dragged the Grim Cheaper right on out there just a few days later.
Rod's Grill, which was originally established in 1946, is fittingly situated right along the historic Route 66.  The current owner, Manny Romero, purchased the already-established eatery in 1996.  Amazingly, the decades-old diner was almost torn down to make way for the expansion of a Mercedes Benz dealership in 2006.  In a mind-boggling move, the government of Arcadia, claiming eminent domain, came thisclose to purchasing the site and turning it over it to the Rusnak dealership, which at the time, according to the Castle Coalition website, brought in ten percent of the city's tax revenue.  Um, I'm pretty sure that's not what our forefathers had in mind when they created the Fifth Amendment.  Thankfully though, concerned citizens stepped in and saved Rod's from the wrecking ball and the place is still going strong to this day.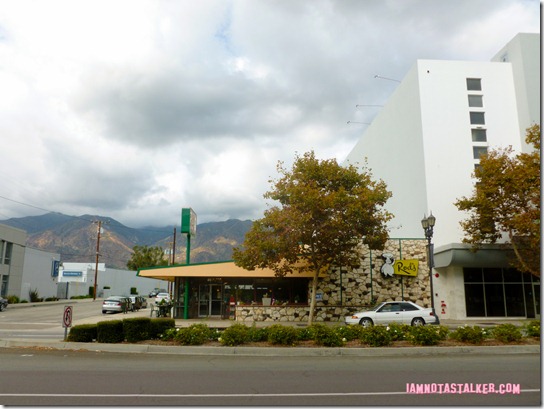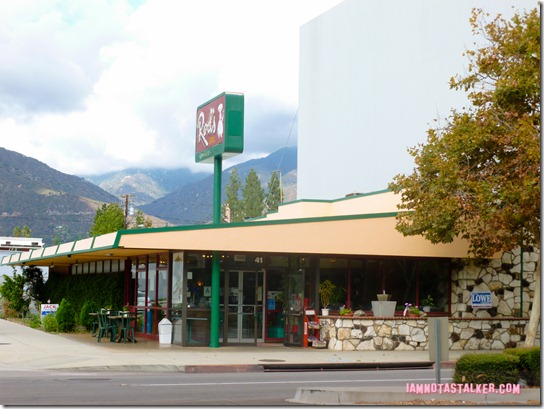 The GC and I ended up absolutely loving Rod's Grill!  We went to the eatery for breakfast and I was floored to see that both sausage links and sausage patties were offered on the menu.  Most places typically only serve links and, being a patties girl, myself, I usually get the shaft.  Not at Rod's, though.  I am very happy to report that the sausage was PHENOMENAL and the GC and I wound up taking his father there the next weekend for breakfast, and then his father ended up returning for a bite the following morning, as well.  The place is that good!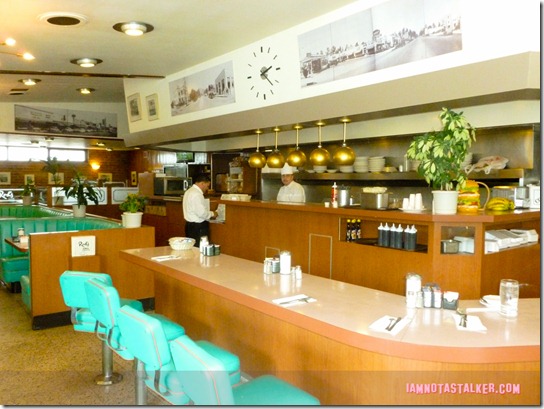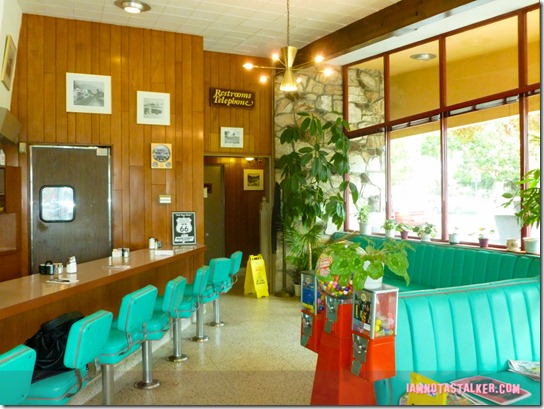 More than the food, though, the retro, untouched-since-the-'50s (in a good way) ambiance is what makes Rod's Grill so special and what keeps film crews coming back to shoot on the premises year after year.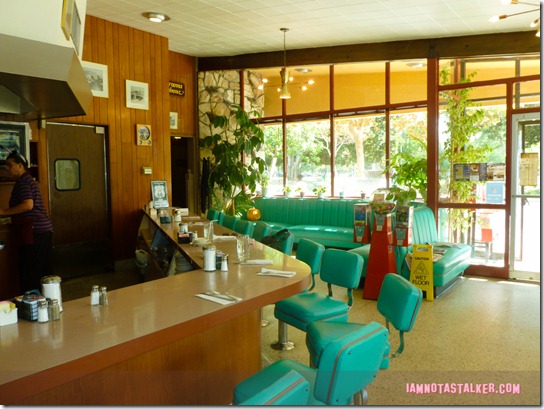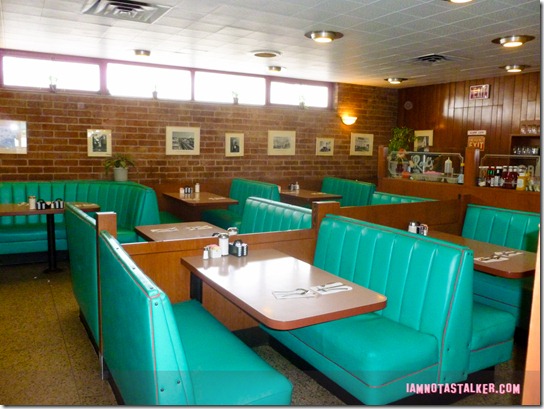 In the Season 5 episode of Mad Men titled "Far Away Places", the interior of Rod's Diner stood in for the restaurant section of a supposed Plattsburg, New York-area Howard Johnson's motor lodge.  According to the Aradia's Best website, a location manager for the series was scouting the city's Chamber of Commerce for an upcoming episode and wandered inside to ask if any other nearby locales had a 1960s look.  A city worker mentioned Rod's Diner and the rest, as they say, is history.  You can see some great pictures of the filming on Arcadia's Best here.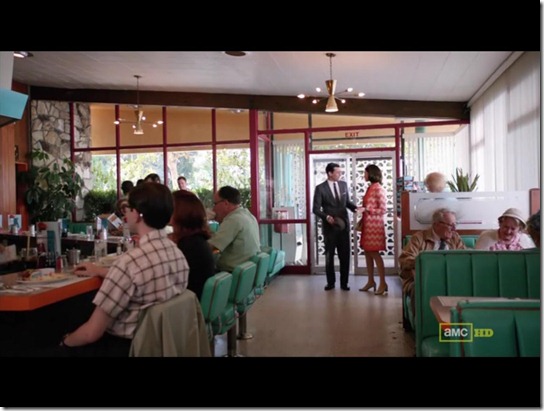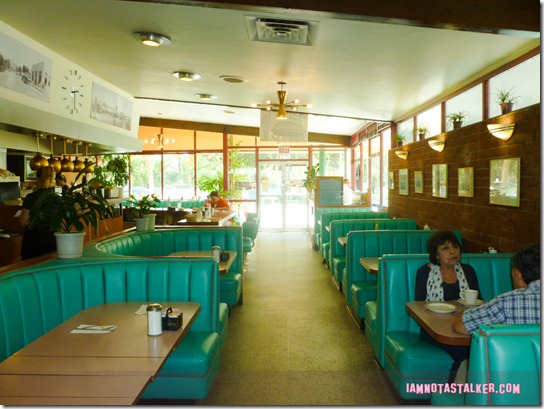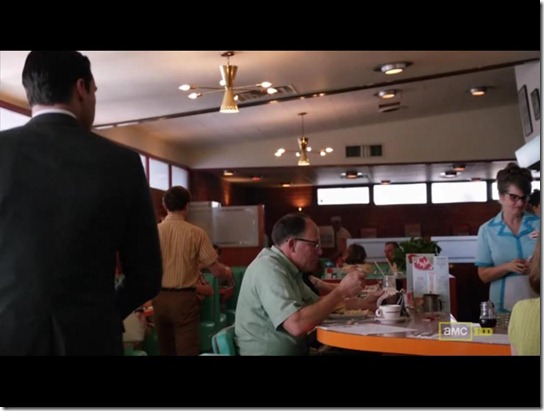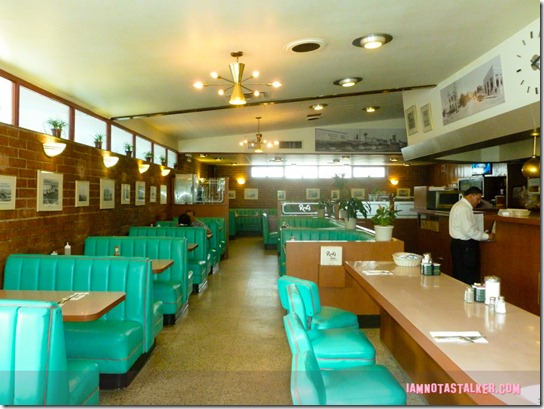 The booth where Don Draper (Jon Hamm) and Megan Draper (Jessica Pare) sat in the episode is the one located closest to the front door, next to the counter area.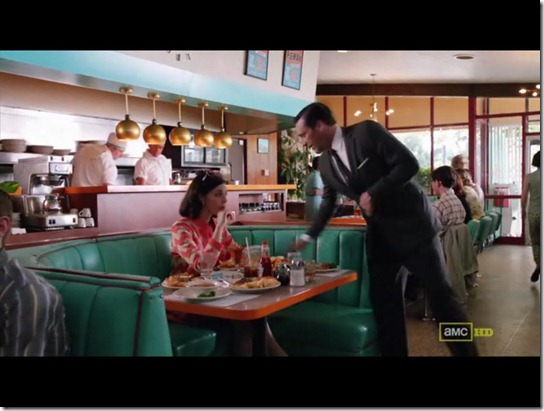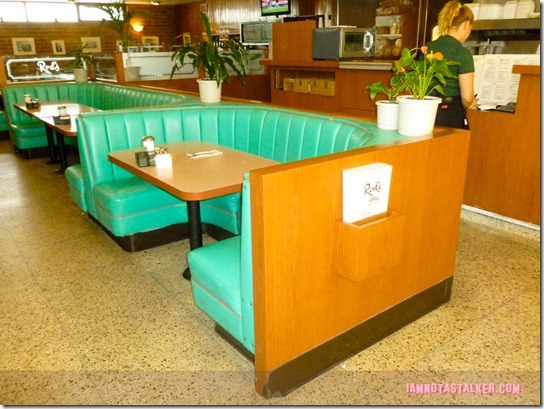 For the exterior of the hotel, a real life former Howard Johnson's motor lodge (now a Regency Inn & Suites) located at 14624 Dalewood Street in Baldwin Park was used.  You can read an article about the filming that took place there on the Zap2It website here.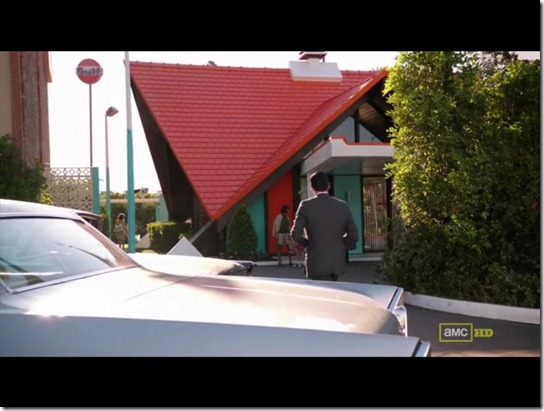 Like Jimmie's house from Pulp Fiction, which I blogged about yesterday, there seems to be quite a bit of online confusion about where the Howard Johnson's from the episode is located.  While doing research for this post, I was absolutely gobsmacked (LOVE that word!) to come across a fascinating comment thread about the location of the "Far Away Places" diner on the Hit Fix website.  You can read through it below.  I couldn't agree more with commenter Michael R, who said, "Amazing how some people can be so sure about something that's totally untrue . . . maybe think before you speak?"  A man after my own heart, I swear!  And Mr. Belvedere, who said, "Wow!  How can so many people be so sure about so many locations?  What transpired above is amazing . . . "  It truly IS amazing, Mr. Belvedere.  For the record, the diner that appeared in the "Tomorrowland" episode of Mad Men was NOT Mel's Diner on Sunset (as stated by Potzer37) nor the Pulp Fiction diner, aka the Hawthorne Grill, as stated by PF.  The "Tomorrowland" diner was actually Bob's Big Boy Broiler in Downey, which I blogged about here.  And, as I just showed, the diner that appeared in the "Far Away Places" episode was NOT the Hawthorne Grill (as stated by James, Geoff, and LJA), which, according to the Roadside Peek website, was torn down in 1999, but Rod's Grill in Arcadia.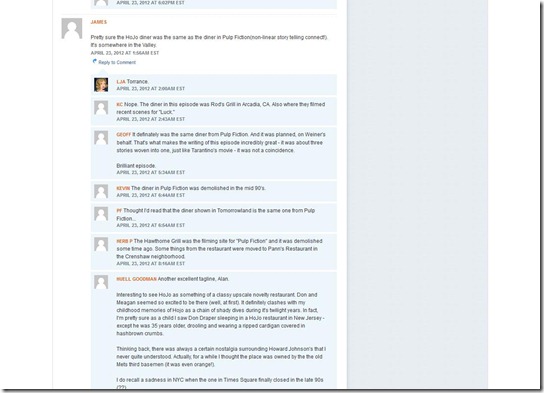 Our incredibly nice server informed us of several other productions that had also been filmed on site, including the ill-fated series Luck, on which Rod's was a regular hangout for Marcus (Kevin Dunn), Lonnie (Ian Hart), Jerry (Jason Gedrick), and Renzo (Ritchie Coster).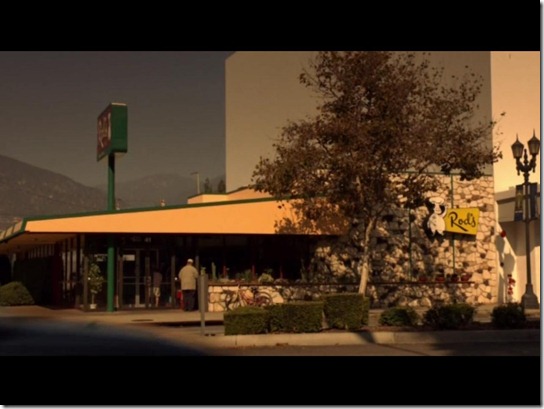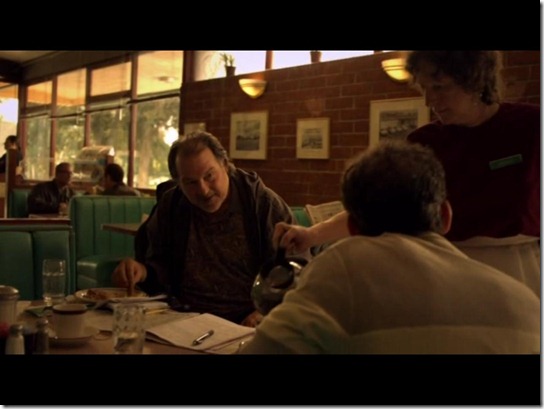 And the 1997 movie Sprung, which I, unfortunately, could not find a copy of anywhere with which to make decent screen captures for this post.  I did however spot the restaurant pop up briefly in the flick's preview on YouTube, which is where I got the caps pictured below.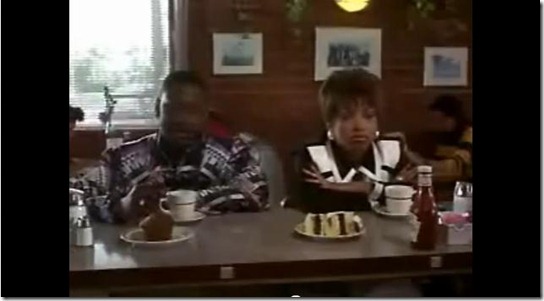 You can watch that preview by clicking below.
And while she also said that 2000's Lucky Numbers was filmed on the premises, I scanned through the flick yesterday and did not spot the diner anywhere.  According to this Arcadia Patch article, the restaurant was also used regularly on the series Judging Amy, although I am unsure of which episodes it appeared in.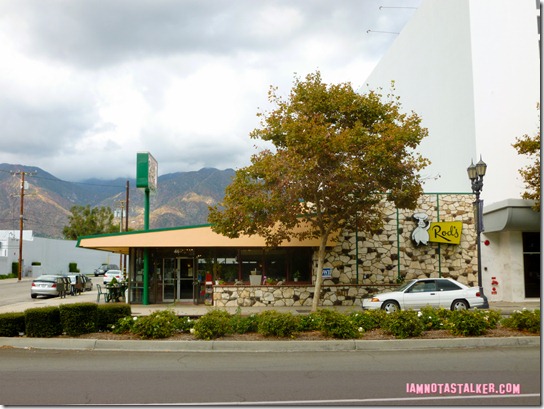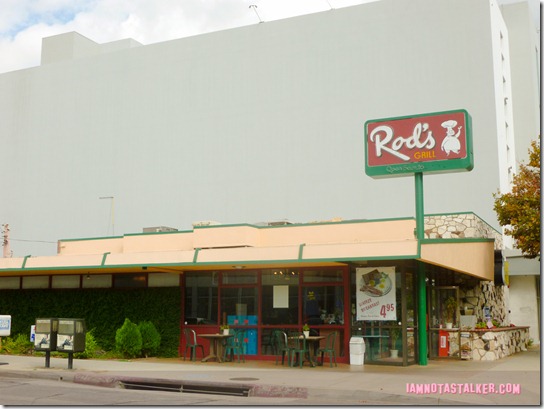 On a side-note – I would like to wish my mom a very HAPPY BIRTHDAY today!  I love you, mom, and wish we could celebrate together!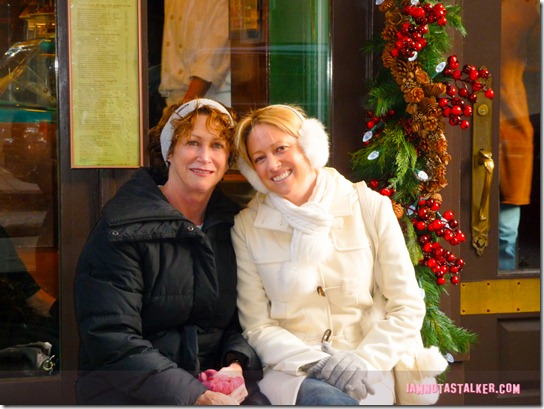 You can find me on Facebook here and on Twitter at @IAMNOTASTALKER.  And be sure to check out my other blog, The Well-Heeled Diabetic.
Big THANK YOU to Sabin and Bryan, owners of the Friends of Dorothy store, for telling me about this location!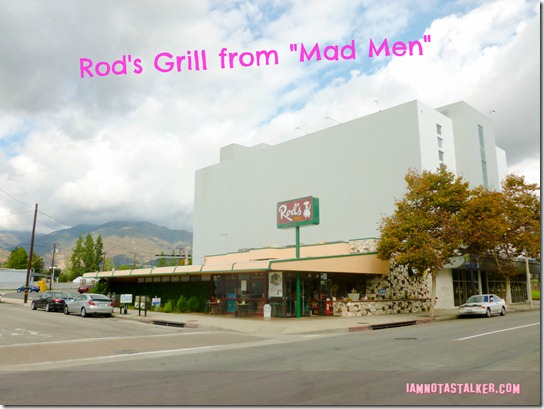 Until next time, Happy Stalking! 

Stalk It: Rod's Grill from the "Far Away Places" episode of Mad Men is located at 41 West Huntington Drive in Arcadia.
62451