The Victorian from "Mr. Mom"
Sep 10th, 2014 | By
Lindsay
| Category:
Movie Locations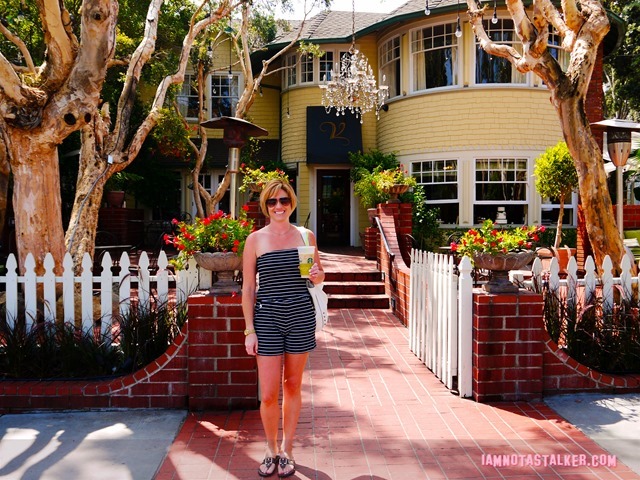 Some movie scenes just seem to stay with you, seared into your memory for years, despite the fact that you can remember little else about the storyline.  That's how it was for me and Mr. Mom.  I had not seen the comedy since 1983 when it first premiered in theatres and recalled few details from it, but the scene in which Jack (Michael Keaton) dried his baby's bottom in a public restroom using a hand blower had stuck with me.  Recently, on a whim, the Grim Cheaper and I decided to re-watch the flick.  I was pleasantly surprised to discover how relevant Mr. Mom still is – and even more pleasantly surprised to recognize a location while watching!
In a brief scene towards the end of Mr. Mom, Jack goes out to dinner with some of the housewives from his neighborhood.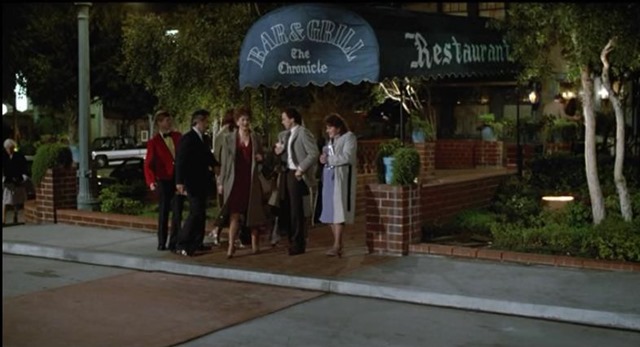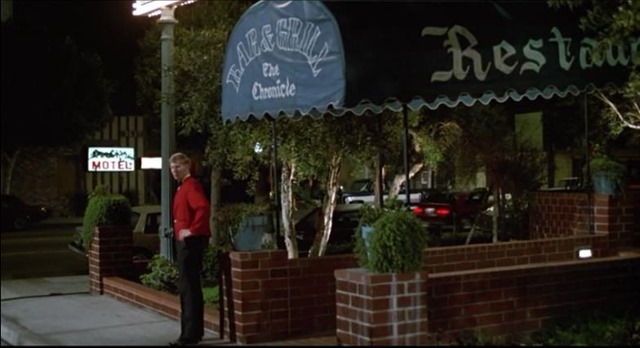 Despite some changes to the exterior, I immediately recognized the spot where the group dined as The Victorian (aka Basement Tavern) located at 2640 Main Street in Santa Monica.  It is a place that the Grim Cheaper and I frequent on a regular basis whenever staying on L.A.'s west side.  We discovered the eatery about a year ago during an evening stroll on Main Street and fell in love with its gorgeous patio – which I posted a picture of on Instagram – on sight.  We promptly decided to grab dinner there and were thrilled by the restaurant's top-notch menu and fabulous happy hour.  It has been one of our dining staples ever since.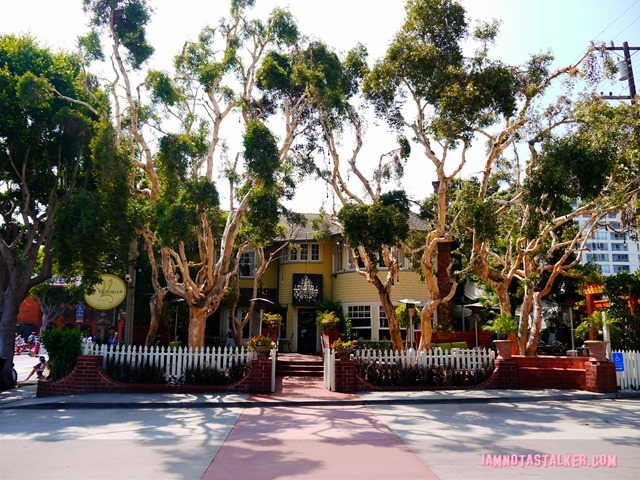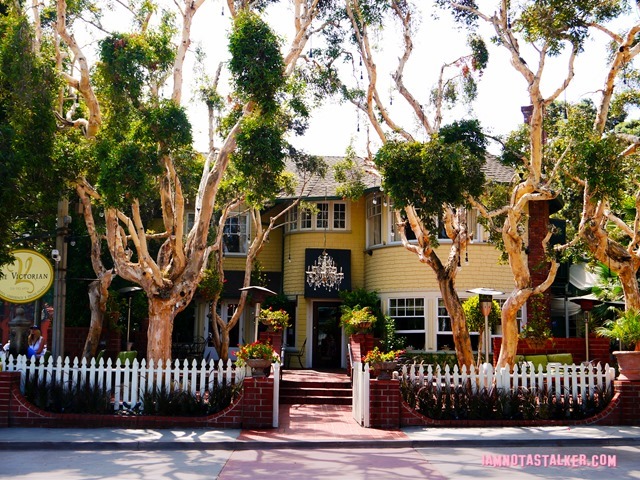 The two-story, Victorian-style property was originally constructed as a private residence for an optometrist named Dr. George Kyte in 1892.  At the time, it was located at 1003 Ocean Avenue.  In 1973, the 15,000-square-foot home was moved about a mile and a half south to its current location as part of Santa Monica's California Heritage Museum project.  A neighboring residence, the First Roy Jones house, was moved to an adjacent lot at the same time.  The Jones House was slated to become a historical museum and the Kyte House an upscale restaurant.  There were some hold-ups in the planning and development process, though, and it was not until 1977 that The Chronicle was opened inside of the Kyte House.  It was founded by restaurateur Lud Renick as a sister eatery to his Pasadena outpost of the same name, which was located at 897 Granite Drive.  (The Pasadena Chronicle originally opened in 1971 and was shuttered in 1996.  In more recent years, the Granite Drive site housed Jennifer Lopez's former Cuban bistro, Madres, which I blogged about here and here).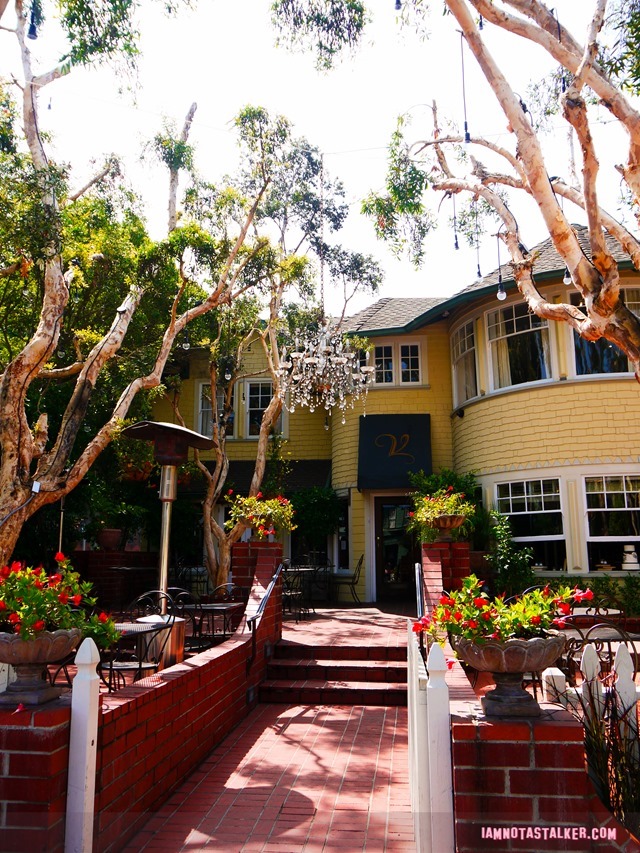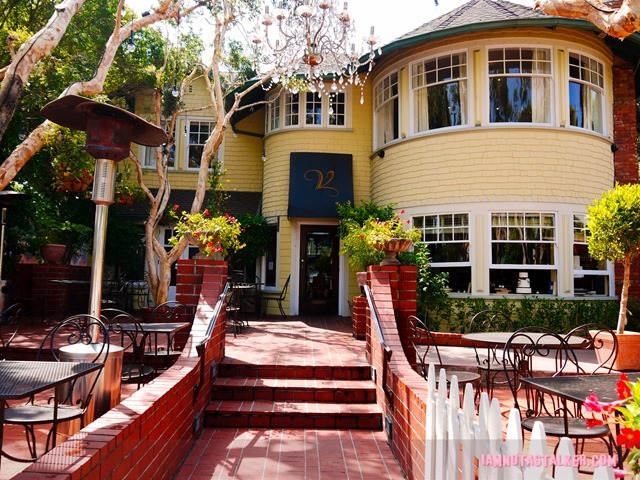 While doing research for this post, I was shocked to discover that The Chronicle was where John Thomas Sweeney worked after serving a scant three-year-eight-month jail sentence for the killing of his former girlfriend, 22-year-old Poltergeist actress Dominique Dunne.  I have long loved the writings of author Dominic Dunne and have read quite a bit about the 1982 murder of his daughter.  When Sweeney was released from prison in 1986 after serving what Dominic called "a tap on the wrist" of a prison sentence, he landed a job as head chef at The Chronicle.  The Dunne family was furious upon hearing the news and famously began standing outside the eatery each night, handing out flyers to patrons which read, "The food you will eat tonight was cooked by the hands that killed Dominique Dunne."  Sweeney soon quit, changed his name and moved to the Pacific Northwest.  I had known about the flyers and the Dunne's ongoing fight for justice for their daughter, but never knew the location of the restaurant where they staged their nightly protests.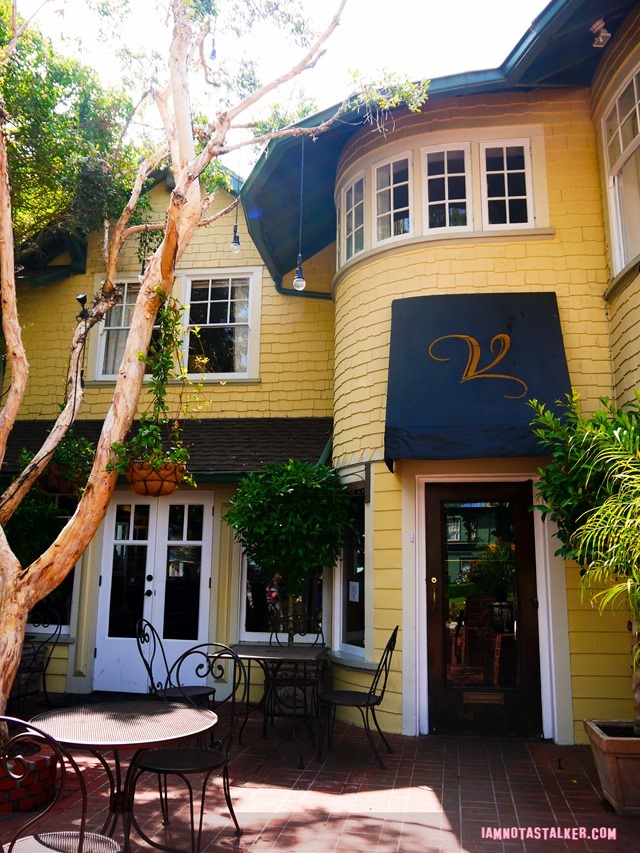 The Chronicle, which you can see a photograph of here, shut its doors sometime around 1987.  After the closure, the Kyte House was acquired by the Gerson family, who also own fave restaurant Malibu Café at Calimigos Ranch (which I blogged about last month).  The Gersons operated the property solely as a special events and wedding venue for many years, but in 2010 they opened Basement Tavern, a 2,000-square-foot bar, in the basement of the home.  On evenings when weddings are not taking place in the actual house, the Basement Tavern also serves dinner and drinks on the residence's patio and bottom floor.  The Victorian is a truly charming place with excellent food and I cannot more highly recommend dining there.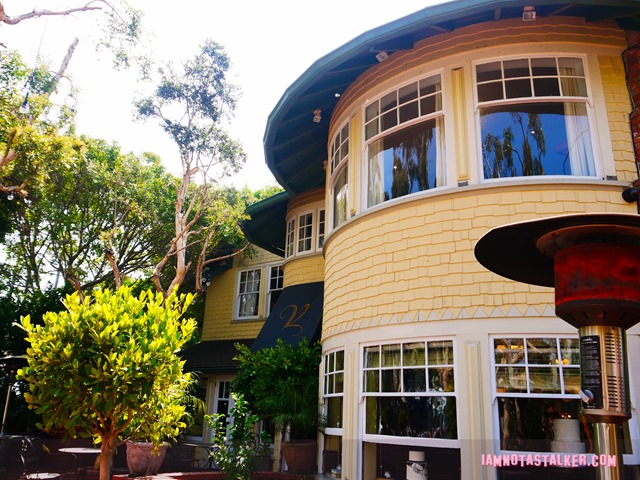 For more stalking fun, be sure to follow me on Facebook, Twitter, Instagram and Los Angeles magazine online.  And you can check out my other blog, The Well-Heeled Diabetic, here.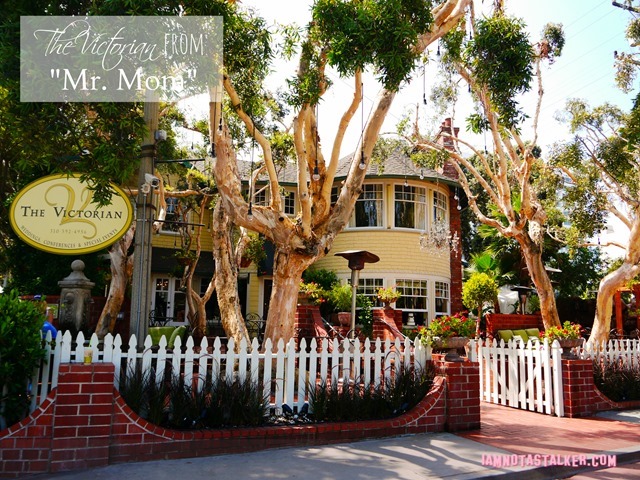 Until next time, Happy Stalking! 

Stalk It: The former The Chronicle restaurant from Mr. Mom, now The Victorian, is located at 2640 Main Street in Santa Monica.  You can visit the property's official website here and Basement Tavern's official website here.
83753