My Guide to L.A. – Coffee
Aug 19th, 2015 | By
Lindsay
| Category:
This and That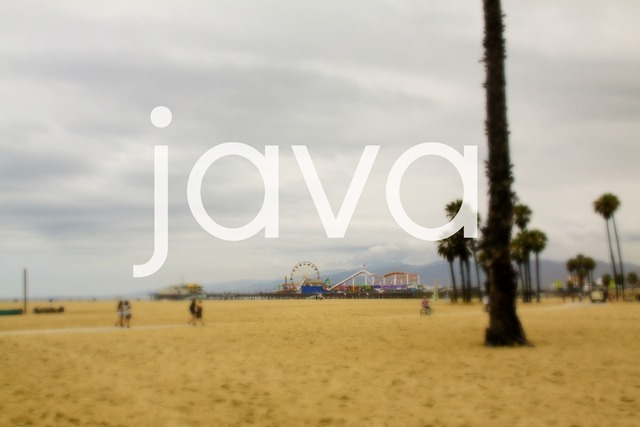 I love coffee pretty much more than life itself, but very rarely do I visit independent coffee houses.  I am all about my Starbucks.  I know, I know, true java aficionados are probably shaking their heads right now.  But I like consistency – I like knowing that I can go into any Starbucks in any city, state or country and get the same drink.  And it has been my experience that the vast majority of independent coffee houses are sub par.  That being said, there are a few in L.A. that I love and would happily trade Starbucks for.  Since I do so rarely venture away from the Jolly Green Coffee Giant, I figured it was my duty to test out as many of L.A.'s independent java houses as I could before compiling this list.  I tried about 15 different spots in all and not one of them did I end up adding!  Not one!  I even tried what The New York Times dubbed "the best iced latte in America" and hated it.  Spent $6.50 on it(!!!), took three sips and tossed the thing.  The Grim Cheaper was not pleased.  The 11 coffee houses listed below, though, consistently serve up fabulous espresso drinks and I would not hesitate to recommend them to anyone.
1. Aroma Coffee and Tea (4360 Tujunga Avenue, Studio City) – Quite possibly the cutest café in Southern California.  When the GC and I lived in L.A., one of our favorite weekend rituals was to head over to Aroma Coffee and Tea in Studio City, grab a couple of lattes, loiter on one of the adorable patios for a bit, and then peruse the charming shops nearby.  Aroma Coffee is situated inside of a former house that owner Mark Gunsky transformed into a restaurant in the mid '90s.  The space is warm and welcoming, with sidewalk bistros, quaint outdoor spaces and a reading room complete with a fireplace.  There used to be a fabulous bookstore located at the rear of the property, too, but that, sadly, shut down a few years ago.  Aroma also serves breakfast, lunch and dinner (the menus are extensive) and has an incredible pastry and dessert selection.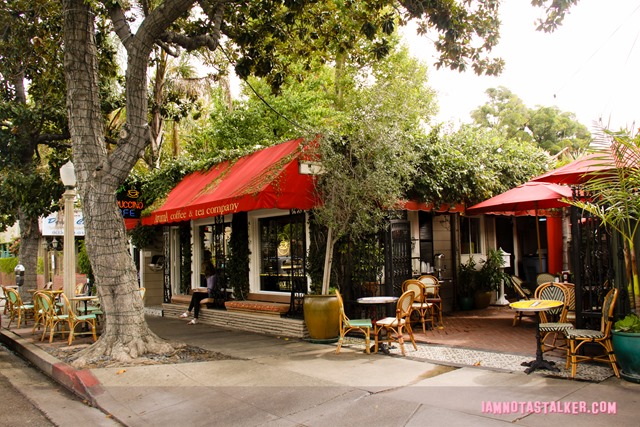 2. Espresso Profeta (1129 Glendon Avenue, Westwood) – I learned about this place thanks to its appearance in an episode of The Real Housewives of Beverly Hills and have been in love with it ever since.  Espresso Profeta is everything you'd want in an independent coffee house – the espresso creations made on the premises are works of art, the quaint brick setting is absolutely charming, and the outdoor patio was made for lingering with good friends or a good book.  Coffee aficionados should note that Espresso Profeta is one of the only spots in Los Angeles to use beans from Seattle's famed Espresso Vivace.  Bonus fact – Morgan & Company Jewellers, the jewelry store where where Brandon Walsh (Jason Priestley) returned the engagement ring he purchased for Kelly Taylor (Jennie Garth) on Beverly Hills, 90210, is located right next door.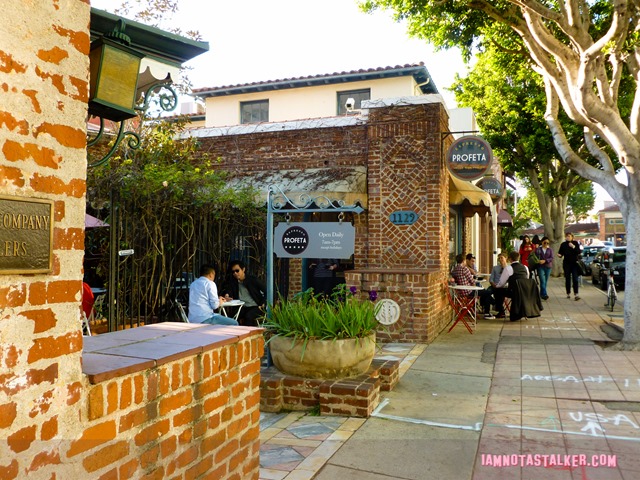 3. Alfred Coffee + Kitchen (8428 Melrose Place, Beverly Grove) – You have probably seen this place's famous "But First, Coffee" sign on Instagram or Pinterest.  As TimeOut Los Angeles stated of being at Alfred Coffee + Kitchen, "The experience is irresistibly Instagram-able (Seriously.  That 'But first, coffee' decal should have its own handle.)."  The java house was founded in 2013 by a real estate developer who had long been frustrated over the fact that the famed Melrose Place shopping district lacked a café.  It has gone on to spawn two additional locations, with two more opening soon.  The original outpost is my favorite.  On the outside, the place is charmingly sweet, while the split-level interior has the sleek look and feel of a Manhattan loft.  The coffee served at Alfred is excellent.  If you visit, be sure to order your drink in a chocolate-dipped waffle cone cup, which the site has become famous for.  The small, tree-lined Melrose Place boasts many charming boutiques and shops, so if you drop by Alfred's, be sure to leave yourself enough time to explore the area.  Santa Maria Novella is a personal favorite.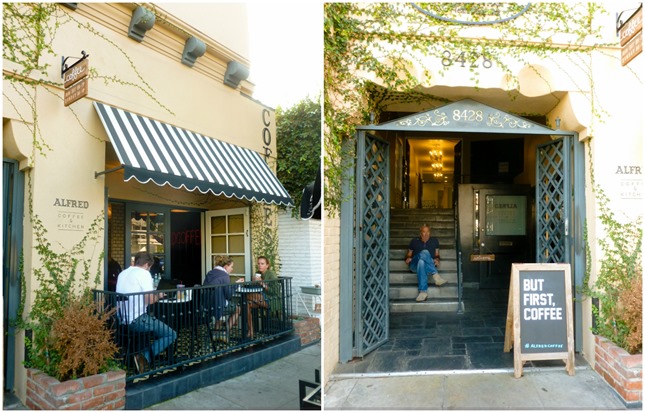 4. Priscilla's Gourmet Coffee and Tea (4150 West Riverside Drive, Burbank) – Priscilla's is a Burbank staple that has been in operation since the 1970s.  It was originally housed in a converted 1919 gas station and moved to its current space, at the corner of Riverside Drive and Evergreen Street, in 1993.  The sweet little shop is jam-packed at all times (typically with aspiring actors and writers) thanks to its charming aesthetic, fabulous espresso drinks, super friendly service, convenient location, and complimentary Wi-Fi.  Priscilla's is definitely a place for hanging out, which the locals do, for hours on end.  The shop also serves food and is stocked with gifts and cards for perusing.  If you do visit, be sure to keep your eyes peeled as celebrities are known to drop in.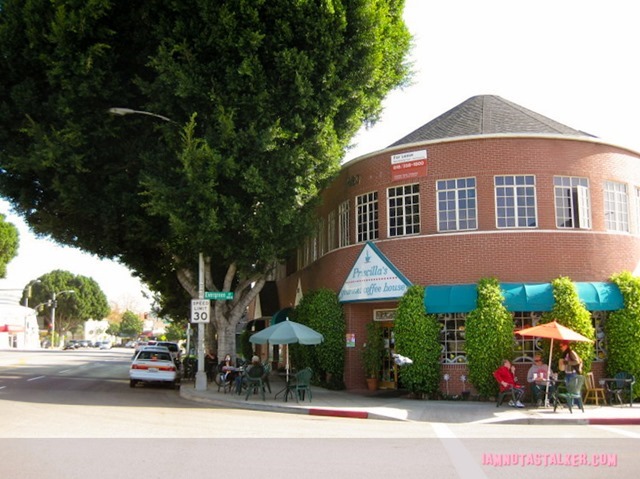 5. Intelligentsia Coffee (55 East Colorado Boulevard, Pasadena) – This family-owned coffee chain got its start in Chicago in 1995 and quickly branched out across the U.S.  (There are currently three in the L.A. area.)  The Pasadena outpost, which opened in 2010, was the first to add food and wine to the menu.  Of the additions, owner Doug Zell said, "The neighborhood there in Old Town Pasadena reminds us of some European and South American cities where you can walk into a café or bar and be served a great espresso any time of day, but also a nice lunch, a beer after work, a glass of wine on a date."  I have to give major props to the eatery for its excellent affogato – my favorite dessert consisting of a scoop of vanilla ice cream with a shot of espresso poured on top.  Besides the fabulous affogato, Intelligentsia serves up exceptional coffee in a fabulous atmosphere.  The ultra modern café is ornamented with exposed ducts, brick walls and a bar fashioned out of a Douglas Fir tree.  There is also a great outdoor patio that makes for some excellent people-watching of the many shoppers on bustling Colorado Boulevard.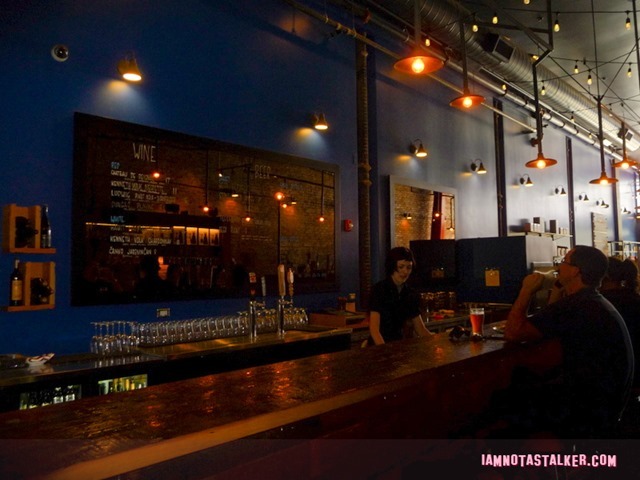 6. Back on the Beach Café (4445 Pacific Coast Highway, Santa Monica) – When my family first moved to L.A. in 2000, this quickly became our Saturday morning breakfast spot.  As I mentioned in yesterday's post, I don't really eat breakfast, but I did become obsessed with the Back on the Beach Café's mochas.  The place serves one of the two best mochas I've ever had in my life (the other was from Java on the Rock in Kona, Hawaii).  Back on the Beach underwent a remodel in 2009 in coordination with the opening of the Annenberg Community Beach House.  The menu was also revamped at that time and the place is definitely more upscale (and pricier) than it used to be.  Thankfully, the mochas remain the same, though.  And the back patio, which is situated on the beach and provides toes-in-the-sand dining, is still intact.  Aside from the mochas, it's the eatery's best feature.  For those into brunch, this place offers a great one.  For those who solely want coffee, like me, Back on the Beach Café will serve espresso drinks to go.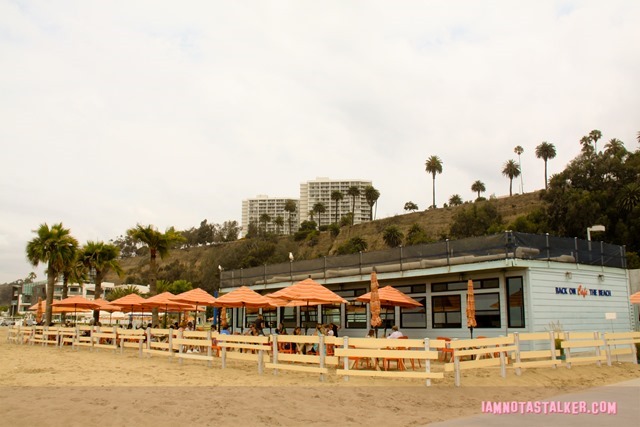 7. Demitasse Café (135 South San Pedro Street, Little Tokyo) – I randomly walked by this spot years ago and became transfixed with the glass Kyoto-style slow-drip iced coffee brewers displayed in the front window.  According to the sign, the contraptions, which look like something Doc Brown might have created, "drip water onto coffee beds, allowing the water to slowly extract flavors from the coffee, leaving us with a rich, layered and complex iced coffee."  The process, which takes 14 to 16 hours to complete, is fascinating to watch and the java it produces is excellent.  Grabbing a coffee at Demitasse Café is a full-on experience.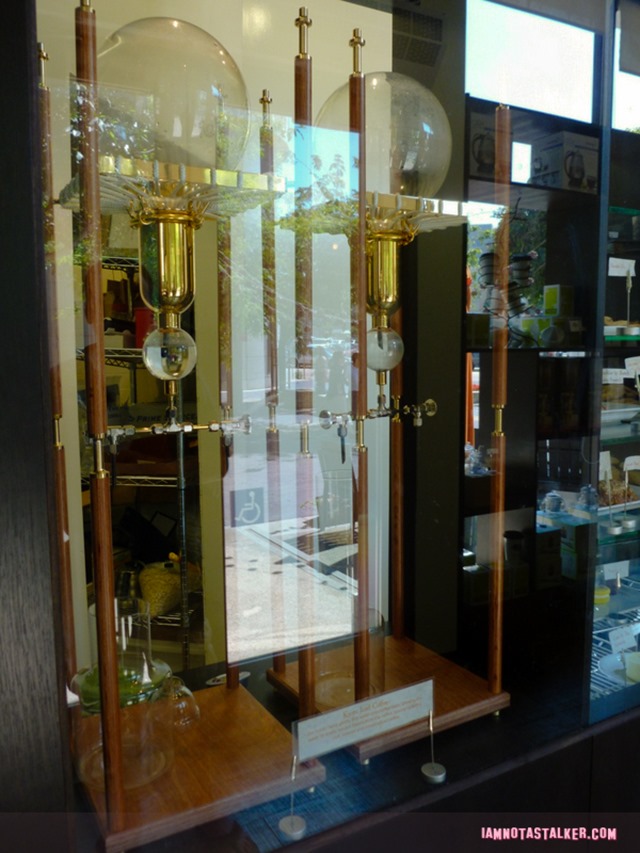 The shop also hosts coffee-themed events and holds roasting classes on the premises.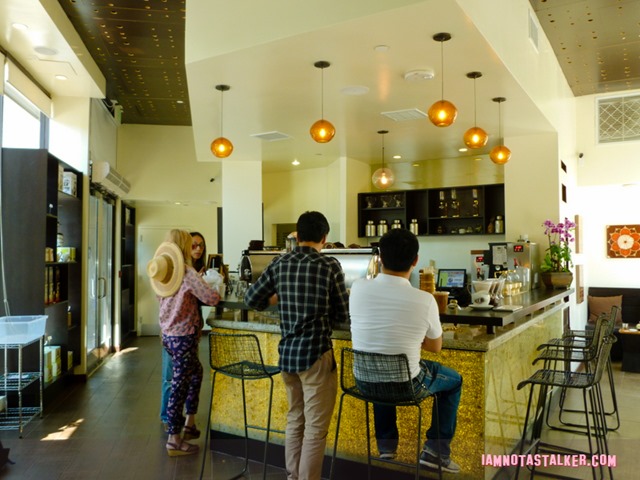 Demitasse now has a second outpost in Santa Monica.  I prefer the Little Tokyo space, though, mainly because it is located on Astronaut E S Onizuka Street, an adorable little road filled with tiny shops and restaurants.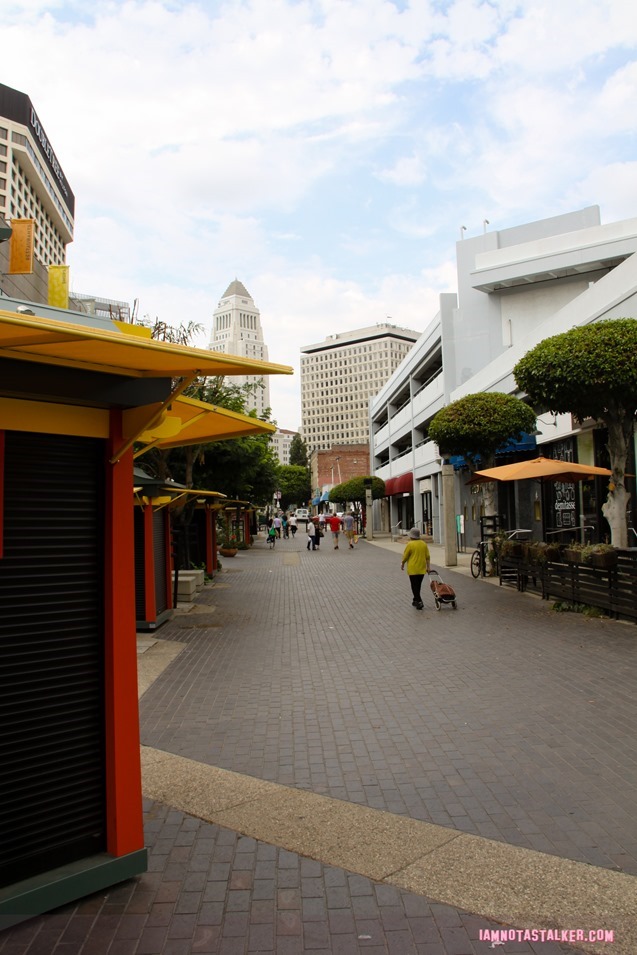 If you do visit the Little Tokyo Demitasse Café, be sure to stop by the fabulous rooftop Kyoto Gardens at the Double Tree by Hilton Los Angeles Downtown, located around the corner.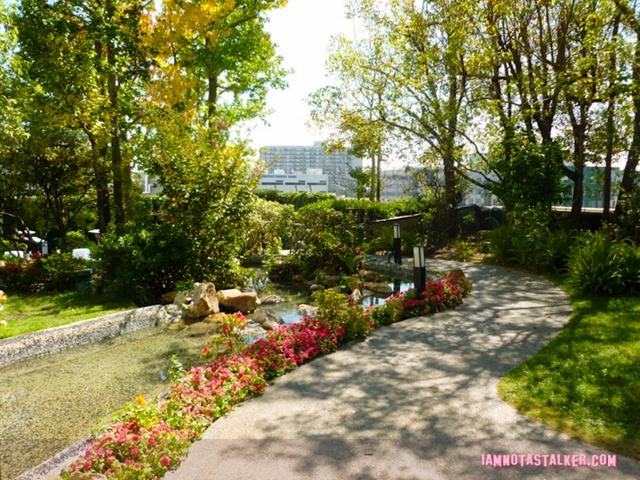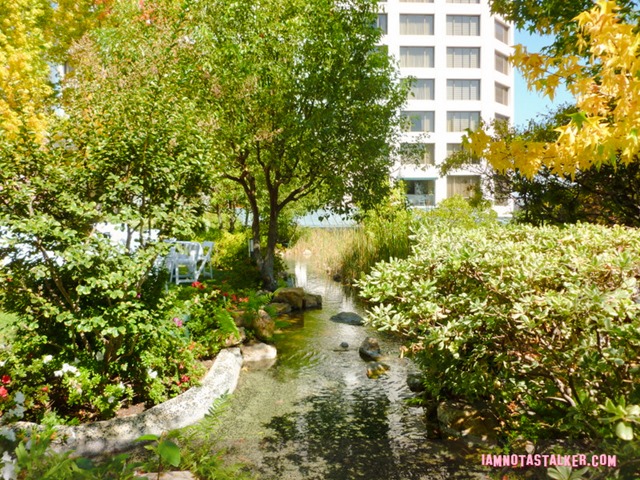 8. Espresso Cielo (3101 Main Street, Santa Monica) – There used to be an Espresso Cielo in Palm Springs and I absolutely loved it.  Decorated in hues of Tiffany blue and featuring a shaded outdoor patio, it was one of the cutest places I had ever visited and I was devastated when I learned that it had closed earlier this year.  So when I discovered that there was a sister café in Santa Monica, I was floored.  This one is just as cute as the Palm Springs café and offers up the same fabulous espresso drinks.  El Cielo's beans are sourced from 49th Parallel Coffee Roasters in Vancouver and its drinks are made on a Synesso espresso machine, which owner Diane Maler describes as "the Cadillac of espresso machines."  Delicious pastries are also served, including croissants, quiches, French macarons, and canneles.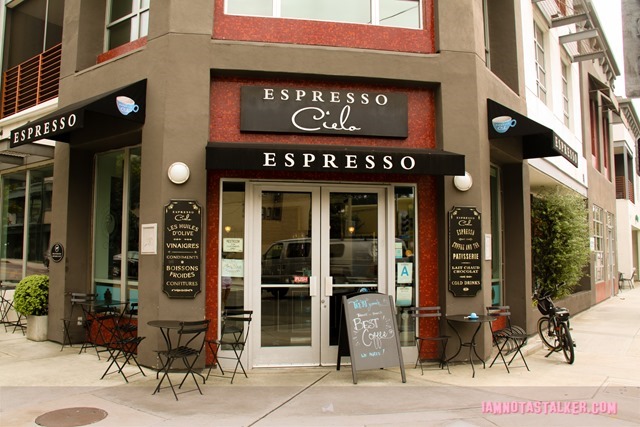 9. Daily Dose Café (1820 Industrial Street, downtown Los Angeles) – Hands down, the coolest café I have ever been to!  Tucked inside of an alley in an industrial part of downtown, Daily Dose Café is a picturesque little slice of coffee heaven.  I only just recently discovered it and the entire time I was there, I couldn't decide what I wanted to do more, drink the fabulous latte I had ordered or take photographs.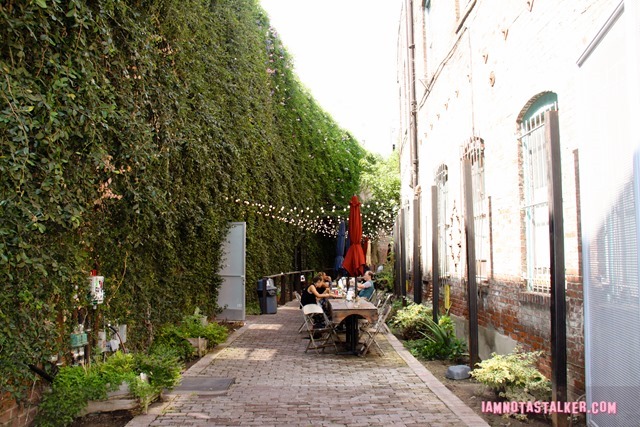 Daily Dose Café, which was founded by Sarkis Vartanian in 2011, also serves breakfast, lunch and dinner, and only fresh, local, organic ingredients are used.  Everything served is made from scratch, right down to the ketchup and mustard.  The space also has a small inside area, but the courtyard is where its at.  It is absolutely gorgeous during the day, but I can only imagine how luminous and romantic it must be at night.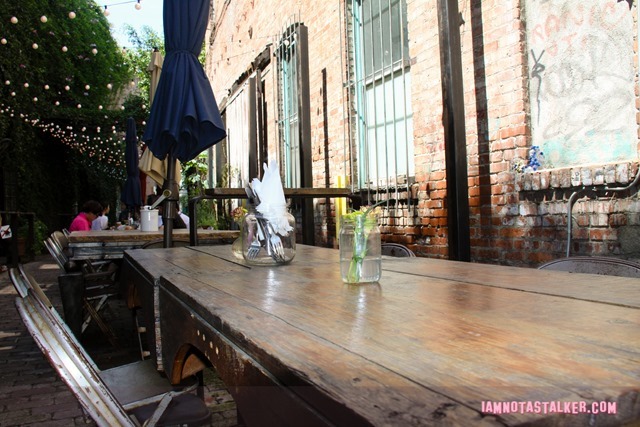 The place also has a sense of humor, which I love.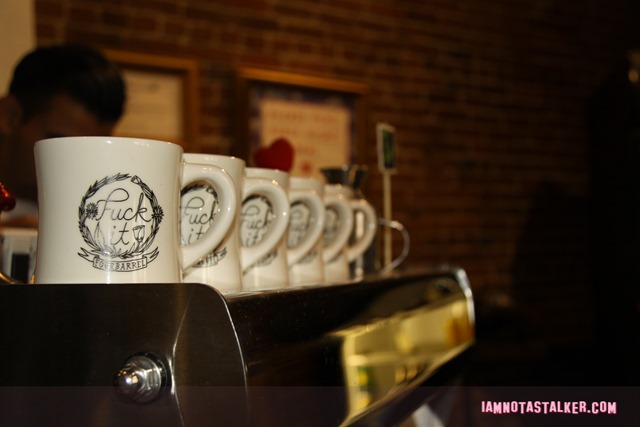 10. Sweet Lady Jane (1631 Montana Avenue, Santa Monica) – My mom and I just discovered this spot while vacationing in Santa Monica last week and wound up going back several times during our stay.  Sweet Lady Jane is adorable and serves up fabulous espresso drinks and pastries.  The place is most famous for its specialty desserts and is worth a visit just to see its amazingly ornate cakes.  The eatery's website states, "At Sweet Lady Jane we break our own eggs, peel our own apples, roll our own pastry, and squeeze our own lemons.  We use only the finest imported chocolate, the freshest butter and cream, the highest quality in-season fruit, no mixes (as many bakeries do), and no preservatives."  And it shows in the taste.  The café also serves lunch and the Roast Turkey Breast sandwich (the turkey for which is baked in house each day) is honestly one of the best sandwiches I've ever had.  In fact, this place could have just as easily wound up on my restaurant post.   Sweet Lady Jane has earned countless awards and accolades over the years (Oprah named the café's Holiday Cakes one of her Favorite Things in 2014) and deservedly so.  Owner Jane Lockhart, who started the company out of her house, has supplied cakes for everyone from Suri Cruise to to Jennifer Lopez.  And Ellen DeGeneres not only mentions the bakery regularly on her show, but purchased her wedding cake from there.
11. The Trails Café (Griffith Park, 2333 Fern Dell Drive, Los Feliz) – An adorable outdoor restaurant/café located near the rear entrance of Ferndell Nature Center in Griffith Park.  After meandering through the tree-canopied beauty of Ferndell (one of my favorite spots in L.A.), the GC and I always make a pit stop at The Trails Café for a latte or some fresh-brewed ice tea.  The shaded rustic picnic tables provide a perfect mid-walk break.  The java and tea served at Trails is top notch and the ambiance can't be beat.  The café also offers a menu of organic entrees and homemade pastries, as well as free Wi-Fi.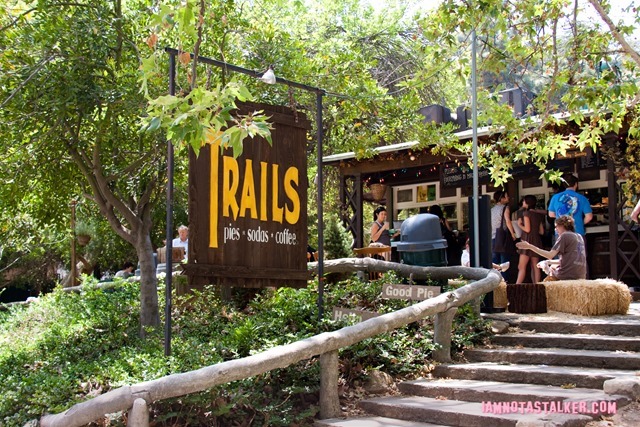 As was the case with yesterday's post, I will be updating this list regularly as I discover new spots and as places close.
Be sure to check out my hotel and restaurant recommendations, too.
91221