My Guide to L.A. – Hotels
Aug 17th, 2015 | By
Lindsay
| Category:
This and That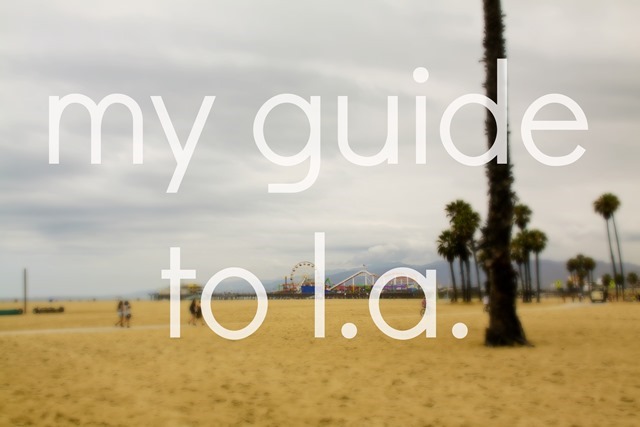 I am constantly told that I would make a great concierge for the city of Los Angeles.  I have explored L.A. so much over the years that I know it like the back of my hand and have accumulated a large inventory of favorite places.  I recently decided to corral that inventory into a guide to L.A. to share with my fellow stalkers.  This guide will not be geared toward filming locations (though there will be some crossover with My Must-Stalk List), but will instead be recommendations of places to stay, eat, drink, play, see, shop and grab coffee when visiting Southern California.  I enlisted the Grim Cheaper's help for this endeavor (he is even better than I am at city recommendations) and we spent countless hours putting the list together.  Because it is so vast, I broke it up into sections that I will be posting individually over the next week.  Today's post will cover hotels.   Note – I am only reviewing hotels where I have actually stayed or spent considerable time.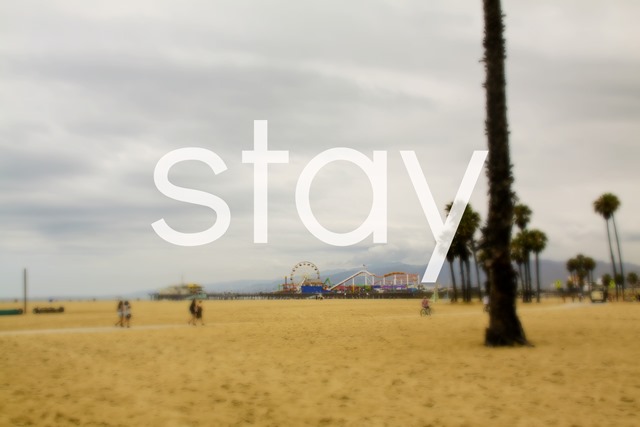 It is a sad truth that there really are no "affordable" hotels in L.A.  If you come to Los Angeles and want to stay in a decent place (read: clean, modernized, safe, at least somewhat upscale), you are most likely going to spend a minimum of $150 to $200 a night.  That's just a fact of life when it comes to this great city.  Deals can be found, though.  As a pricing guide for this post, I chose a random Friday in September to check rates at my recommended hotels.  The available rate I found is posted next to each property name and the hotels are listed in order of those rates, from lowest to highest.
1. Mikado Hotel ($129) 12600 Riverside Drive, Valley Village – A good, solid budget hotel.  The rates are low, the rooms are clean and semi-updated, the location is central and safe, and the restaurant is fantastic.  (The GC and I once enjoyed a fabulous meal there with Mike the Fanboy.)  Amenities include a pool, a hot tub, gardens, ponds, free parking, free Wi-Fi and complimentary breakfast.  Though not fancy by any means, I would not hesitate to recommend this to those working with a limited budget.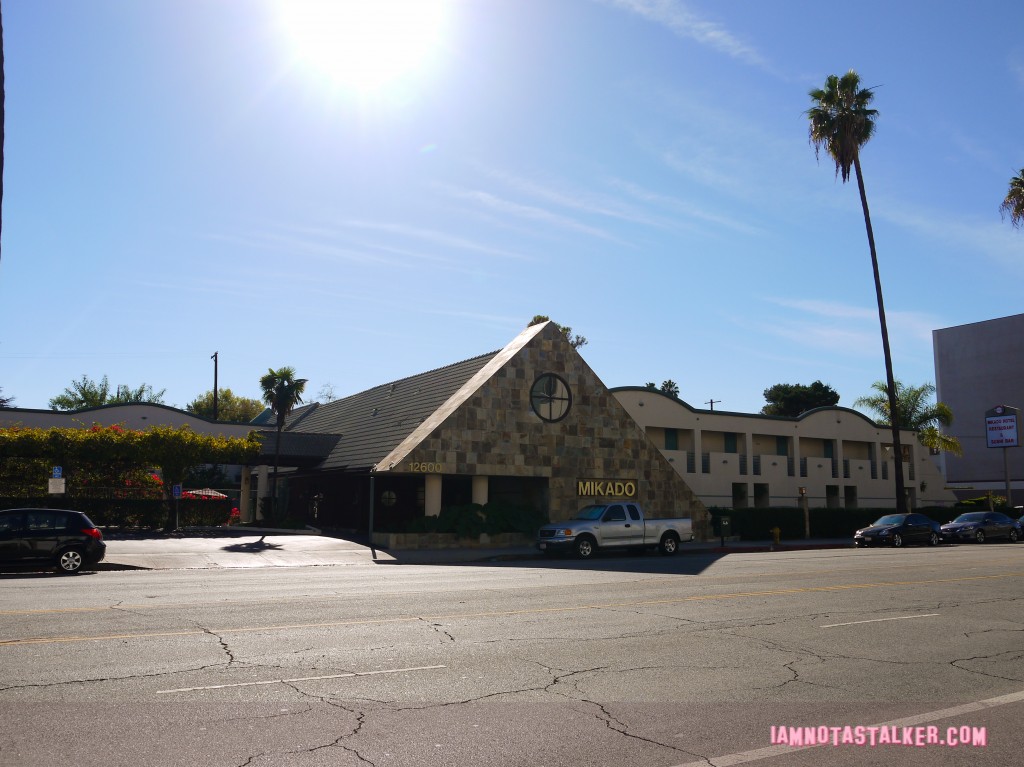 2. The Westin Los Angeles Airport ($130) 5400 West Century Boulevard, Westchester – By far, the best deals the GC and I come across are at the hotels surrounding Los Angeles International Airport.  We use Hotwire when booking near LAX and can almost always secure a 4-star room for under $100.  (Note – the above rate is not from Hotwire, but from The Westin website.)  Though the area is certainly not neighborhood-y, there are tons of fabulous restaurants nearby, parking is surprisingly convenient, and, though a bit removed, the location is close to all of the beach cities and the South Bay.  The Westin had the cheapest rate on the particular date I chose for this post, but we also recommend Crowne Plaza Los Angeles Airport (we LOVE the Sleep Advantage Quiet Zone concept!), Sheraton Gateway Los Angeles Hotel and the Hilton Los Angeles Airport.  (The photo below is via The Westin website.)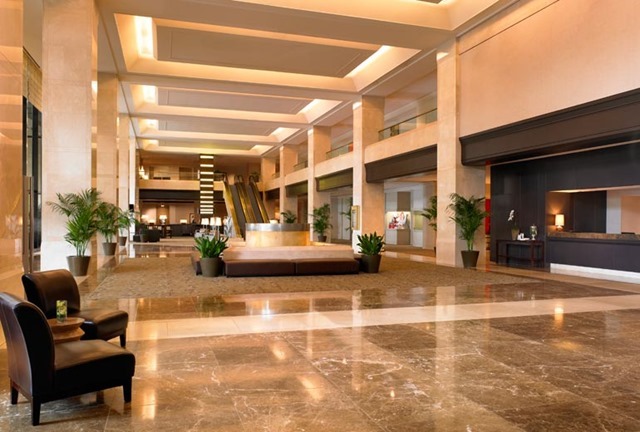 3. Hilton Garden Inn Calabasas ($143) 24150 Park Sorrento, Calabasas – The GC and I stayed at this hotel one Halloween a couple of years ago and absolutely loved it.  Not only are the rates great (and parking is free!), but the accommodations are very nice, the room service is stellar, and the hotel is within walking distance to The Commons at Calabasas, a super cute shopping center with fabulous boutiques, restaurants and a Starbucks (yes!).  Though it might seem far removed from many L.A. attractions, Calabasas is only 30 miles from downtown, 20 miles from Universal City and 18 miles from Malibu.  Not to mention that the city is, in and of itself, an adorable place with a lot to offer visitors.  (The picture below is via the Hilton Garden Inn website.)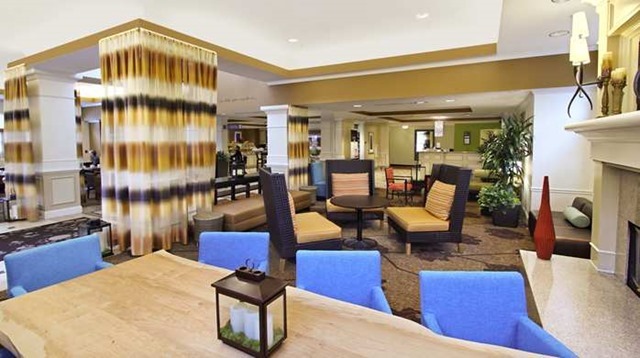 4. Sheraton Agoura Hills ($161) 30100 Agoura Road, Agoura Hills – A really nice hotel with very reasonable rates (and parking is free!).  Again, this one might seem far removed from many of L.A.'s tourist attractions, but it is only about 35 miles from downtown, 25 miles from Universal City and 15 miles from Malibu.  In fact, this is where the GC and I booked a block of rooms for our wedding guests to stay when we got married in Malibu in 2010.  The upscale hotel features an outdoor pool, a gym, free shuttle service to area locations, and two restaurants.  Liquid Lounge is especially fabulous – the GC and I dined there while staying at the Sheraton recently after attending a friend's wedding in Malibu.  (The photo below is via the Sheraton website.)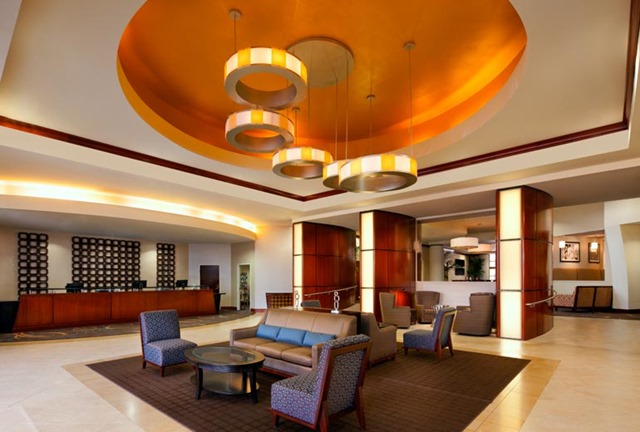 5. The Westin Bonaventure Hotel ($167) 404 South Figueroa Street, downtown Los Angeles –  The Westin Bonaventure is one of our go-to downtown L.A. accommodations.  The futuristic-looking, 1,474-room property was designed by John Portman in 1974 and has the distinction of being Los Angeles' largest hotel.   The Bonaventure website dubs itself as being a "city within a city" and it truly is.  You could easily check in for two weeks and never have to leave.  The property boasts countless dining options (there is even a food court!), shops, a market, a gym, a pool, spa services, a hair and nail salon, 24-hour room service (one of my favorite hotel perks!) and a business center.  Rates here are typically lower than at other similar-caliber downtown hotels.  Be aware, though, that parking at the Bonaventure, as well as at all downtown lodgings, is steep – like $45-a-day steep.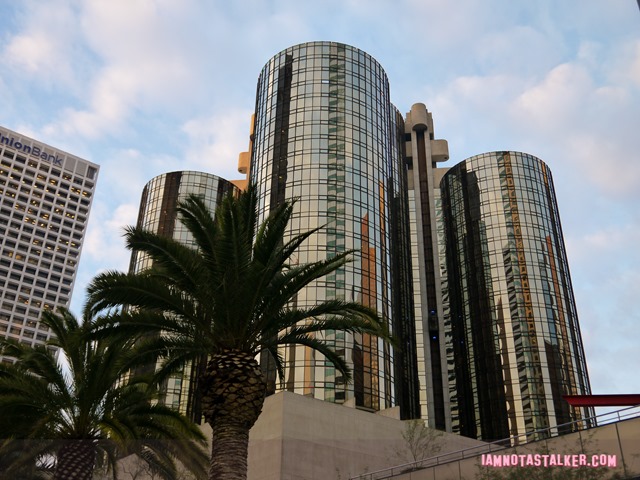 6. Hotel Angeleno ($179) 170 North Church Lane, Brentwood – The 17-story, cylindrical structure that towers over the I-405 in Brentwood is an iconic sight for all Los Angeles denizens.  The GC and I only recently started staying there and we absolutely love it.  Originally a Holiday Inn, the property underwent an extensive renovation in 2006 and was transformed into the spectacularly retro Hotel Angeleno.  Rates are extremely reasonable considering the hotel's caliber and include free valet parking, free Wi-Fi, and a complimentary evening wine hour.  Amenities include a penthouse restaurant and bar, a lobby café, a business center, a pool, a gym, and 24-hour room service.  Each room also features a private balcony, the views from which are downright amazing.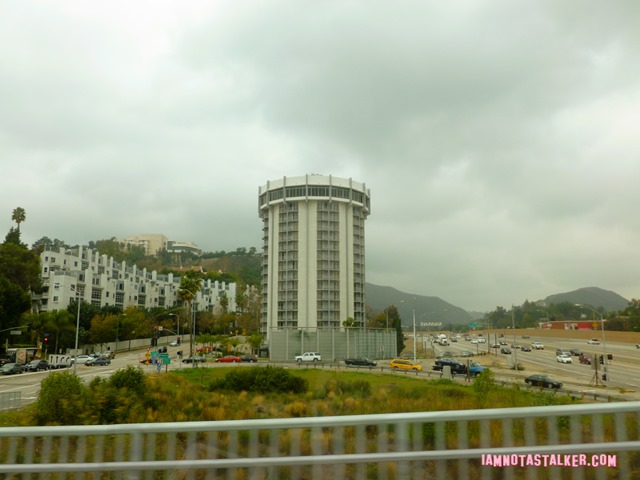 7. Courtyard by Marriot in Pasadena ($179) 180 North Fair Oaks Avenue, Pasadena – Though the design and décor of the Courtyard Pasadena are very nice, for me this one is all about location, location, location!  The hotel is situated in the heart of Old Town Pasadena, within walking distance to virtually everything the area has to offer, including museums, shops and restaurants.  If you are planning to stay in Pasadena (and I highly recommend doing so – if I had my druthers, I would always stay in Crown City when visiting L.A.) and desire convenient lodging, look no further than the Courtyard.   The property also features a fitness center, a pool, a large lobby with countless seating areas, and a restaurant/café.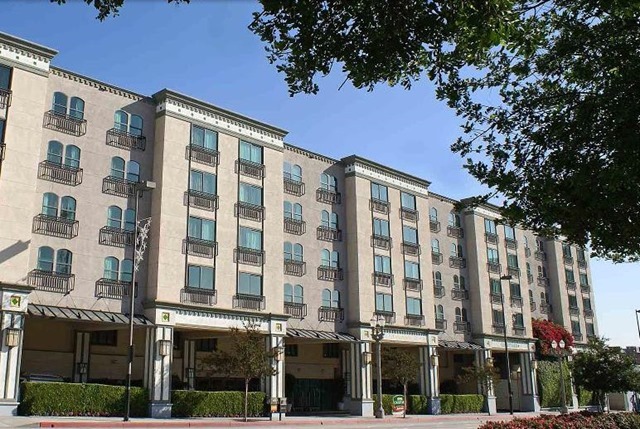 8. Hyatt Westlake Plaza ($185) 880 South Westlake Boulevard, Westlake Village – As is the case with some of the other hotels I've recommended, this property might be considered far removed from L.A., but it is only about 40 miles from downtown, 30 miles from Universal City and 15 miles from Malibu.  In fact, thanks to its proximity to the 'Bu, one of my friends stays there regularly whenever she comes to town to visit her son who is enrolled at Pepperdine University.  The Hyatt Westlake Plaza is a very pretty, reasonably-priced option for those who want to visit all of the different areas of Los Angeles.  Amenities include a patio bar, a farm-to-table restaurant, a business center, complimentary Wi-Fi, complimentary valet and self-parking, a heated swimming pool, two whirlpools, two saunas, and landscaped gardens with waterfalls.  Bonus fact – Beverly Hills, 90210 filmed there numerous times!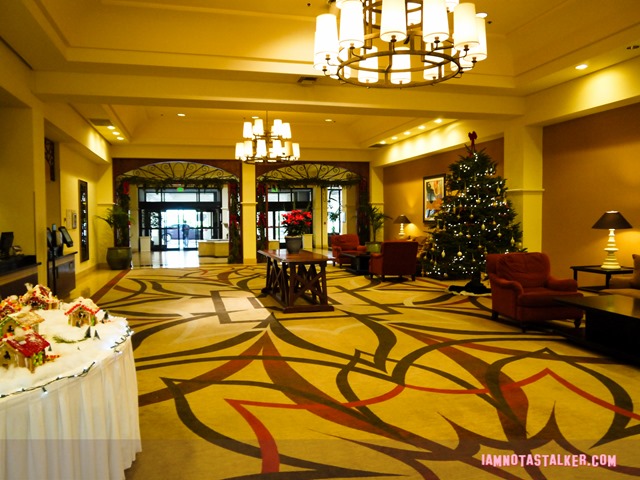 9. dusitD2 Hotel Constance Pasadena ($199) 928 East Colorado Boulevard, Pasadena – My family's new favorite Pasadena hotel!  The historic property was originally built as the Hotel Constance in 1926, but, after serving as a retirement home for decades and then sitting vacant for several years, was finally revamped as the dusitD2 Hotel Constance Pasadena in 2014.  Besides the fabulous ultra-modern décor and top-notch rooms, customer service at the hotel is bar none!  The last time we stayed there, while the bellman was walking us to our room, my dad mentioned to my mom that he had forgotten to stop by the store on his way into town to purchase the special cereal that he eats regularly.  The bellman overheard and mentioned that he would be happy to run to the market for us.  Like, huh?  That stuff happens?  Well, it does at the Hotel Constance.  The staff there will literally do anything for their guests.  And yes, the bellman did run to the store to purchase my dad's cereal – at no charge!  Love, love, love this place.  The lobby bar, BluRoom Cocktail Lounge, also serves what is easily one of the best happy hours in town!  Huge $6 cheese plate?  Yes, please!  (I'm actually really leery to post this hotel on my list as I fear doing so will cause it to be more popular and therefore get booked up regularly and/or drive the rates sky high.  The things I do for my fellow stalkers! 

)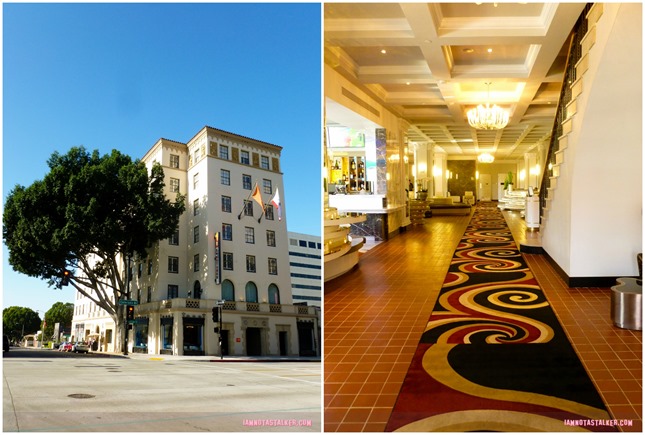 10. Magic Castle Hotel ($199) 7025 Franklin Avenue, Hollywood  – This gem of a hotel is located in the heart of Hollywood (within walking distance to Hollywood & Highland, the Hollywood Walk of Fame, Grauman's Chinese Theatre and the L.A. Metro) and offers up some of the best, most personalized customer service in the city.  Simply put, guests are treated like family at the Magic Castle.  Just a few of the hotel's perks include include free mini-bar items (yes, free candy bars, chips and popcorn!), free Wi-Fi, complimentary continental breakfast (pastries are provided by Susina Bakery & Café – one of my faves), free laundry service, over one hundred DVD titles available to borrow (each room comes equipped with a DVD player), and popsicles and "ice-cold towels infused with lavender and mint" which attendants offer every hour on the hour to poolside guests.  Hotel patrons are also allowed access to the ultra-exclusive, members-only Magic Castle club and restaurant (a place I HIGHLY recommend visiting if you have the opportunity).  You can read an in-depth post about the level of service offered to guests at the Magic Castle here.  It is quite simply incredible!  The bad news?  The hotel is a boutique property with a limited number of rooms and it tends to book up extremely quickly, so if you do plan on staying there, I recommend making reservations far in advance.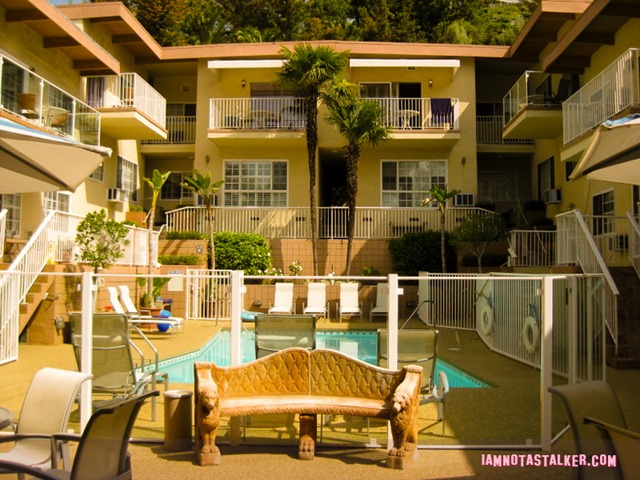 11. The Queen Mary ($219) 1126 Queens Highway, Long Beach – Easily SoCal's most unique hotel, The Queen Mary is a former Cunard cruise liner that has been docked in Long Beach since 1967.  Walking aboard the Art Deco-style ship is like stepping back in time to the 1930s, when she was first launched.  Prior to opening as a hotel in 1971, the 1,019-foot vessel (she's longer than the Titanic!) underwent a massive renovation to restore her to her original grandeur.  The result is nothing short of spectacular.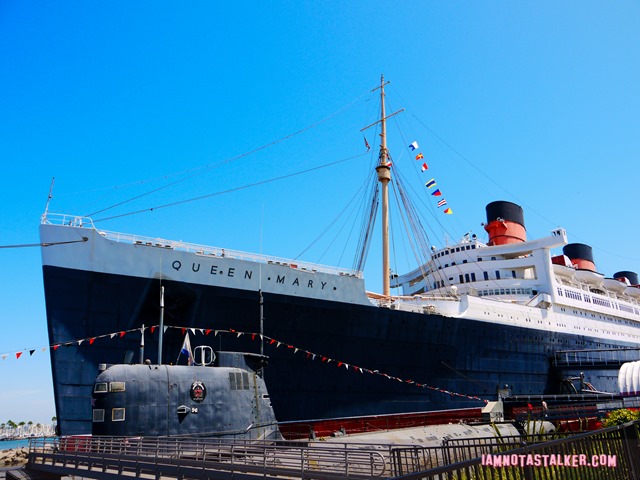 The Queen Mary currently boasts all of the amenities typically associated with a modernized hotel (a salon, a spa, a gym, shops, restaurants, bars and a Starbucks – hallelujah!), all the while keeping the historic look and feel of a 1930's cruise ship.  (The shopping promenade is pictured below.)  I have stayed on the liner on three different occasions and not only had a blast each time, but found that there was always something new to discover aboard.  If you do book a stay on The Queen Mary, I highly recommend taking one of the many tours offered, grabbing a drink at the Observation Bar & Art Deco Lounge and dining at Sir Winston's Restaurant & Lounge.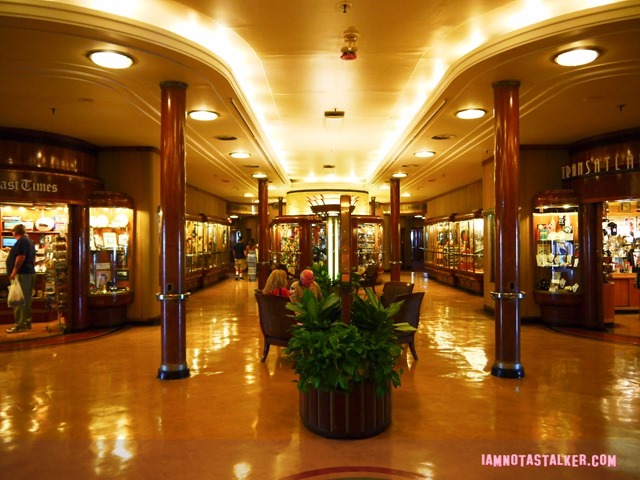 12. The Langham Huntington, Pasadena ($220) 1401 South Oak Knoll Avenue, Pasadena – Although The Langham Huntington is Pasadena's most luxurious hotel, affordable rates (under $200 including tax and parking) can often be found online.  My family stays here regularly thanks to those low rates and cannot get enough of the place.  The hotel is absolutely gorgeous and the landscaped grounds were made to be explored.  The Langham definitely provides a resort-style atmosphere with a large heated outdoor pool, a fitness center, an award-winning spa, three restaurants/lounges, a kids program, a pets program, gardens, ponds, a sprawling lawn, historic ballrooms, and daily tea service.  If you are coming to L.A. with the intention of sightseeing, this would not be the place to stay because you will check in and never want to set foot off the grounds.  Even if you do not book a room here, I highly recommend a visit to The Langham to see its vast beauty in person.
13. Millennium Biltmore Hotel Los Angeles ($237) 506 South Grand Avenue, downtown Los Angeles – The Millennium Biltmore Hotel is one of my favorite places in all of Southern California.  The historic property was originally built in 1923 and its gorgeous detailing has not been altered since.  It is easily one of the most beautiful sites I have ever visited in my life.  The GC booked a room for us at the Biltmore on one of our first Valentine's Days together and we have been coming back regularly ever since.  When we lived in L.A., it was our go-to hotel during our many staycations.  Though the rate for the particular weekend I chose in September is a bit on the high side, much better deals can often be found online.  Just don't forget about the $45 daily parking fee, which, as I mentioned above, all downtown L.A. hotels charge.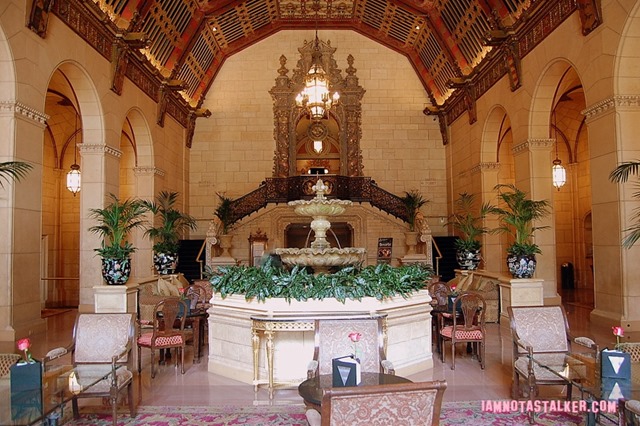 If you book a room at the Biltmore, do not miss the opportunity to take a dip in – or at least peek in at – its stunning indoor pool.  It is absolutely exceptional!  The famed Crystal Ballroom is also a sight to behold.  I literally spend hours exploring the property each and every time I stay there.  The Biltmore is an absolute gem of a hotel and one of L.A.'s most beautiful treasures.  (The photos above and below are courtesy of Mike, from MovieShotsLA.)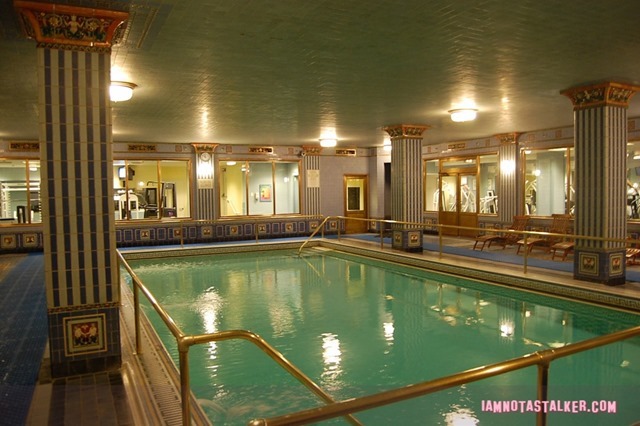 14. Luxe Sunset Boulevard Hotel ($263) 11461 Sunset Boulevard, Brentwood – The Luxe was a recent find for my family.  We stayed there for the first time a few months ago and were able to secure a fabulous rate thanks to the fact that my dad had a doctor appointment at UCLA, which is located nearby.  The hotel is one of L.A.'s most stunning and serene properties.  It is the perfect spot to stay for those who really want to get away from it all.  Upon checking in and exploring the sprawling grounds, we quickly dubbed the Luxe our new favorite West Side hotel.  Though rooms can be pricey, they are much less than what you would expect considering the caliber of the property.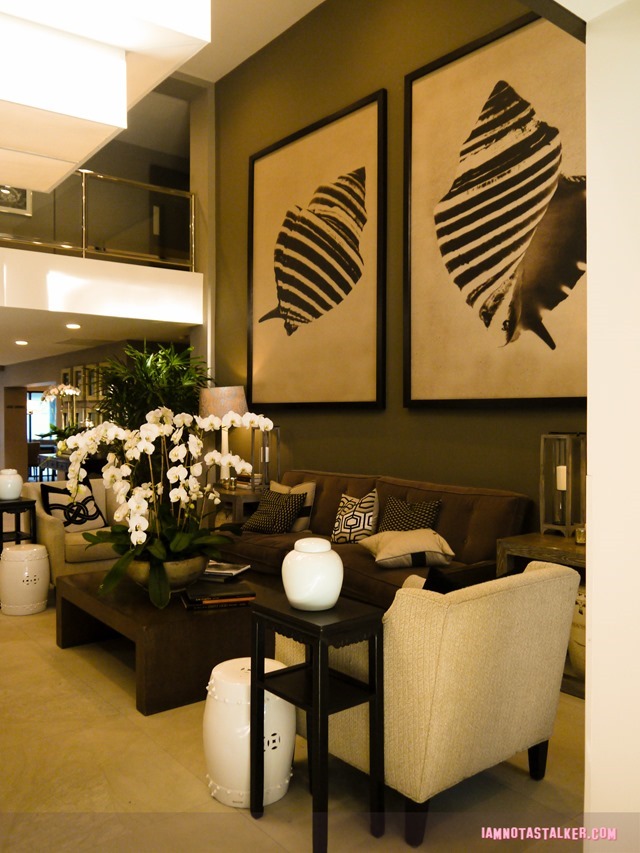 Amenities include On Sunset restaurant (one of the prettiest eateries I have ever seen – it's pictured below), a lounge, a heated outdoor pool and countless outdoor seating areas.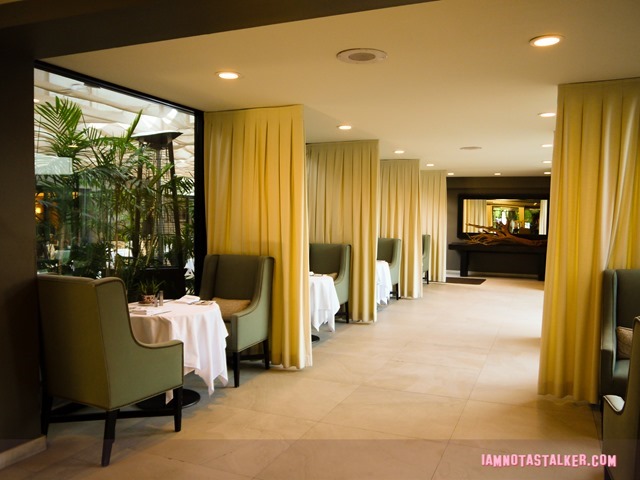 15. The Redbury Hollywood ($273) 1717 Vine Street, Hollywood – This hotel is one of the few on the list that I have never actually stayed at.  I have visited it numerous times, though, and am always mesmerized by its unique décor.  The 57-room, 5-story property was designed by photographer/music video director Matthew Rolston, who wanted to create a "theatrical" environment where guests would feel "like actually being in one of my photographs or music videos."  He definitely achieved that goal.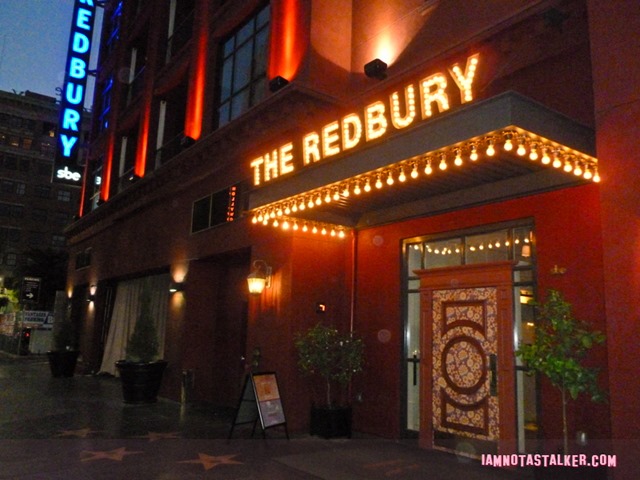 The Redbury's décor is a mix of Old Hollywood grandeur and bohemian whimsy and there seems to be a new element to discover waiting around each and every corner.  The all-suite hotel features two restaurants, 24-hour in-room dining, free passes to a local gym and in-room spa service.  The place is also a celebrity hotspot, so if you book a room, be sure to keep your eyes peeled!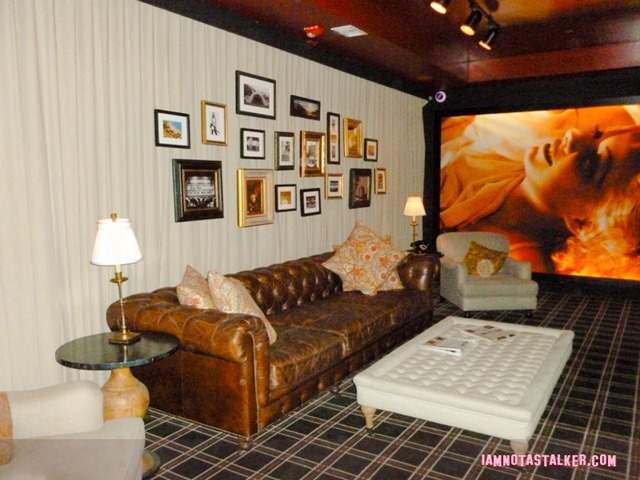 16. The Beverly Hilton ($299) 9876 Wilshire Boulevard, Beverly Hills –  Conrad Hilton had this luxury Welton Becket-designed hotel constructed in 1955.  Owned by Merv Griffin for a time, it eventually changed hands in 2003 and was given an extensive interior facelift.  Thankfully, its fabulous mid-century modern exterior was left untouched.  Over the years, the historic property has played host to countless celebrities, presidents and other luminaries.  The Beverly Hilton boasts the city's largest pool (it was inaugurated by Esther Williams!), three eateries, 24-hour room service, a spa, a gym and a salon.  Thanks to its central location and upscale décor, its inclusion on this list is a no-brainer.  The best aspect of the property, though, is the fact that it hosts hundreds (I'm not exaggerating) of red carpet events each year, so the chance of seeing a star during your stay is practically guaranteed.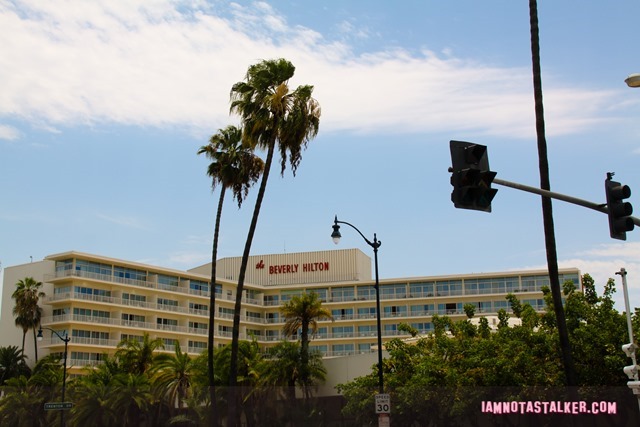 17. Sunset Marquis ($345) 1200 Alta Loma Road, West Hollywood – On a hidden stretch of 3.5 tree-lined acres located just steps off the Sunset Strip sits the Sunset Marquis.  The gorgeous property has been a sanctuary for celebrities visiting Los Angeles (musicians, especially) since its inception in 1963 and once you set foot on the grounds, it is not hard to see why.  The hotel is quiet, secluded and absolutely beautiful.  It was originally established by developer George Rosenthal to house performers and guests of the now defunct Playboy Club L.A., which he also helped to found.  It quickly became a retreat for musicians performing on the Sunset Strip and has remained a haven for the rich and famous to this day.  While the rooms are nothing to shake a stick at, it is the Marquis' stunning grounds that continually have me drooling.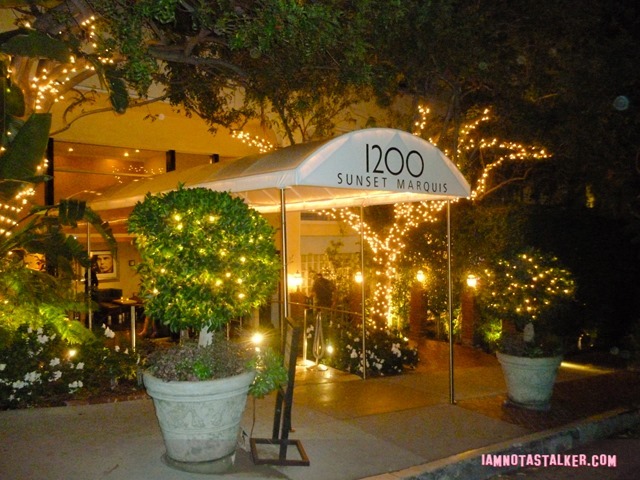 18. Sunset Tower Hotel ($395) 8358 Sunset Boulevard, West Hollywood – Located on Sunset Boulevard in the heart of West Hollywood, the Sunset Tower Hotel has long been one of my favorite places to grab a drink.  Built in 1931 by architect Leland A. Bryant, the structure is an Art Deco masterpiece.  Celebrities have flocked to it since the very beginning, with such stars as Marilyn Monroe, Clark Gable and Carole Lombard all having spent time there during the heyday of Hollywood.  More recent visitors include Tom Cruise, Sean Penn and Jennifer Aniston, who is a regular.  The property boasts fabulous architecture, amazing décor and some of the best views in all of Southern California.  Even if you don't book a room there, be sure to grab a drink at The Terrace, which overlooks the hotel's pool, as well as the skylines of Century City, downtown L.A. and West L.A.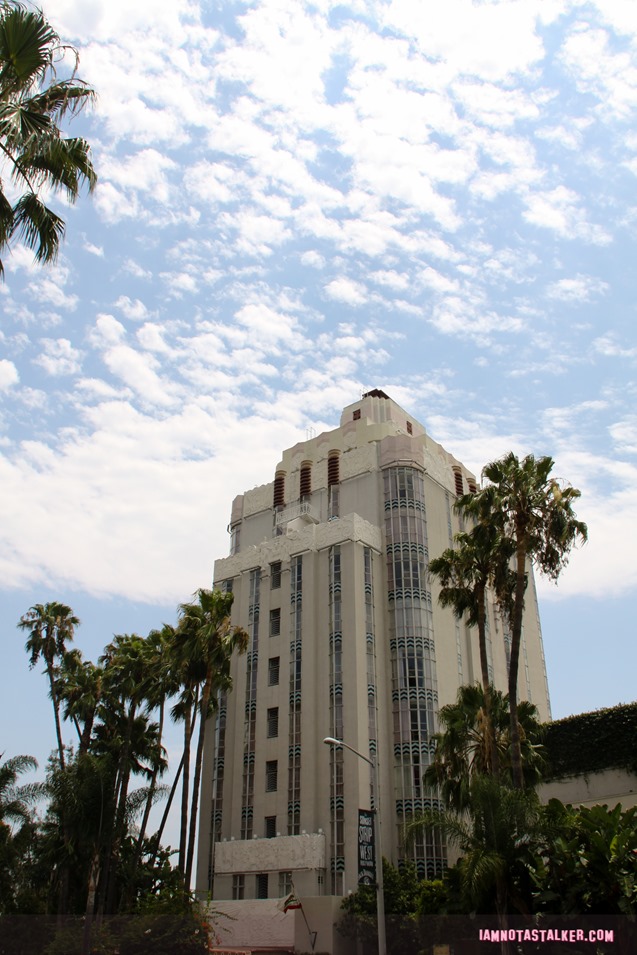 The hotels listed below fall into my M.I.N.O. category – aka Money Is No Object.  They are the best of the best, but will easily set you back a good $400-800 a night for a standard room.  If you are lucky enough to be working with that kind of a budget, these are the spots I'd recommend you stay.
19. Hotel Casa del Mar ($403) 1910 Ocean Way, Santa Monica – Hotel Casa del Mar was originally established as the Club Casa del Mar beach club in 1926.  After serving as an army facility, a drug rehabilitation center and Nathan Pritikin's Pritikin Longevity Center, it was purchased by the Edward Thomas Hospitality Corporation in 1998, given an extensive restoration and transformed into the luxurious Hotel Casa del Mar.  The stunning property is located steps from the beach and offers unparalleled views of the Pacific.  Amenities include three restaurants/lounges, a pool, a spa and a gym.  The hotel is also within walking distance to the countless shops and restaurants located on both Main Street and the Third Street Promenade.  Casa del Mar is easily one of the most gorgeous hotels I have ever visited.  Those looking to embrace the glamour of Old Hollywood during their stay should definitely check in here.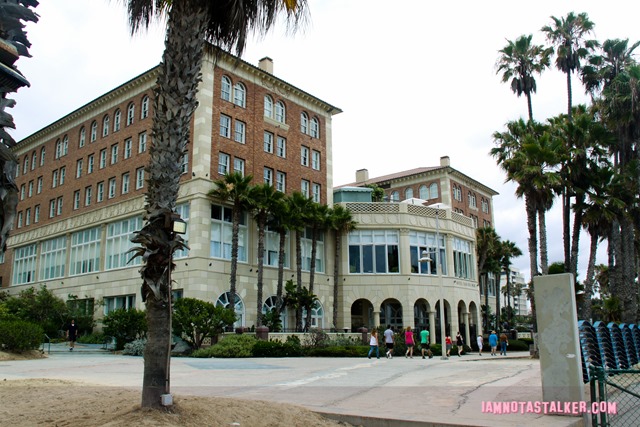 20. Fairmont Miramar Hotel & Bungalows ($469) 101 Wilshire Boulevard, Santa Monica – Located steps from the Third Street Promenade, the Santa Monica Pier and the Santa Monica beach, the Fairmont Miramar Hotel & Bungalows is one of the city's most premiere properties.  The upscale site is an oasis in the middle of the area's many bustling tourist attractions and has long served as a retreat for visiting celebrities.  Greta Garbo even lived there for a time.  The hotel is most famous for the massive Moreton Bay Fig Tree that stands at its entrance and gifts the place with a decidedly tropical feel. The views of the Pacific and accompanying ocean breezes only add to the property's island-like aura.  It is not hard to see how it came to be chosen to mask as a Hawaiian hotel in an episode of Entourage and an Australian resort on Modern Family.   Besides being situated in a fabulous location, the Fairmont also features beautiful grounds, ponds filled with turtles and koi, a pool, a spa, a restaurant, and two lounges.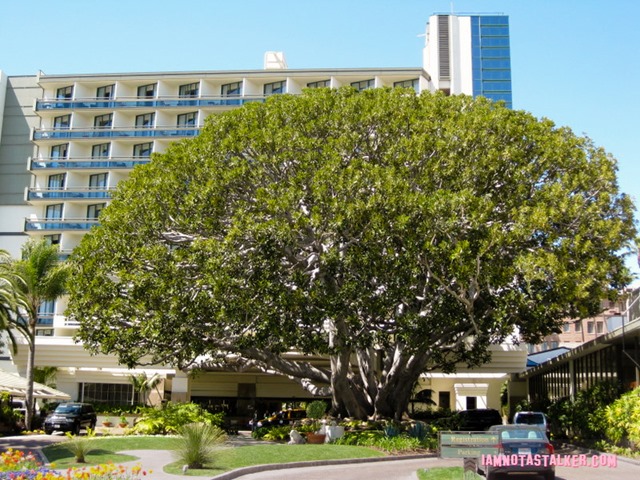 21. Shutters on the Beach ($595) 1 Pico Boulevard, Santa Monica – Shutters on the Beach is easily one of L.A.'s most picturesque hotels.  Its white clapboard exterior gives off an East Coast/Cape Cod-style vibe, while the interior has more of a romantic lodge aesthetic, with large fireplaces surrounded by a myriad of comfortable couches and arm chairs.  I first learned about the hotel from the novel Jemima J (one of my favorites), in which the titular character checks into Shutters while visiting Los Angeles.  Author Jane Green's description of the place was nothing short of dreamy and I was compelled to visit it soon after I finished the book.  It was love at first sight and not at all hard to see how Green came to feature the property so prominently in her story.  Shutters, which sits steps from the beach and the Santa Monica Pier and is within walking distance to all area attractions, boasts three restaurants/lounges, a spa, a fitness center, and fabulous ocean views.  It is everything you could ever want in a beachside hotel.  If I had the funds, I would continually check in there when visiting L.A.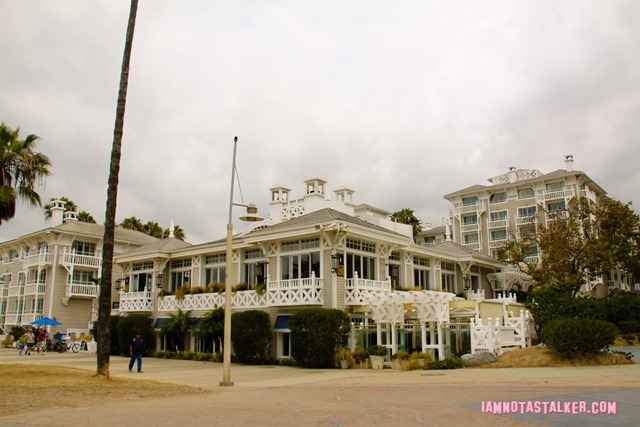 22. The Beverly Hills Hotel ($615) 9641 Sunset Boulevard, Beverly Hills – Though the Pink Palace has found itself at the heart of controversy as of late, it is such a Hollywood icon and so steeped in L.A. history and celebrity lore, I felt it would be a travesty to exclude it from this list.  The property also happens to be one of my favorite spots in all of Los Angeles.  The legendary Beverly Hills Hotel calls to mind the Tinseltown of yesteryear and stepping through its doors is like stepping into a different world.  CNN hit the nail on the head when it stated that the BHH "is as Old Hollywood as it gets."  The famed pink and green-hued site opened its doors in 1912, before the city of Beverly Hills had even been established.  Though it currently features all of the modern conveniences expected at upscale hotels, the place expertly maintains its yesteryear aesthetic.   Amenities include four restaurants/lounges (two of which, The Polo Lounge and the Fountain Coffee Room, are landmarks in and of themselves), a massive pool, a 1,900-square-foot spa, a salon, a gym, complimentary transportation to local attractions and a business center.  If you want to feel like a celebrity during your stay, this is the place to book.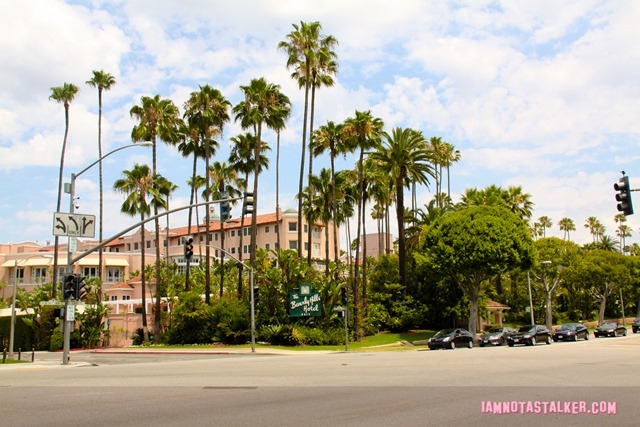 23. Hotel Bel-Air ($655) 701 Stone Canyon Road, Bel-Air – Hotel Bel-Air is one of the most beautiful and serene sites in all of Los Angeles.  The quiet, intimate property, which is located right off of Sunset Boulevard, boasts a huge swan-filled pond, 12 acres of lush landscaping, meandering pathways, countless tucked-away terraces, a restaurant (helmed by Wolfgang Puck), a bar, an award-winning spa, a business center, a gym, a large pool and some of the friendliest staff I have ever encountered.  The Hotel Bel-Air website states, "this peaceful getaway-from-it-all is where the rich and famous go to hide."  As such, be forewarned that due to the quiet and tranquil nature of the property, I would not recommend HBA as a place for kids (though it does offer specialized services for children).  But for those seeking a secluded and private retreat, this is the first spot I'd suggest.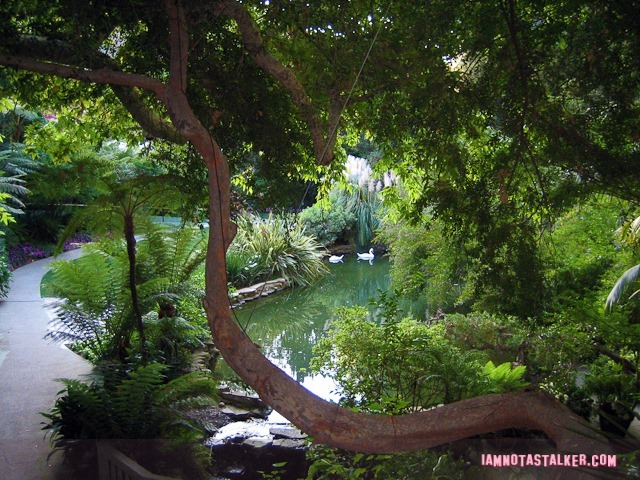 So there you have it, folks!  My recommendations for the best hotels in L.A.  Stay tuned the rest of the week for my guide to where to  eat, drink, play, shop and grab coffee.
91080