My Guide to L.A. – Bars
Aug 21st, 2015 | By
Lindsay
| Category:
This and That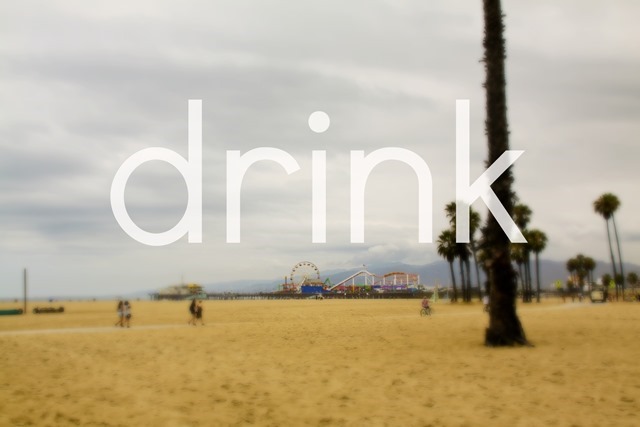 When I lived in L.A., one of my favorite things to do was grab a drink with the Grim Cheaper at a different bar every Saturday night.  I loved discovering, cocktail in hand, the myriad of fabulous lounges the city has to offer, many of them historic.  That being said, I am in no way a partier.  When it comes to bars, I prefer a much more low-key, quiet and intimate environment.  If you are looking for hip, happening places to grab a drink, this is not the list for you.  So without further ado, I present to you my favorite L.A. cocktail spots!  Cheers!
1. Gallery Bar and Cognac Room (Millennium Biltmore Hotel, 506 South Grand Avenue, downtown Los Angeles) – I absolutely love the historic ambiance of this bar.  People who visit invariably say, "The don't build places like this anymore."  And, sadly, they don't.  The detailing of the Gallery Bar and Cognac Room is incredible and the ornate carved plaster work, dark wood-paneled walls, and elaborate coffered ceilings are a sight to behold.  There's nothing like sitting at the long granite bar and imagining those who have sat there before throughout the Biltmore's ninety year history.  Be sure to try the establishment's signature drink, the Black Dahlia Martini.  It is named after actress Elizabeth Short, aka the Black Dahlia, who walked out of the Biltmore Hotel doors on the evening of January 9th, 1947, never to be seen again.  Her mutilated body was found six days later in an abandoned field.  The last person to see the Black Dahlia alive was the Biltmore doorman who tipped his hat to her as she walked south down Olive Avenue.   Her death remains one of L.A.'s most infamous unsolved murder cases.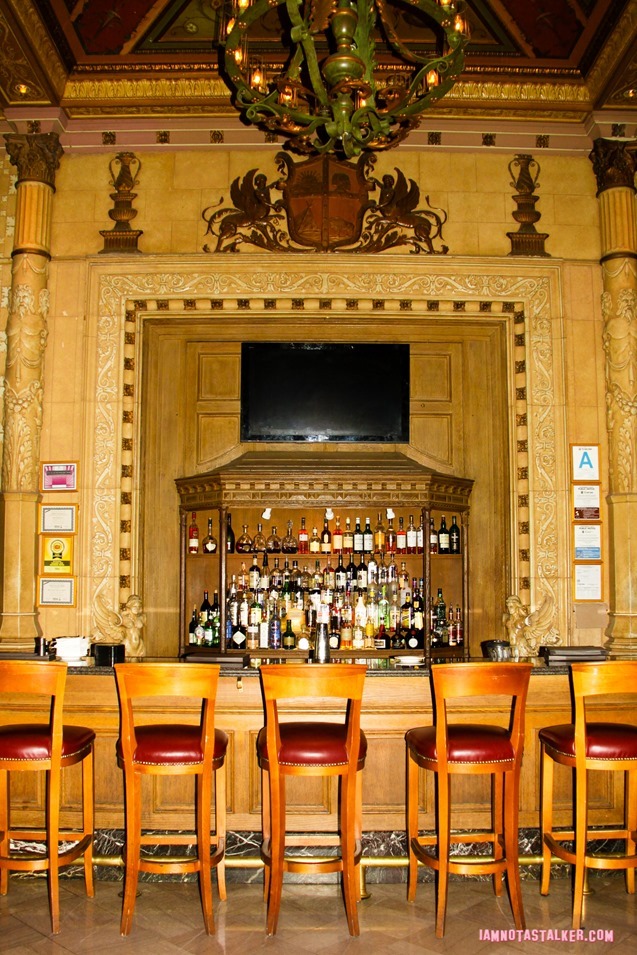 2. The Rooftop (The Standard, 550 South Flower Street, downtown Los Angeles) – A fabulous restaurant/bar located on the twelfth floor rooftop of The Standard Los Angeles that offers unparalleled, 360-degree views of downtown.  While there, it is virtually impossible to do anything but stare at the vast skyline surrounding you.  Of the watering hole, Travel + Leisure magazine said it is "Los Angeles like you have never seen it before," which hits the nail on the head.  The comfy sofas and seating areas only add to the experience and provide an excellent place for lounging.  The Rooftop is definitely not your typical bar.  Besides the views, the 1,220-square-foot site also features a heated swimming pool (that Rooftop patrons can use), a dance floor, vibrating waterbeds, and movies that are projected onto the walls of the neighboring buildings come nightfall.  The Rooftop also has a fabulous menu.  I recommend going in the afternoon as the atmosphere can get a bit crazy once the sun sets.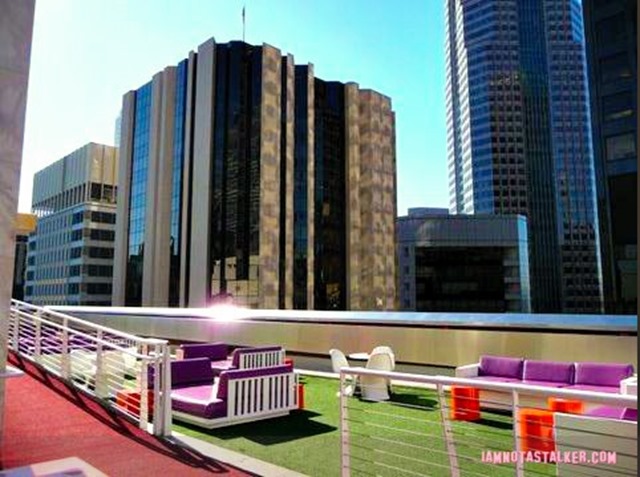 3. Cicada Restaurant (617 South Olive Street, downtown Los Angeles) – Easily one of L.A.'s most historic and legendary eateries, Cicada is perhaps best known as the "Pretty Woman restaurant."  Yep, this is the spot where Julia Roberts tossed an escargot shell across the room.  At the time, it was known as Rex Il Ristorante.  Aside from the name, nothing else has been altered from the moment that iconic scene was filmed.  The stunning Cicada Restaurant boasts some of the city's best Art Deco architecture.  It truly is a sight to behold.  Dining there can be pricey, though, so I would instead suggest grabbing a drink in the restaurant's Mezzanine Lounge and Bar.  That way you can still catch a glimpse of the place and spend some time in the Art Deco wonder.  I would call ahead before visiting, though, as the restaurant is often closed for private parties.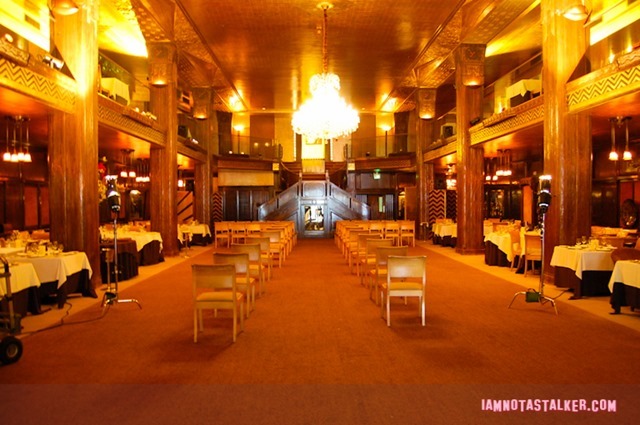 4. Cole's (118 East 6th Street, downtown Los Angeles) – This place has been around since 1908 and is Los Angeles' oldest continuously operating bar and restaurant.  The GC's dad visited the eatery regularly as a child to partake of its famous French dip sandwiches.  Cole's is said to be the originator of the dish, created by main chef Jack Garlinghouse for a customer whose gums were too sore to eat bread, though Philippe, The Original refutes that claim.  Regardless of who came up with the French dip, Cole's is indisputably one of L.A.'s most historic sites.  In 2007, it was purchased by the 213 development company, who set about on a year-long, $1.6-million restoration during which the restaurant's 40-foot long mahogany bar, porcelain penny tile mosaic flooring, and antique Tiffany glass lamps were all brought back to their original grandeur.  For their efforts, 213 was endowed with the Los Angeles Conservancy Preservation Award.  The site also boasts a "secret" bar, Varnish (there's another secret bar, The Association, that can be reached via Cole's front staircase), so if you are in the mood for a speakeasy experience, head there.
5. Pacific Dining Car (1310 West 6th Street, downtown Los Angeles) – This historic eatery was originally established in 1921 by a couple who became inspired after dining inside of an authentic railway car-turned-restaurant in New York.  They created a replica train car and parked it on a vacant plot of land in downtown L.A.  In 1923, the car was moved to the corner of 6th & Witmer, where it remains to this day.  Pacific Dining Car has been expanded over the years and now includes several rooms, including the Pacific Northwest Room (where Training Day was filmed) and the Astor Room (where Johnny Depp once hosted a party).  The richly-hued interior of the restaurant is stunning and truly evokes the glamour of early 1900s train travel.  The menu is rather pricey, so the GC and I typically opt to grab a drink at the wood-paneled Club Car Bar.  We have eaten onsite, though, too, and the food was fabulous, so if you do feel like splurging, I highly recommend the place.  Pacific Dining Car is open 24 hours a day, so for those fellow stalkers looking for a late-night drink or meal, this is the place.  (Note – there is a sister Pacific Dining Car restaurant in Santa Monica, but it doesn't have the same fabulous ambiance of the downtown location.)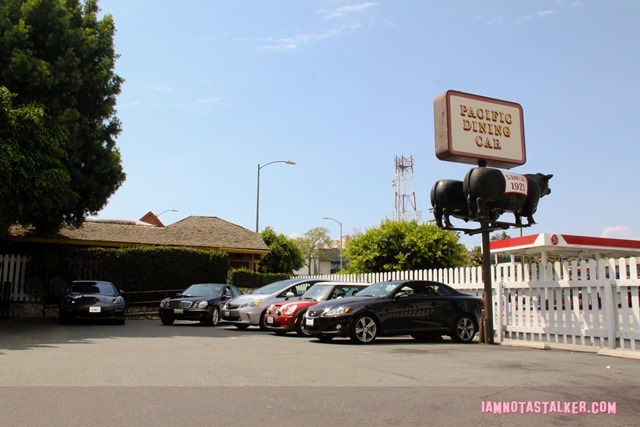 6. Engine Co. No. 28 (644 South Figueroa Street, downtown Los Angeles) – Where else can you enjoy a drink inside of an authentic former fire station?  This once working firehouse, which was built out of reinforced concrete in 1912, ceased operations in 1969.  It was put up for auction shortly thereafter and wound up being purchased by a restaurateur who began an extensive restoration of the place in order to transform it into an upscale eatery.  Much of the property's original décor was left intact, including the brass pole and gorgeous stamped tin ceiling.  Engine Co. No. 28 opened its doors in 1989.  Menu items are inspired by recipes from firehouses located across the U.S.  This is the perfect spot to grab a drink before heading to an event at nearby Staples Center or L.A. Live.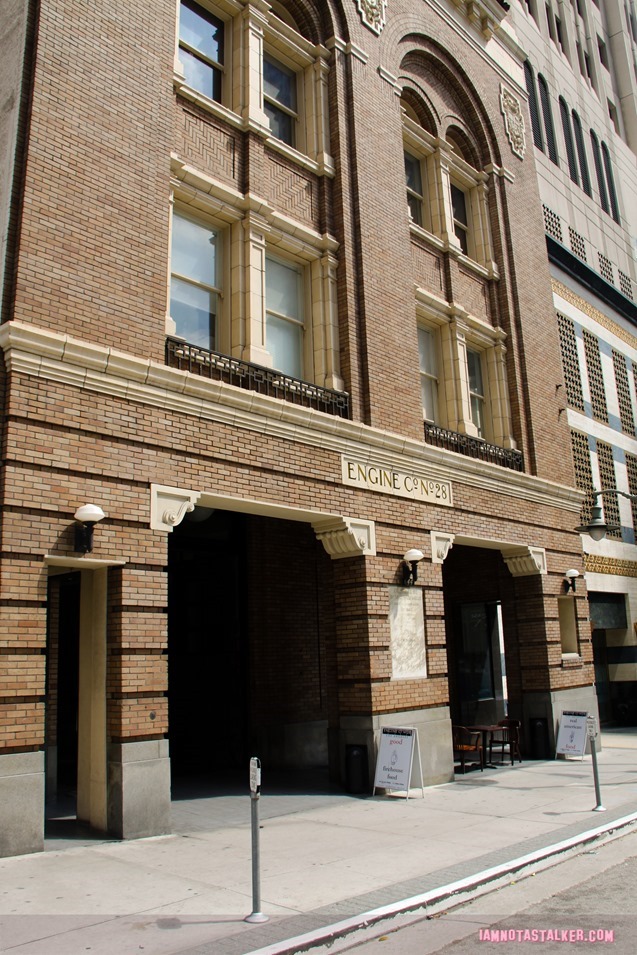 7. Casey's Irish Pub (613 South Grand Avenue, downtown Los Angeles) – This historic restaurant was originally established in 1969 and was later acquired by 213, the same development company that revitalized Cole's.  The 10,000-square-foot watering hole features a gorgeous mahogany bar, hand-pressed tin ceilings, a live-music stage, a dart room, a billiards room, and several private event areas, including the Captain's Quarters, which is dressed to look like the cabin of a ship.   The aspect of the eatery I love the most, though, is the fact that champagne is served in vintage coupe glasses, the same style that Marilyn Monroe used to drink from, which only adds to the historic aura.  Casey's also offers up a fabulous lunch and dinner.  Their Cobb Salad is a particular favorite of mine.  (Image via the 213 website.  I have been to Casey's countless times over the years, but for some reason do not have any decent pictures of it.)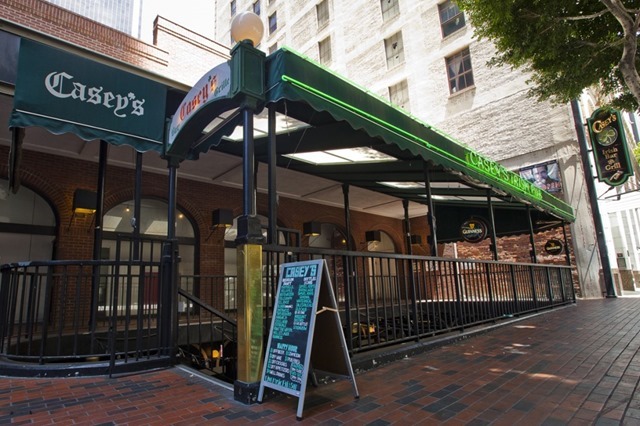 8. The Tam O'Shanter (2980 Los Feliz Boulevard, Atwater Village) – This spot was first opened in June 1922 by Lawry's restaurant chain founders Lawrence Frank and Walter Van de Kamp and has the distinction of being Los Angeles' oldest restaurant that is still operating in the same location and by the same family.  Hollywood set designer Harry Oliver, creator of the Spadena House in Beverly Hills, was commissioned to design the original building, which looks like something straight out of Disneyland.  The eatery actually boasts a large Disney connection.  In its early days, Disney Studios was located in close vicinity to The Tam O'Shanter and Walt Disney Company employees and animators reportedly dined there so often, the place was jokingly referred to the "Disney Studios Commissary."  Walt's preferred table was #31.  The restaurant has been remodeled and renamed a few times over the years, but is still owned by the same family.  The Tam is a great place to grab a drink and soak up the storybook-like atmosphere.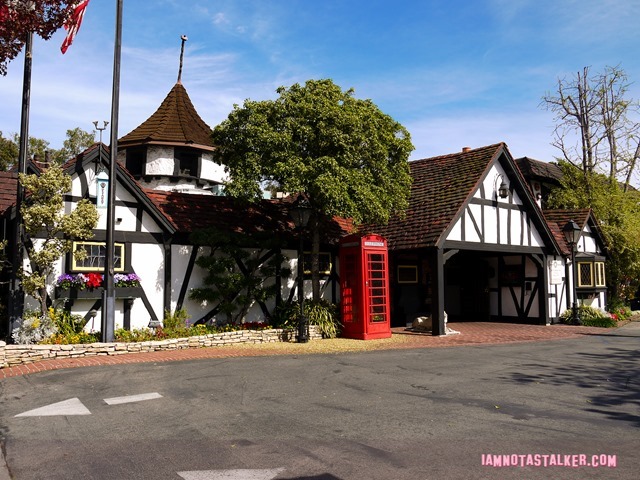 9. The Dresden (1760 North Vermont Avenue, Los Feliz) – This spot is most famous for its appearance in the 1996 comedy Swingers.  Its second claim to fame is its long-running musical act, Marty and Elayne, who have been playing quirky tunes on the premises since 1982.  The Dresden was originally opened in the 1954 by Carl Ferraro.  The interior was remodeled in 1966 and hasn't been touched since.  It's retro chic at its finest, with Mandarin-patterned screens, fake stone walls, large white booths, dim lighting, and a large leather-paneled bar.  The Dresden serves dinner, but I prefer grabbing a cocktail in the lounge area and listening to the whimsical ditties of Marty and Elayne (they play Tuesday through Saturday from  9 p.m. to 1:15 a.m.)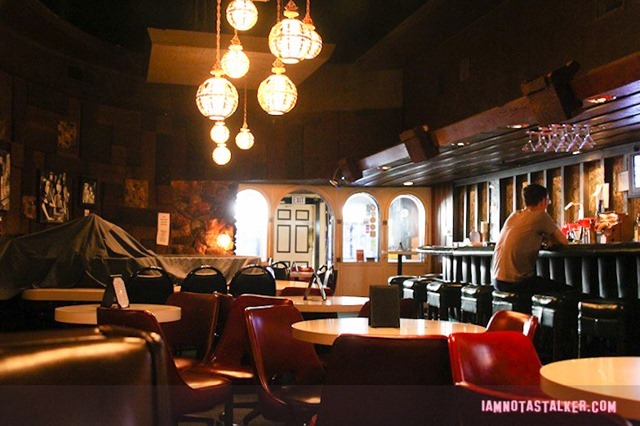 10. Pig 'N Whistle (6714 Hollywood Boulevard, Hollywood) – Another Old Hollywood eatery, this Gothic-style restaurant is the perfect spot to grab a drink before seeing a show at the Pantages Theatre.  The site was designed by renowned architectural firm Morgan, Walls & Clements in 1927 and features elaborate hand-painted tiles, molded sconces, and stained glass windows.  Its beauty was even featured in a 1928 issue of Architectural Digest.  After closing in 1949, the space housed a series of different stores until finally being purchased by a development team who restored the site to its original grandeur.  It re-opened in 1999 and is currently one of the prettiest spots to grab a cocktail (or dinner) in Hollywood.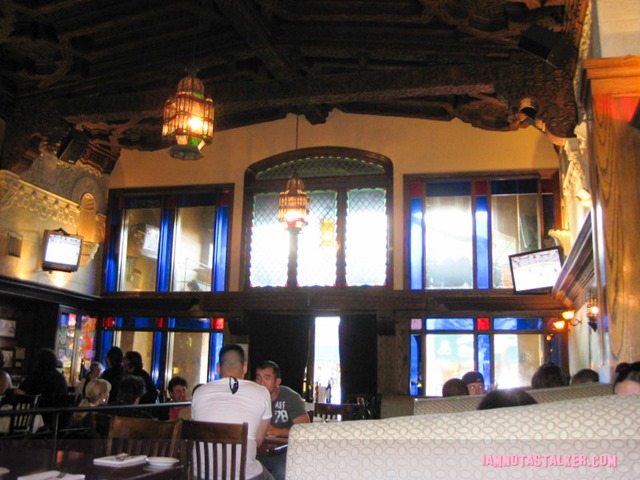 It's worth a visit just to check out Pig 'N Whistle's stunning hand-carved ceilings.  They are gorgeous!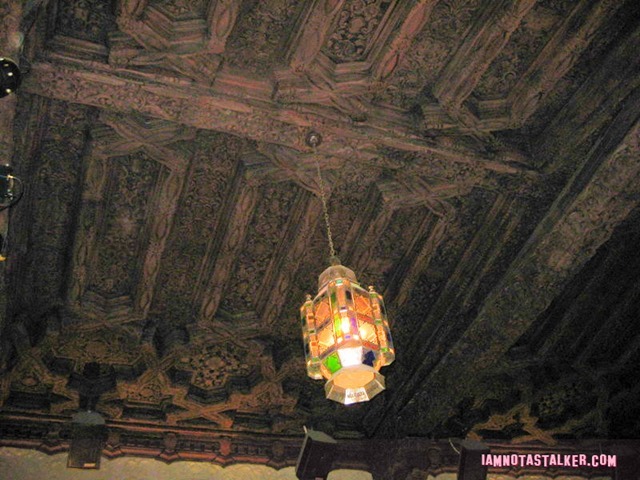 11. The Terrace (Sunset Tower Hotel, 8358 Sunset Boulevard, West Hollywood) – The Sunset Tower Hotel's open-air bar, which overlooks the pool, boasts some of the best views in the city.  The pink-hued space is also one of L.A.'s prettiest.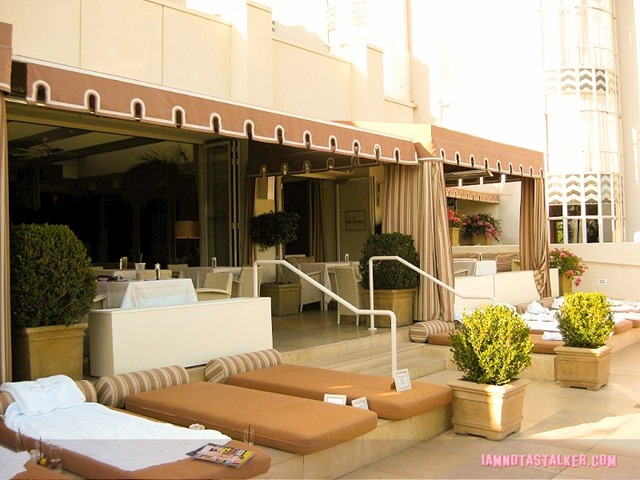 The Terrace exudes casual elegance, which is only enhanced by the beauty of the Los Angeles skyline visible below.  The site also serves breakfast, lunch and dinner, but for me it's the perfect spot for an aperotif, especially since it closes at 6 p.m. each evening.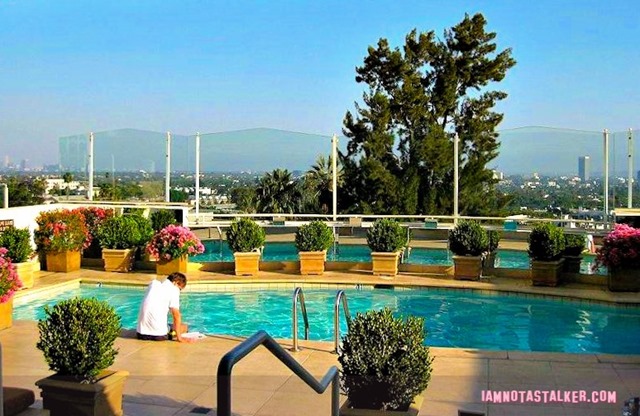 12. Il Cielo (9018 Burton Way, Beverly Hills) – Easily one of the most beautiful spots in Beverly Hills, the intimate Il Cielo has been voted "the most romantic restaurant in Los Angeles" so many times and by so many publications that I've lost count.  The New York Times also named it "one of the top five places to get married in the country."  Yep, the country!  And rightly so.  Before marrying the GC, I scouted pretty much every wedding venue L.A. had to offer and Il Cielo was one of my final three picks.  The eatery was founded by Pasquale Vericella in 1986 and is situated inside of a tiny Beverly Hills bungalow, which makes for an intimate and homey dining/drinking experience.  Il Cielo's philosophy is service first, food second, and ambiance third.  From what I have witnessed, all three are top notch.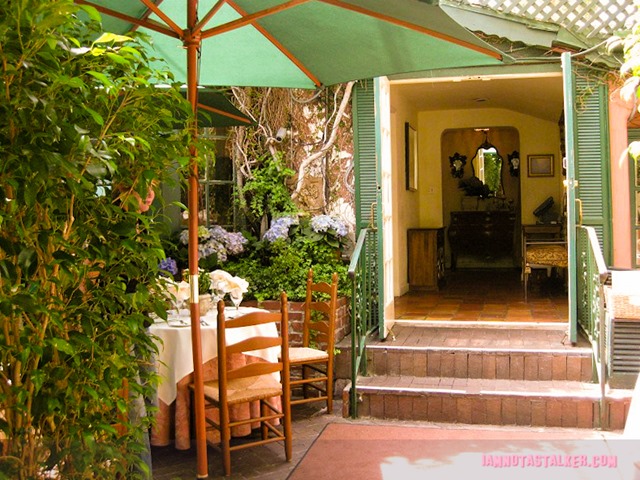 The enchanting garden-like site is quite small and, because of that, reservations are hard to come by, which is why this one is featured on my bars guide instead of my guide to restaurants.  It is also rather pricey.  If you can secure a reservation, though, I highly recommend dining there.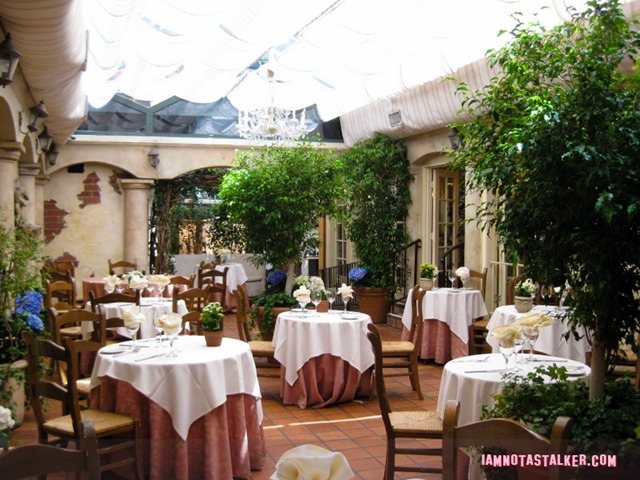 13. The Polo Lounge (The Beverly Hills Hotel, 9641 Sunset Blvd, Beverly Hills) – This historic bar is the epitome of Old Hollywood!  Situated inside of The Beverly Hills Hotel & Bungalows, the watering hole was established in the 1930s in what was formerly the property's children's dining room.  The site was initially named Jardin, but when a friend of the hotel's then owner Hernando Courtwright donated a recent polo trophy to display onsite, it was re-dubbed The Polo Lounge.  The eatery was popular with the Hollywood set from the get-go with everyone from John Barrymore to W.C. Fields hanging out there.  It is just as popular with stars today.  In fact, I've never been there and not seen someone famous.  Despite the high prices, the place is jammed most nights, so I would suggest arriving at around 4 p.m. for a drink.  The Polo Lounge is an icon and a definite not-to-be-missed spot when visiting L.A.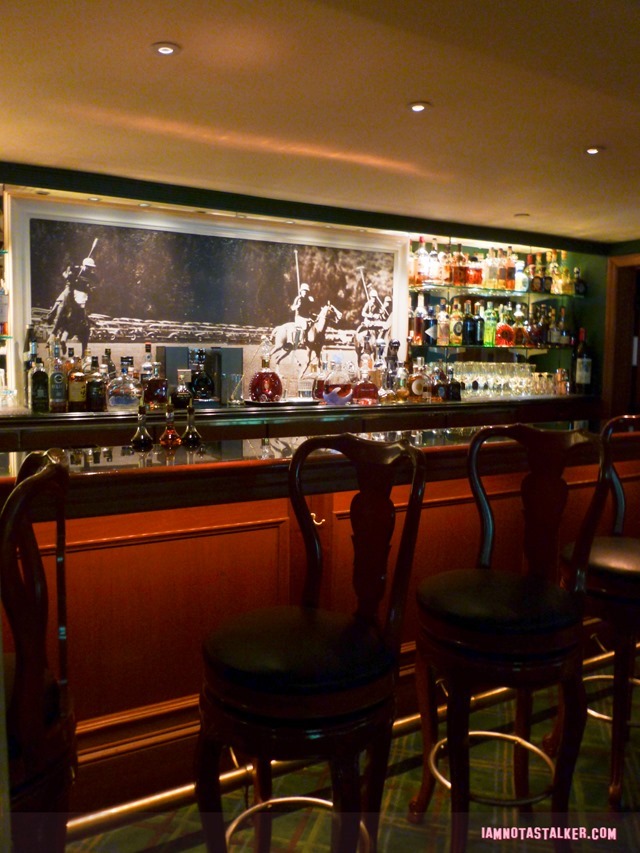 14. The Victorian (2640 Main Street in Santa Monica) –  The GC and I discovered this gem one night while on an evening stroll down Main Street in Santa Monica.  The hundreds of twinkle lights illuminating the front patio caught my eye and we decided to stop for a drink.  We've gone back countless times since.  The Victorian is actually a former private residence that was constructed in 1892.  In 1973, the structure was moved by the California Heritage Museum to its current location.  It is operated by the Gerson family, who also own Malibu Café and Calamigos Ranch, and The Victorian provides the same type of casual, but elegant atmosphere that can be found there.  The site is primarily utilized as a special events venue, but a bar named Basement Tavern operates out of the property's basement.  On nights when weddings or private parties are not taking place on the premises, the Basement Tavern serves food on The Victorian's patio and bottom floor.
I would only recommend The Victorian when the patio area is available.  The actual Basement Tavern space can get pretty crowded and wild, which is not my scene.  For those who do like to party, though, I've heard it's a very happening spot.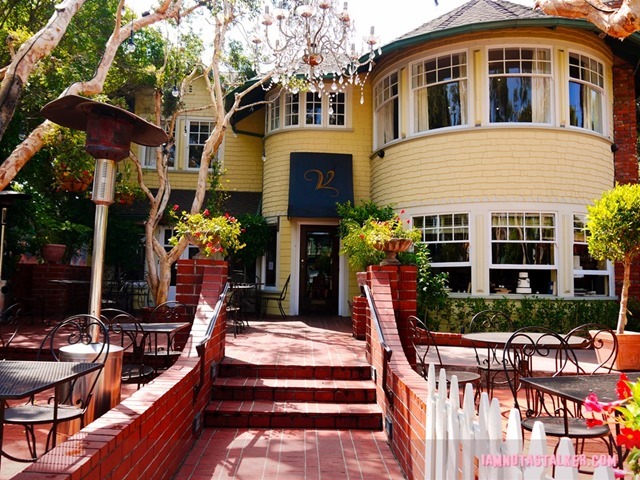 15. The Villa Restaurant of Woodland Hills (22160 Ventura Boulevard, Woodland Hills) – One of the best patios in the L.A. area can be found at The Villa Restaurant of Woodland Hills.  Though a bit out of the way, this place would be a perfect dinner/drinks spot for anyone staying in the San Fernando Valley hotels I recommended.  For those who are not, The Villa is worth the drive.  While the restaurant itself is gorgeous, with wood-beamed peaked ceilings and a towering rock-covered fire place, it is the tree-covered patio that is the property's most charming feature.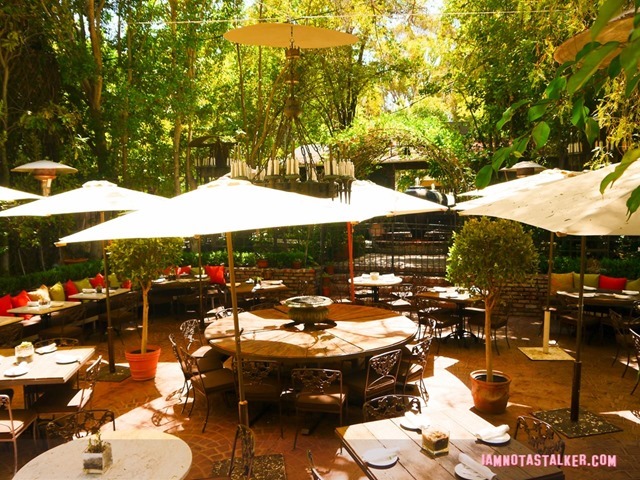 The Villa's patio is huge, but manages to retain an intimate feel, with tucked-away corners, padded seating areas, and a sparkling fountain.  It's a fabulous place to grab a drink on a warm afternoon or a cool summer evening.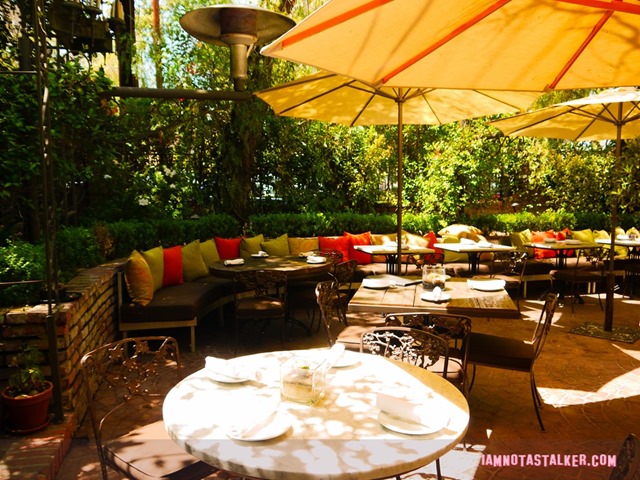 The restaurant's parking lot is also stunning (not something you hear every day!) and appears onscreen regularly.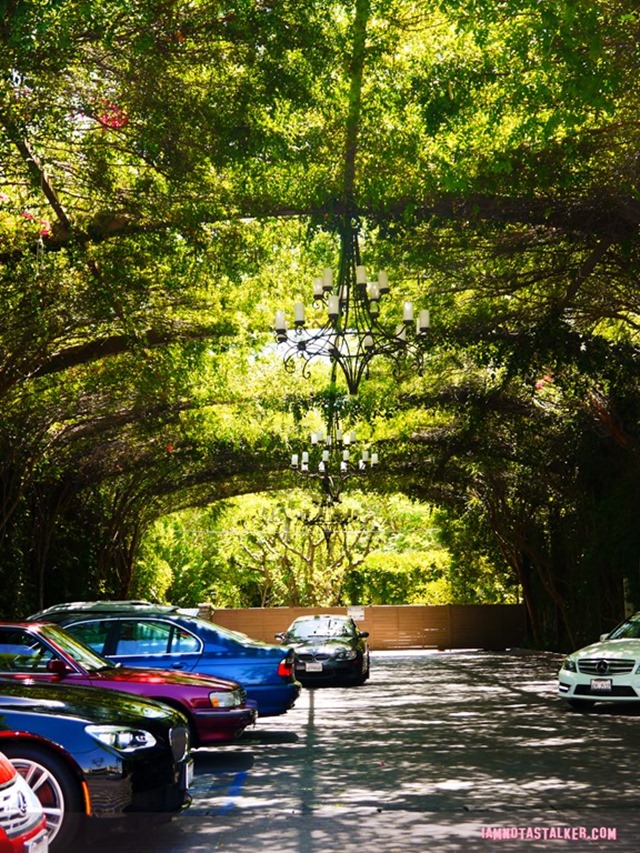 16. The Observation Bar & Art Deco Lounge (Queen Mary, 1126 Queens Highway, Long Beach) – Easily L.A.'s most unique watering hole, the ornate Observation Bar & Art Deco Lounge, which is located on the bow of the Queen Mary, formerly served as the ship's First-Class Lounge and is still decorated with original artwork from the vessel's time as a cruise liner.  The torchiere lamps, circular sconces, wood paneling, and gilded touches only add to the retro ambiance.  The site's long stretch of windows offers spectacular ocean views making this one of the best places in SoCal to watch a sunset.  As the Observation Bar's website states, "Drift a thousand miles away from reality, without ever leaving port."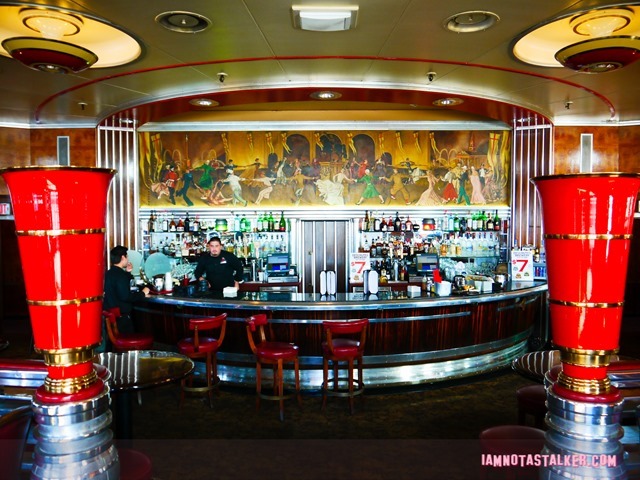 17. The Federal Bar (102 Pine Avenue, Long Beach) – The Federal Bar is housed inside of a former Long Beach branch of the Security Pacific National Bank.  The gaping space stands like a monument to bygone eras when banks were constructed to look like palaces.  The towering, elaborately-painted beamed ceilings stand three stories tall, as do the windows, there is ornate wood paneling virtually everywhere you look, and ornate carvings can be found throughout.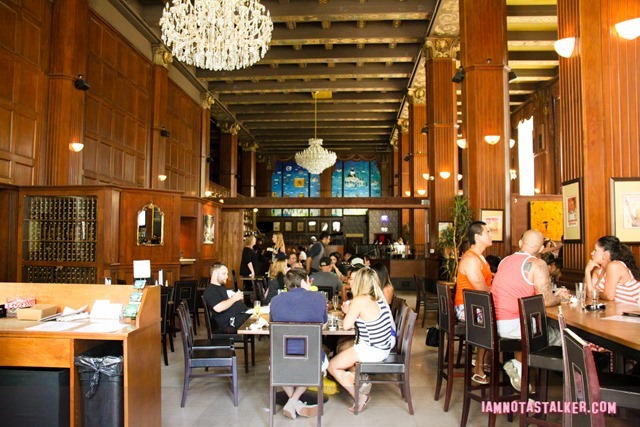 The massive space can house almost 300 patrons and boasts two large bars.  The Federal is hands-down one of the coolest spots I have ever sipped a cocktail.  For those seeking an even more unique experience, the site's basement level has been transformed into an events space/speakeasy named The Federal Underground that is reached via the former bank's three-ton vault door.  You will need a password to gain access, but don't worry, play nice with the hostess and she'll tell you what it is.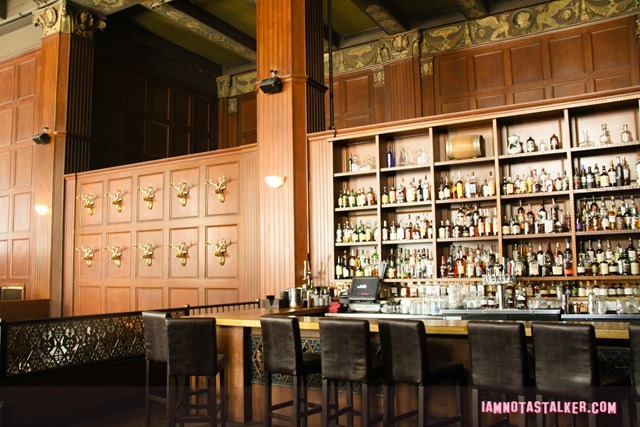 18. R+D Kitchen (1323 Montana Avenue, Santa Monica) – My mom and I frequented this spot for evening cocktails several times during our recent vacation in Santa Monica and absolutely loved it.  The vibe at R+D Kitchen is laid-back and fun, the staff is some of the friendliest I've ever encountered, the libations menu features countless unique offerings (we tried mezcal for the first time during one of our visits), and the Crispy Chicken Sandwich (pictured below) is uh-ma-zing!  The bartenders are also extremely knowledgeable and offer up exceptional wine suggestions.  Bonus fact – I've been there four times now and never once have I not seen a celebrity.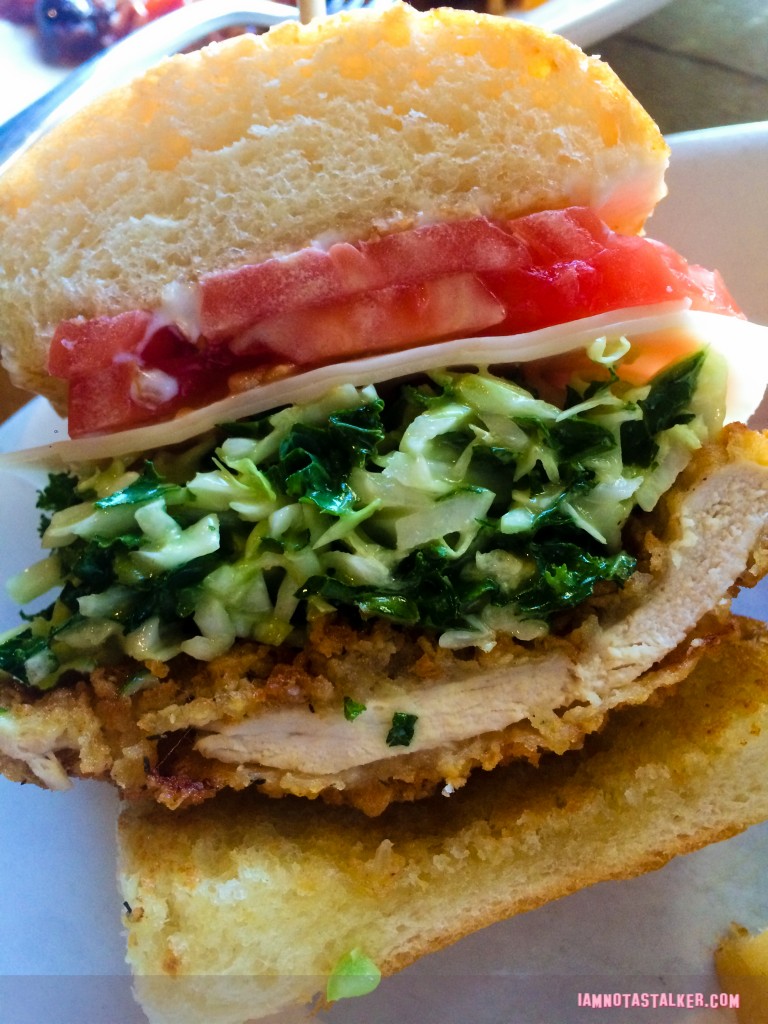 I hope my fellow stalkers enjoy visiting these places as much as I have enjoyed putting the list together.
91293