My Guide to L.A. – Shopping
Aug 28th, 2015 | By
Lindsay
| Category:
This and That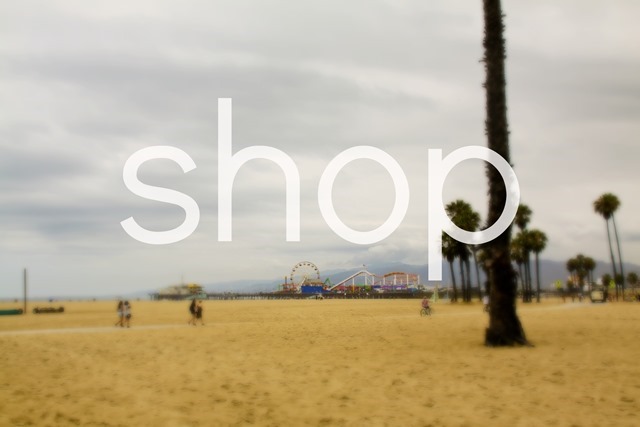 If there is one thing I love almost as much as stalking, it's shopping – and shopping in Los Angeles is in a class all its own.  When I first moved to SoCal in 2000, I found myself in retail heaven.  The city boasts a myriad of cute shopping districts, fabulous marketplaces, and one-of-a-kind stores.  Read on for a list of my picks of unique, only-in-L.A. shops and shopping centers where I prefer to lighten my wallet.
1. Lula Mae (100 North Fair Oaks Avenue, Pasadena) – Lula Mae is one of my favorite places in the entire world!  Besides offering the most unique and hilarious gifts you could ever imagine, the real charm of the shop is its owner, Marci.  She is the absolute embodiment of Kathleen Kelly (Meg Ryan) from You've Got Mail.  In fact, I am convinced that Nora Ephron met Marci one day while writing the screenplay for the 1998 flick and then based the character off of her.  When I lived in Pasadena, I frequented Lula Mae on a daily basis and Marci and I wound up becoming good friends (that's us below).  Since moving to the desert, I have asked her countless times to open a sister store in Palm Springs, but the truth is that it just wouldn't be nearly as inviting or successful.  What makes Lula "Lula" is Marci.  Without her vivacious personality, huge smile that she greets every customer with, and hilarious antics, the shop would be so much less luminous.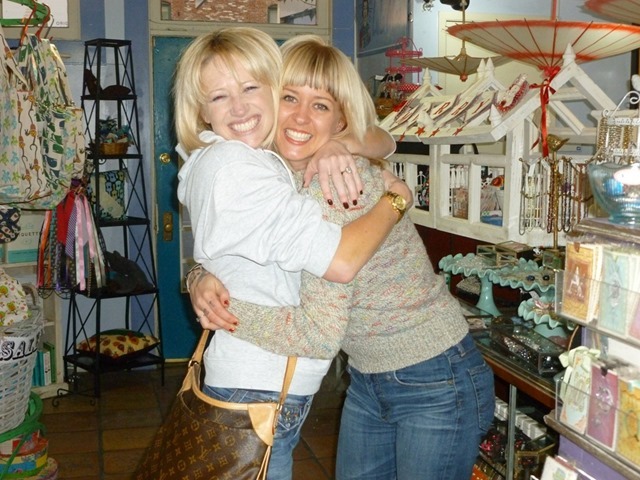 I'm not alone in my love of the place.  Lula Mae (which is NOT to be confused with the newly-opened rip-off shop in Venice that stole Lula's name) has been awarded countless accolades over the years, including "Best Boutique in Pasadena," "Top 5 Card Shops in L.A.," a "Must-See" by The New York Times: 36 Hours, 150 Weekends in the USA & Canada and one of the "Top 25 Most-Gifted Retailers in the U.S." by Gifts and Decorative Accessories magazine.  LA Weekly dubbed the shop "Best One-Stop Shopping" in 2011 and had this to say, "You know that friend of yours who always upstages the $10 bottle of wine you pull out of your purse when she shows up at parties with the most adorable, clever little trinket wrapped perfectly in a colorful vintage gift bag?  Well that smug b*tch probably has been shopping at Lula Mae for years now."  I've always loved that review because it perfectly encapsulates what Lula Mae is.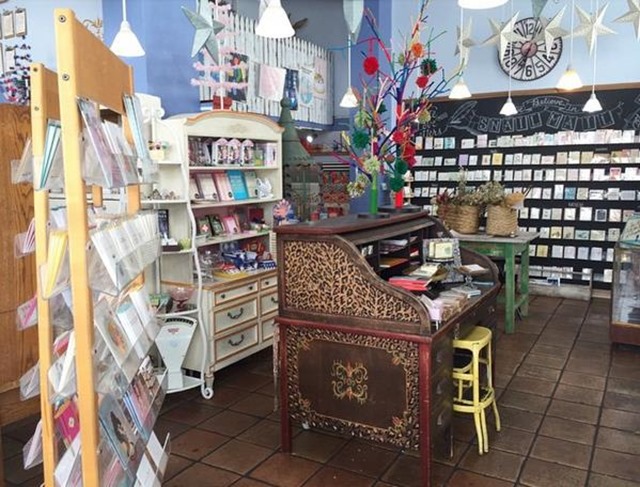 The shop is a truly unique, very special spot that I can guarantee is like nowhere else you will ever visit.   Simply put, Lula Mae is my "happy place."  Because I now live in Palm Springs, I can no longer get my daily Lula (or Marci) dose, but thankfully Marci's uproarious Instagram feed is a good replacement.  Oh, and did I mention Lula gives customers a treat with every purchase and has two shop kitties?  Best. Store. Ever.  (Photos above and below via the Lula Mae website.)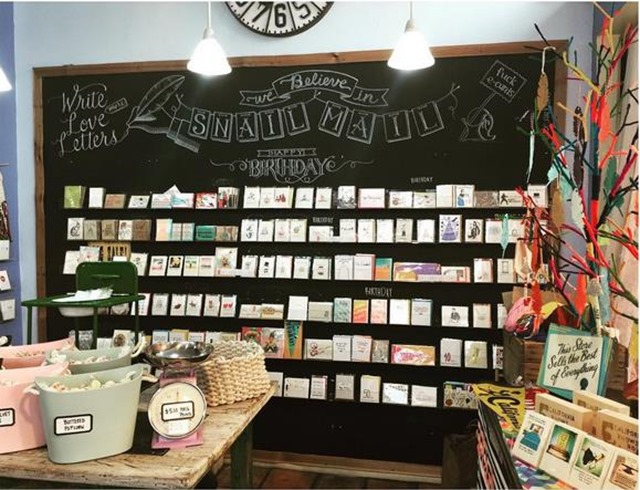 2. Old Town Pasadena (Fair Oaks Avenue & Colorado Boulevard, Pasadena) – My favorite shopping center in all of L.A.!  While I am a complete and total shopaholic, I am not one for being indoors and the Old Town Pasadena shopping district allows me to get my fix outside.  Not only does the area boast countless shops (from well-known chains like Madewell, Zara, Banana Republic and J.Crew to unique boutiques, many of which I will chronicle in this post) and restaurants, but the architecture is gorgeous.
Old Town Pasadena is comprised of blocks and blocks of exposed brick facades, historic storefronts (many of which masked as 1930s Chicago in the movie The Sting), bustling courtyards, and tucked-away alleys.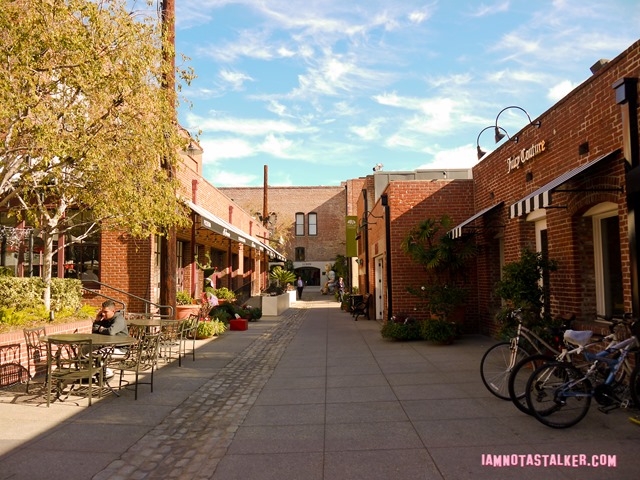 There is honestly no better place to spend your hard-earned dough and enjoy the warm California sun at the same time.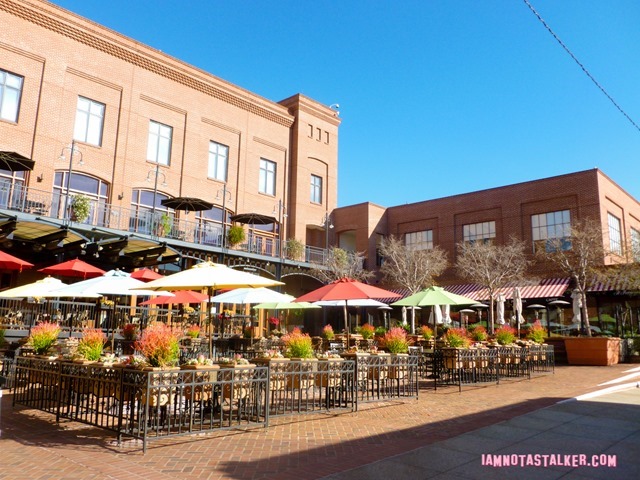 3. The Soap Kitchen (25 North Fair Oaks Avenue, Pasadena) – This fragrant shop was founded by Dali Yu in 2003.  All of the soaps, scrubs and candles sold on the premises are handmade in-house using all-natural ingredients, including essential oils and herbs.  The Soap Kitchen is family-owned and operated and you will often see Dali's mom, dad and brother (all of whom are incredibly friendly) working the cash register, as well as Dali's adorably sweet dog, Shea Butter, lolling around the space.  While the soaps sold are divine and surprisingly affordable, it is the lip balm that has me returning time and time again.  Best. Lip balm. Ever.  My mom is hooked on the stuff, too, and whenever I find myself in Pasadena, I drop by to stock up on our addiction.  The Soap Kitchen is also one of my favorite spots to buy stocking stuffers, small gifts and hostess/housewarming presents.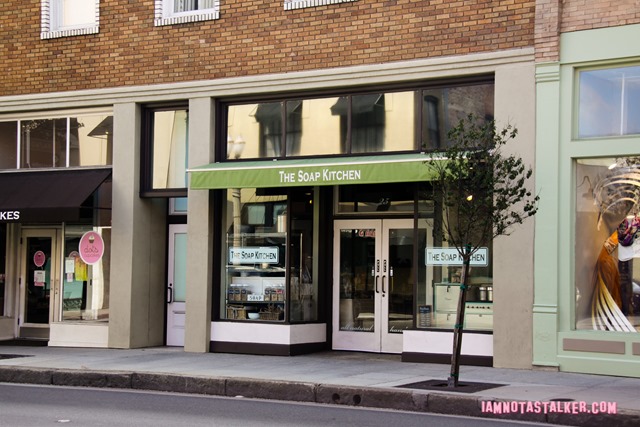 4. Jenette Bras (18 East Holly Street, Pasadena)  – My mom and I discovered Jenette Bras randomly while shopping in Old Town Pasadena one day.  The upscale lingerie boutique personally custom-fits women to find the best bra for their body type.  This is the spot to go to avoid "Mall Bra Syndrome," which all of my fellow female stalkers have experienced.  You know what I'm talking about – you go into a lingerie store and instead of fitting bras to specific bodies, the salespeople expect the bodies to fit their limited offerings of bras.  For me, this shop was a game-changer.  Though the store markets itself as being for large-busted ladies (they don't stock sizes A through C), I was able to find a bra there and it is easily the best bra I have ever owned.  When I first put it on in Jenette's atelier-style fitting salon, I looked like I had immediately lost ten pounds.  It has been one of my favorite places ever since (obviously!).  Though pricey (almost all of the lingerie comes from Europe), as the old saying goes, you get what you pay for.  The bra I purchased from Jenette has lasted for more than three years now and is still in just as great of shape as the day I bought it.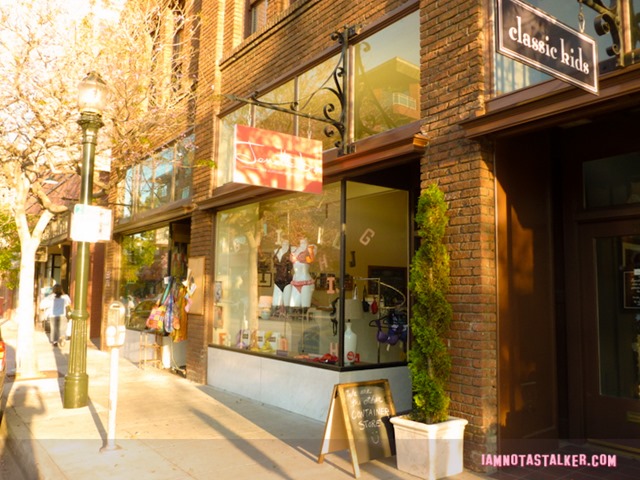 And there's a bonus!  Jenette Bras, aka "The Other Container Store"

, is owned by actress Jenette Goldstein, from Aliens, Terminator 2: Judgment Day and Titanic fame!  If you happen to catch her when she's in and purchase a bra, she'll happily pose for a photo with you.  Jenette has two sister stores, as well – one in East Hollywood and one in Sawtelle – for those who don't plan on visiting the Pasadena area.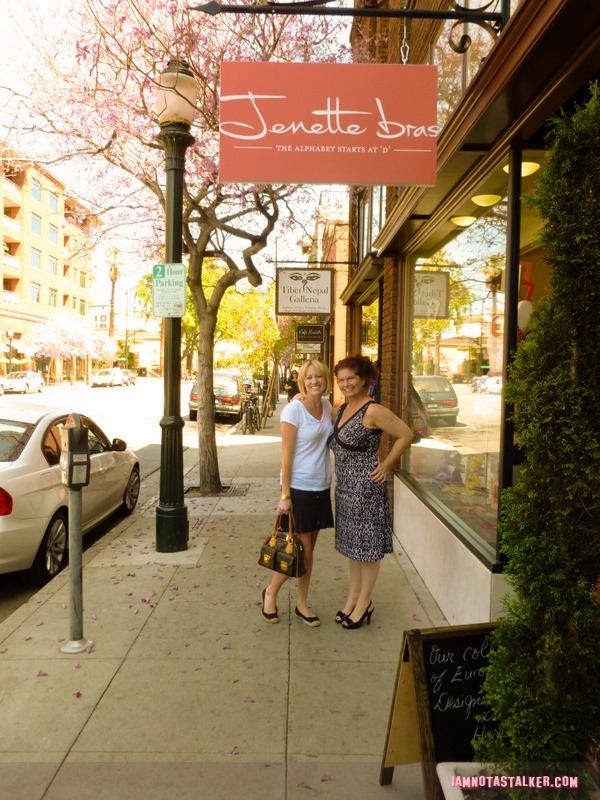 5. Vroman's Bookstore (695 East Colorado Boulevard, Pasadena) – My very favorite bookstore.  I used to live practically right next door to Vroman's and would visit daily, whenever I had writer's block or needed some colorful inspiration.  Vroman's is the type of place where you can walk in and say, "I heard about this book, but I can't remember the title or who wrote it, nor what it is even about."  And they will be able to figure out exactly what book it is you are seeking.  Vroman's has been family-owned and operated since it was founded in 1894 (no, that's not a typo) and is a veritable Pasadena institution.  The employees are so personable and customer-service-oriented that many still recognize me when I pop in despite the fact that I haven't lived in the area for over two years.  Not only is Vroman's book inventory bar none, but the store has an abundant card selection and sells a plethora of cute gifts and home décor.  I especially love visiting at Halloween, when the shelves are stocked with countless decorations.  The shop also regularly hosts celebrity book signings – and it is a far, far better venue than the Barnes & Noble at The Grove – so be sure to check out their special events page when in town.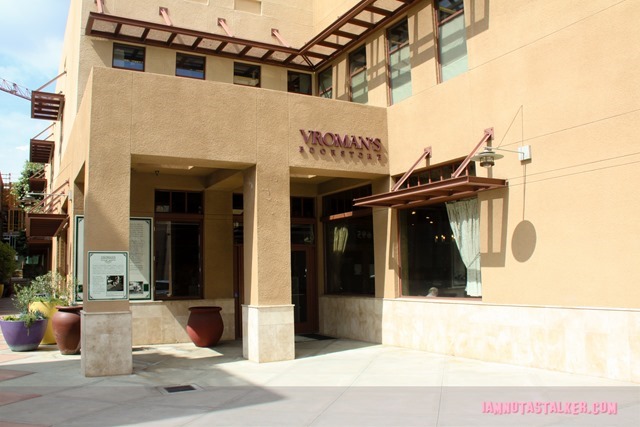 6. Rose Bowl Flea Market (1001 Rose Bowl Drive, Pasadena) – An absolutely HUGE flea market where shoppers can easily spend a full day.  The bad news for travelers is that the Rose Bowl Flea Market is most famous for its fabulous furniture finds, which can be tricky to transport home.  There are smaller goods to be found, though.  The market features over 2,500 vendors selling everything from clothing to jewelry to succulent planters to artwork to parasols to antiques.  Bonus – celebrities can almost always be spotted perusing the stands.  The Rose Bowl Flea Market is only held on the second Sunday of each month, so plan accordingly.  Tickets range from $8 to $10, depending on what time you arrive.  The market is HOT no matter what time of year you visit, so bring sunscreen!  For those who will not be in town on the second Sunday of the month, the Melrose Trading Post is held each and every Sunday and, though much smaller than the Rose Bowl Flea Market, is a good second choice.  (Thanks to my friend Kim for the below photograph, which she took of me and her daughter, Katie, during a recent visit.)
7. Tujunga Village (Tujunga Avenue, between Moorpark Street and Woodbridge Street, Studio City) – An absolutely adorable little block of boutiques and restaurants located on a quiet street in Studio City.  As I mentioned in My Guide to L.A. – Coffee post, when the GC and I lived in Los Angeles, one of our favorite weekend traditions was to grab a couple of lattes at Aroma Coffee and Tea and then peruse the shops nearby.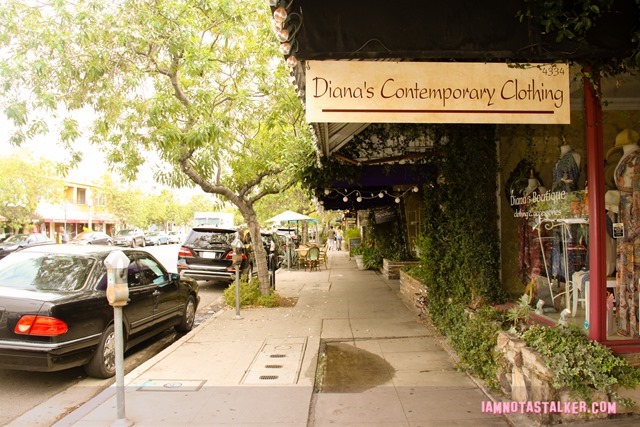 Some of my favorite area stores include Alisa Michelle (a handmade jewelry shop filled with unique necklaces, bracelets and charms), Trinkets and Treasures (an adorable gift shop that sells reasonably-priced treasures – this is one of my go-to stores for Christmas shopping), Swag Antiques (an upscale home décor and antiques store), and Village Gourmet Cheese & Wine (a gourmet cheese and wine store, market and deli).  Bonus – the Smallest Park from Parks and Recreation is located right around the corner from Tujunga Village.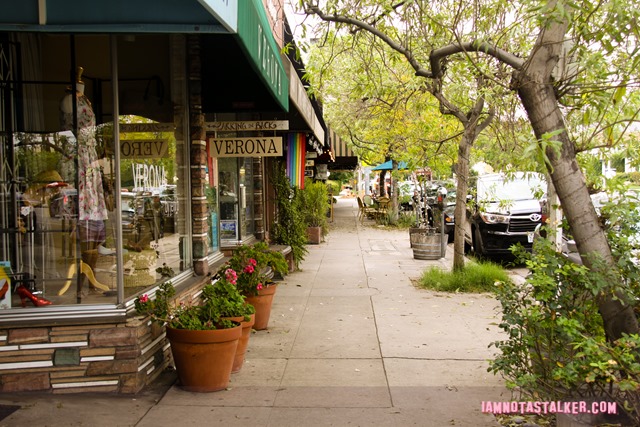 8. Naimie's Beauty Center (12640 Riverside Drive, Valley Village) – The most amazing beauty supply store on the planet and a definite only-in-L.A. spot.  Geared towards Hollywood hair and make-up artists, Naimie's is easily the largest beauty supply I have ever been to.  The shop is HUGE, with aisle upon aisle of colorful lipsticks, blushes and eye liners, every hair tool one could possibly imagine, nail polishes, make-up bags, and a plethora of brushes.  The place literally has everything under the sun one could possibly need to get their beauty on.  I first discovered it while looking for an old-school clay pot eyeliner like my mom used to wear (this was years before they became popular again).  A make-up artist told me to head to Naimie's and when I first walked in, I just about gasped at the size of the place.  The store, of course, had the eyeliner I was looking for (as I said, they have everything) and I have been going back regularly every since.  Naimie's stocks well-known brands such as MAC and Stila, as well as others that are lesser-known, but just as fabulous.  Anyone who enjoys make-up will quickly become obsessed with this shop.  You can easily spend hours searching through all of the extraordinary cosmetic treasures.  The sales people are also extremely helpful and knowledgeable.  I can pretty much guarantee you won't find anything like Naimie's anywhere else in the world.  And come Halloween, the store features a large selection of specialized make-up for creating any kind of costumed look you desire.  Cinema Secrets Pro Cosmetics is also a great place to shop for Halloween make-up.  (Photo via the Naimie's Facebook page.)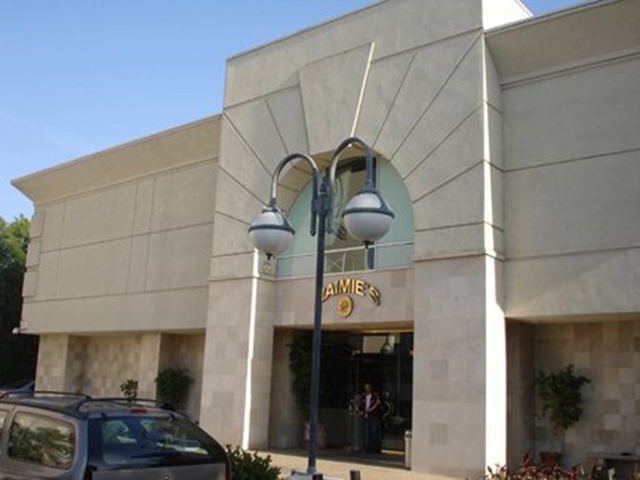 9. The Last Bookstore (453 South Spring Street, downtown Los Angeles) – Easily the most unique book shop in Southern California, quite possibly the world.  The Last Bookstore was founded by Josh Spencer in 2005.  He chose the name ironically because, as he explained in a Southern California Public Radio interview, "I've always been into science fiction and post-apocalyptic things, so I always wondered what a cool 'last bookstore' would look like for some future civilization."  For me, the shop was love at first sight.  The 16,000-square-foot store is nothing short of magical.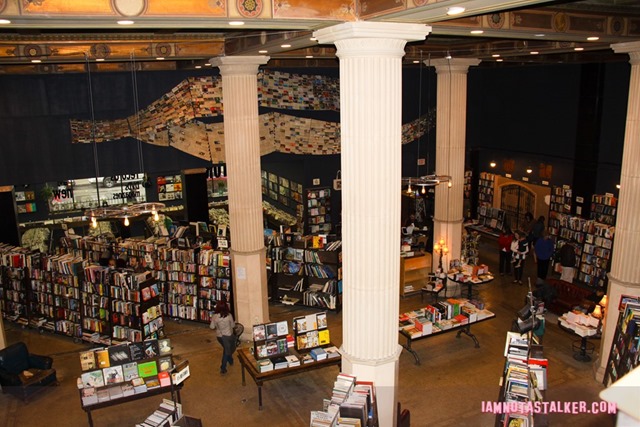 Housed in a historic former bank, the Art Nouveau-style space would be beautiful on its own, but Spencer wound up creating a whimsical world inside of it – one that looks more like a movie set or a scene from Alice in Wonderland come to life.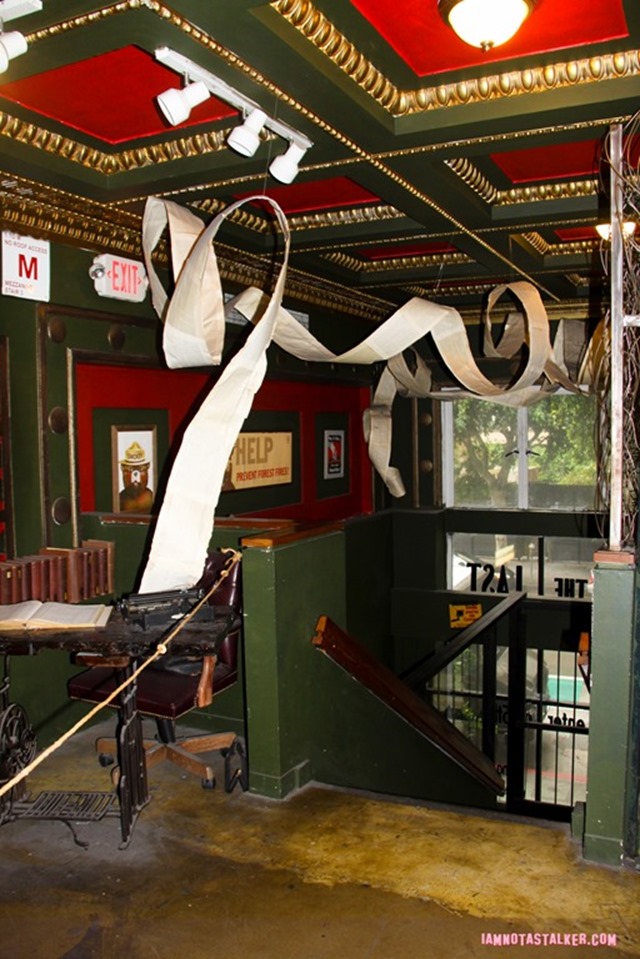 The store's most famous/Instagramable décor element is its massive and striking labyrinth.  Don't go asking shop workers where it is located, though – you have to hunt it down yourself.  There are no shortcuts at The Last Bookstore.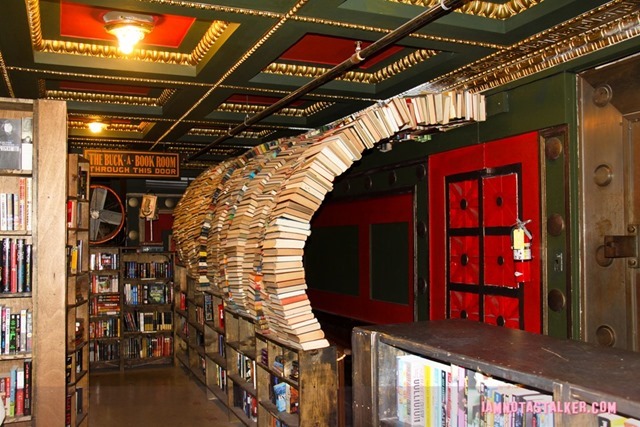 Besides being a gorgeous space in and of itself, The Last Bookstore is also California's largest independent bookshop and houses an inventory of 250,000 new and used tomes, so you are pretty much guaranteed to find whatever you are looking for, literary-wise.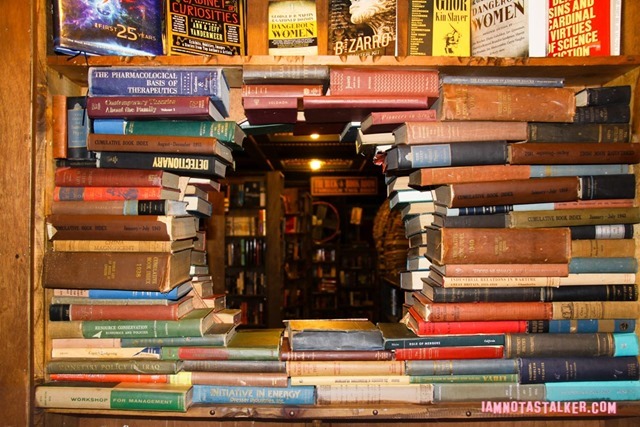 10. The Library Store (Los Angeles Public Library, 630 West 5th Street, downtown Los Angeles) – Housed in the gorgeous Los Angeles Public Library (pictured below), The Library Store features a large selection of L.A.-themed and literary-centric gifts, as well as whimsical specialty items.  It is one of my favorite boutiques in the city and whenever I find myself staying in the downtown area, I head there to peruse the shelves.  I usually end up staying at least an hour and never leave empty-handed.  If you're looking to buy Los Angeles-themed souvenirs for your friends back home that are not of the license-plate-with-their-name-on-it variety, this is the spot to do it.  The shop reminds me a lot of Lula Mae – fabulously unique gifts, very reasonably priced and a whole lot of fun.  All sales benefit the library, so shopping here is almost like doing a good deed! 

  There is also a The Library Store on Wheels that travels around to various flea markets and events, so keep your eyes peeled for it while out and about.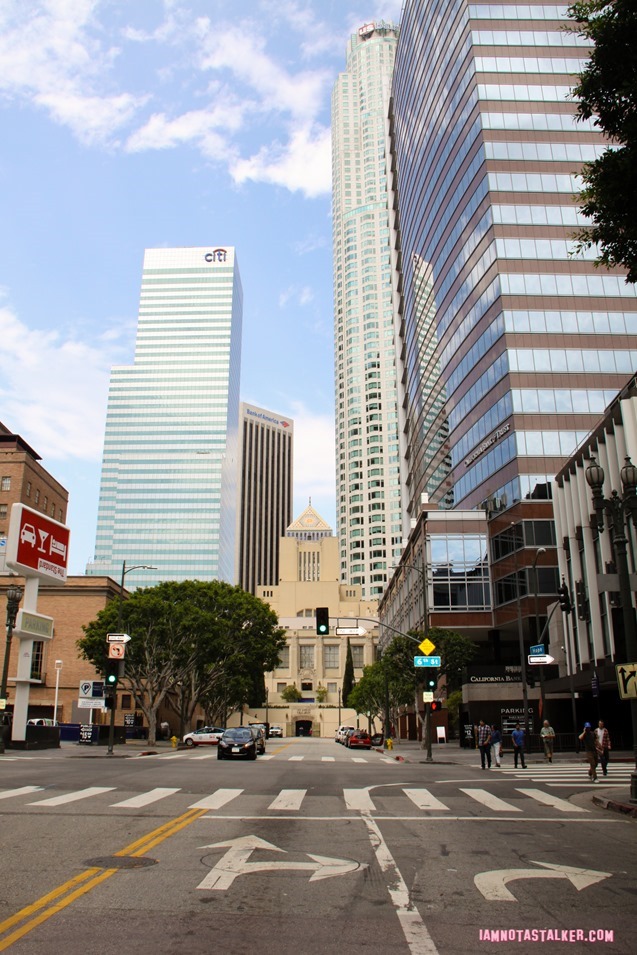 11. Larry Edmunds BookShop (6644 Hollywood Boulevard, Hollywood) – THE place to shop for Hollywood (especially Old Hollywood) books and memorabilia.  Larry Edmunds BookShop, which was originally founded in 1938, is a virtual treasure trove containing over 500,000 movie photographs, more than 6,000 film posters, and 20,000-plus motion picture and theatre books.  I have found the most unique and specialized gifts for friends at this shop – old Carol Burnett headshots and stills for a friend who is a major fan of the actress, a vintage 1977 Star Wars postcard for my Star Wars-obsessed BFF, and a book on Warner Bros. Studio for a WB aficionado pal.  As I've said before, if it has to do with Tinseltown and it's not in here, maybe it doesn't exist!
12. Larchmont Village (Larchmont Boulevard, between Rosewood Avenue and West 1st Street, Windsor Square) – A charming shopping district similar to Tujunga Village (#7 on this list), but on a march larger scale.  The picturesque street features a myriad of coffee shops, clothing boutiques, restaurants, and gift stores.  Larchmont Village is quaint and historic and a fabulous place to spend a leisurely afternoon.   It is a very popular spots with celebrities, as well (I don't think I've ever been there and not seen a star), so be sure to keep your eyes peeled.  My favorite area store is Pickett Fences (214 North Larchmont Boulevard), which sells hilarious gifts, high-end clothing, unique cards, and fun trinkets.  And don't forget to stop by Larchmont Village Wine, Spirits & Cheese (223 North Larchmont Boulevard), which, as I mentioned in My Guide to L.A. – Restaurants post, serves the best sandwiches in the entire world.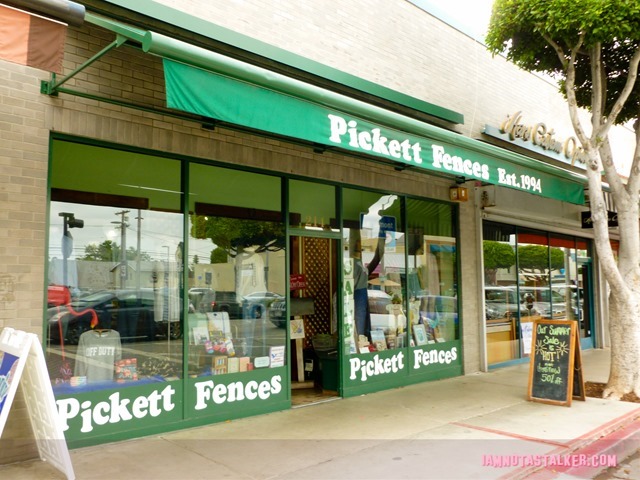 13. Whimsic Alley (5464 Wilshire Boulevard, Mid-Wilshire) – I only recently discovered this gem thanks to an Instagram photo that someone I follow posted.  I was immediately intrigued by the interior of the shop, which looks more like a movie set than a store, and ran right out to see it in person.  Whimsic Alley sells fantasy-themed items (many having to do with the Harry Potter, Game of Thrones and Doctor Who franchises) – a genre that I am not at all interested in.  But that did not matter as I fell in love with the shop on sight.  Created by Hollywood set designers, the place resembles an old English village with several charming storefronts, the interiors of which display themed specialty items, including wands, decorative writing instruments, costumes, and gifts.  Adding to the fun is the fact that not only are the employees insanely friendly, but they allow customers to take as many photos of the interior as they want.
Whimsic Alley is easily one of the most unique shops I have ever visited and the detailing that can be found in virtually every nook and cranny is absolutely amazing.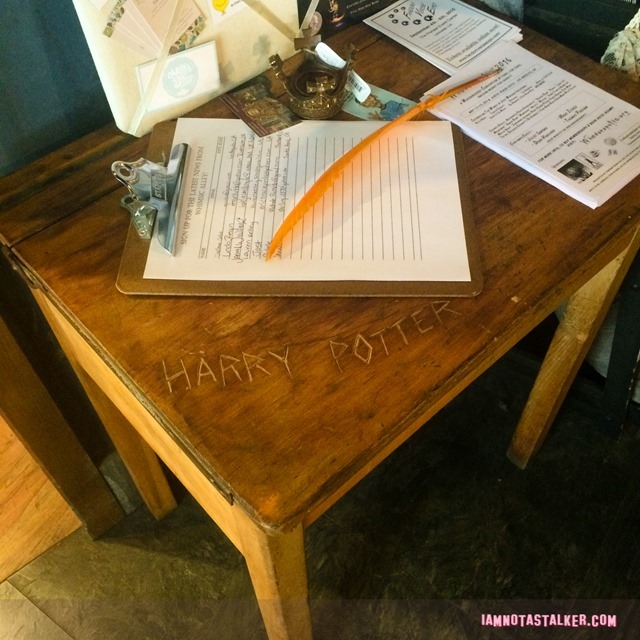 The store also boasts a special events space named the Great Hall, which is reached via a re-creation of the TARDIS Police Box from Doctor Who (pictured below).  As I said, I am not into Harry Potter or fantasy at all, but I can think of nothing cooler than hosting a wizard party at Whimsic Alley!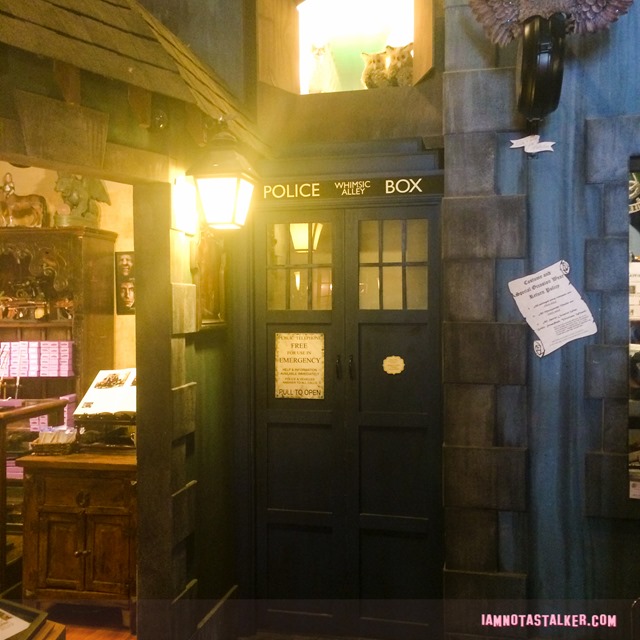 14. The Grove (100 The Grove Drive, Fairfax) – One of L.A.'s most popular and beautiful shopping venues.  The 20-acre site, which sits adjacent to The Original Farmers Market (also featured in My Guide to L.A. – Restaurants posts), was the brainchild of developer Rick Caruso.  Because of its connection to the historic market, Caruso designed the property with L.A.'s past in mind, adding nostalgic touches like a trolley and an Art Deco movie theatre with ushers who wear classic pillbox hats.  The Grove's most popular element is its huge central dancing fountain which is reminiscent of the Fountains of Bellagio in Las Vegas.  The picturesque center, which boasts a myriad of cafes, restaurants and shops, has become so iconic since it was established in 2002 that it actually welcomes more visitors each year than Disneyland!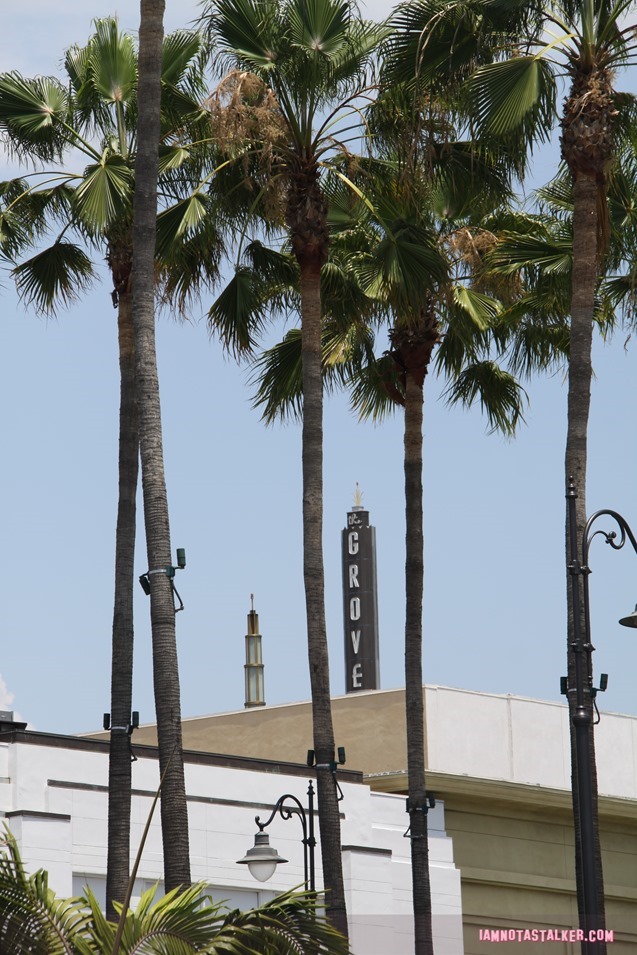 15. Kitson (395 Santa Monica Place #120, Santa Monica) – This huge, two-story specialty shop features a myriad of L.A.-themed clothing, home décor, gifts, and novelty items.  Fabulous non-L.A.-centric merchandise is sold, as well.  Kitson is one of my favorite places to buy stocking stuffers and small gifts and whenever I am in Santa Monica, I invariably find myself popping in.  I love perusing the hilarious books and cards and rarely walk of the place empty-handed.  Kitson's wares are so unique and amusing that the Grim Cheaper even enjoys browsing there.  From pricey high-end items to more simple trinkets, if you are looking for chic L.A. souvenirs, (again not of the license-plate-with-your-name-on-it variety), Kitson is the place to go.  The company now has several outposts all over L.A. and the U.S., but the Santa Monica store is my favorite.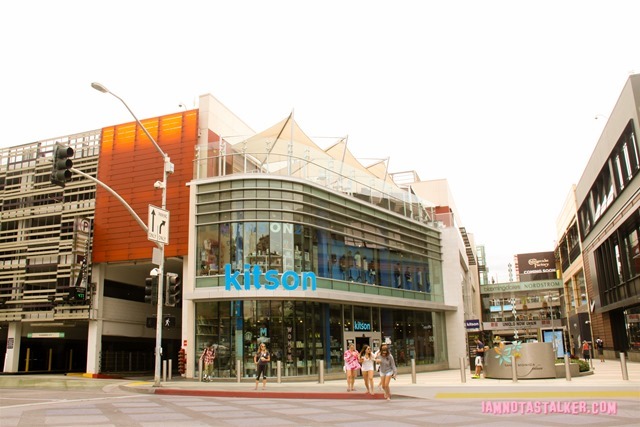 16. Third Street Promenade (3rd Street, between Wilshire Boulevard and Ocean Avenue, Santa Monica) – The Third Street Promenade, which is situated steps from the beach, consists of three long blocks of retail stores, clothing boutiques, and restaurants.  The site, which is closed to cars and is a walker's paradise, begins at Wilshire Boulevard and culminates at the newly-remodeled Santa Monica Place, an upscale outdoor mall that boasts large department stores like Nordstrom and Bloomingdale's, high-end shops such as Louis Vuitton and Tiffany & Co., numerous eateries (Sonoma Wine Garden is my personal favorite – they have a great happy hour), and sweeping ocean views.  The Promenade is a great place to walk, shop and enjoy SoCal's fabulous year-round temperate weather.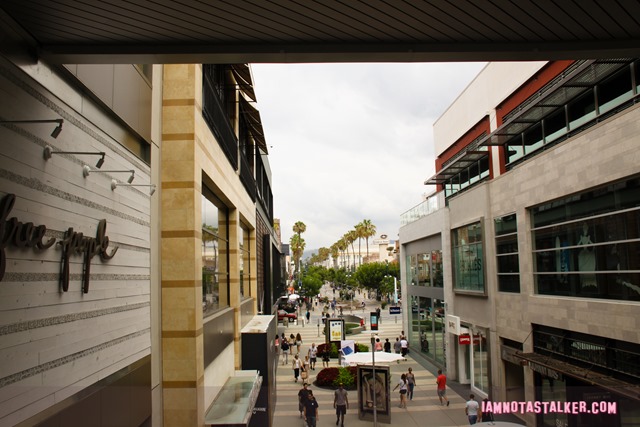 17. Abbott Kinney Boulevard (Abbot Kinney Boulevard, between South Venice Boulevard and Westminster Avenue, Venice) – An incredibly colorful, eccentric street filled with a mix of upscale boutiques, affordable gift shops and kitschy emporiums.  I love the unique ramshackle assortment of historic storefronts and varying architecture.  The shopping district runs a good seven blocks and one can easily spend all afternoon wandering around.  Not-to-miss stops include Heavenly Couture (super cute clothing, all of which is under $16!), Tumbleweed & Dandelion (fabulous home décor store), and Burro (fun gift and card shop).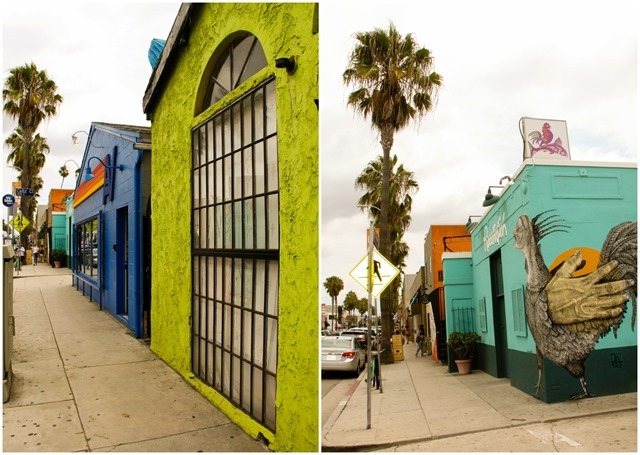 18. Big Red Sun (560 Rose Avenue, Venice) –  This unique home and garden store is situated inside of an adorable former private residence.  The quaint bungalow was repurposed by landscape artist Selena Souders in 2008 and its interior is absolutely charming.  To call Big Red Sun a gift shop, though, would be oversimplifying.  In reality, it is a boutique, nursery and special events venue all rolled into one.  The space, which can be rented out for private parties and weddings, is stocked with whimsical garden materials, specialty gifts, vintage furniture, and home décor items.  It's one-of-a-kind spot to shop with a gorgeous atmosphere.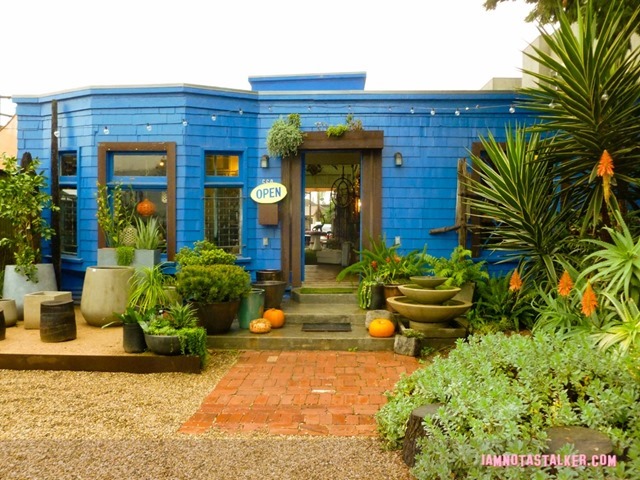 There you have it, my picks for the best stores and marketplaces in L.A.  Now go get your shopping on!
91407