Westside Pavilion from "Christmas with the Kranks"
Dec 19th, 2016 | By
Lindsay
| Category:
Movie Locations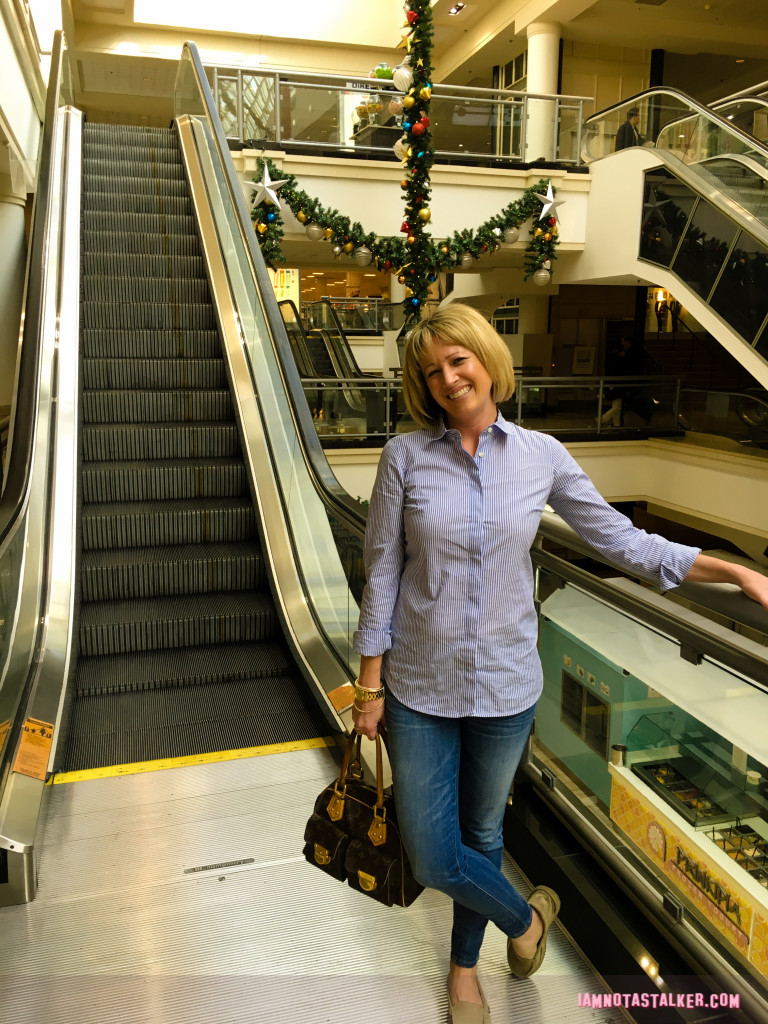 Some cities know how to do Christmas right.  Sadly, Palm Springs is not one of them.  As I mentioned last year, the desert just seems to be lacking when it comes to Christmas décor.  Yes, there are lights and garland strung in certain sections of our local mall and colorful wreaths hung from a few select street lights, but overall the Coachella Valley doesn't really have a holiday feel.  So much so that two years ago, the Grim Cheaper and I decided to make an annual December pilgrimage to Los Angeles so that we could shop in a city that truly embraces the holidays.  (You'd be hard-pressed to find a mall in L.A. that does not have a two- or three-story tree.  Now that's how I want to do my Christmas shopping!)  Shortly before we ventured out this year, I discovered that Christmas with the Kranks had done some filming at Westside Pavilion, so we headed there first.  And it turned out to be a truly magical experience.  But more on that in a bit.
As I talked about in Friday's post, earlier this month I set out to track down some unknown locations from Christmas with the Kranks.  After identifying the Irish pub from the 2004 comedy, I turned my focus on the mall where Nora Krank (Jamie Lee Curtis) and her husband, Luther Krank (Tim Allen), visited "Tans Forever" tanning booth.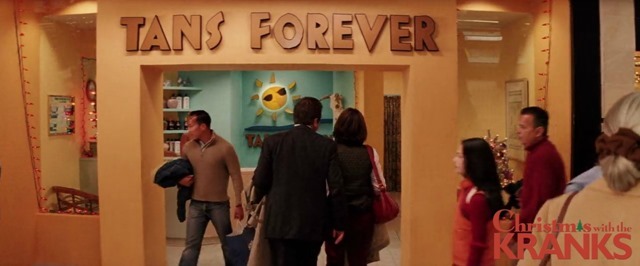 While watching the scene, I noticed, via the escalators visible behind Nora and Luther, that the Christmas with the Kranks shopping center had three levels.  So I did a Google search for "three-story mall" and "Los Angeles" and was led to this LA Tourist article which mentioned the Westside Pavilion and its three floors of storefronts.  One look at images of the Pavilion told me that it was definitely the right place!  From there, I just had to figure out the exact spot where filming had occurred.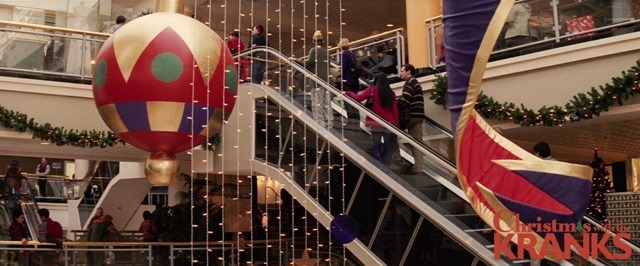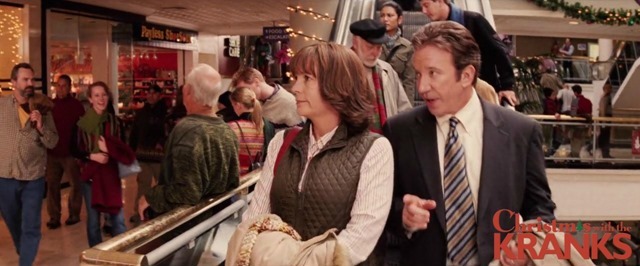 It was obvious in the scene that the Tans Forever storefront had been created on Westside Pavilion's second floor.  And thankfully the names of a few neighboring businesses were visible in the background, including Shoe Care, Payless ShoeSource, and Regis Hairstylists.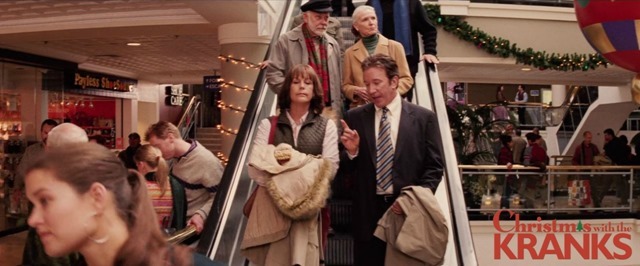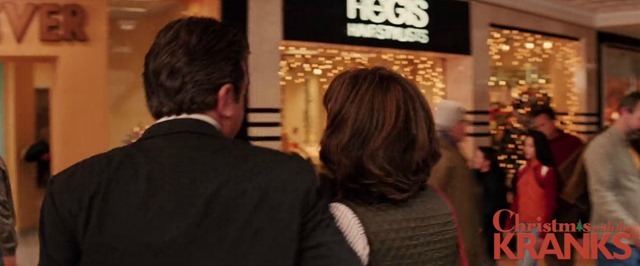 A quick look at Westside Pavilion's online map showed me that while Regis had since moved, Payless and Shoe Care were still located in the same area – on the mall's second level near Macy's.  So the Grim Cheaper and I headed right on over to that spot upon arriving at the shopping center.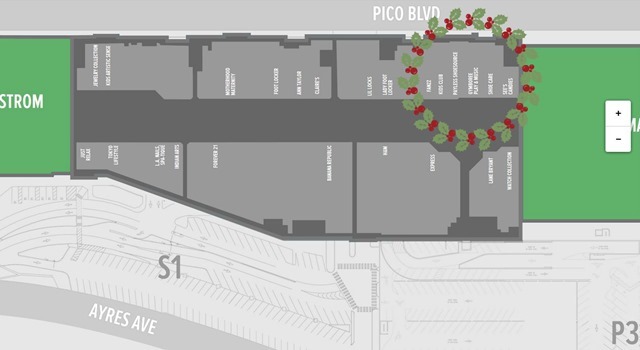 To our surprise, as soon as we stepped off the escalator we noticed that a film shoot was taking place!  As we walked closer, I just about fainted upon realizing the shoot was for The Goldbergs, a show that the GC and I just recently started watching and are officially obsessed with.  The cast and crew honestly could not have been nicer and I will be doing a whole post on our experience as soon as the episode that was being filmed airs.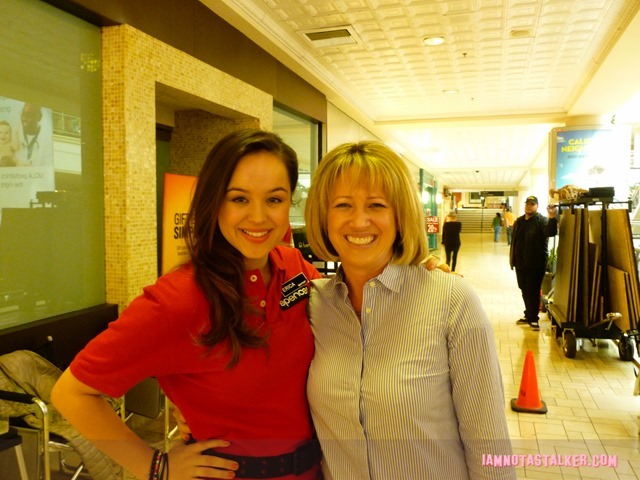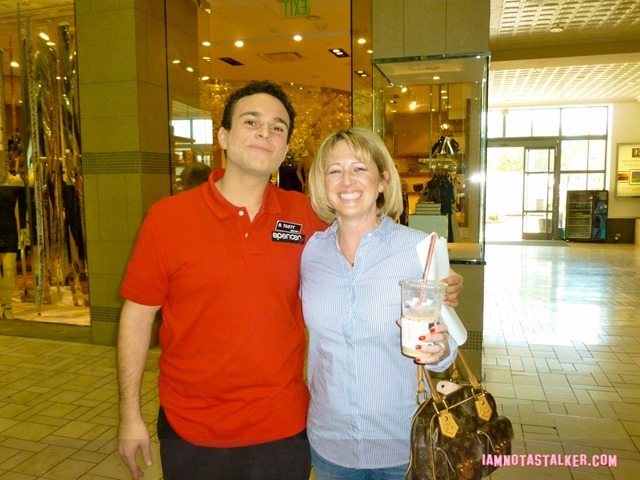 After watching The Goldbergs shoot for a bit, the GC and I attempted to figure out the exact spots where Christmas with the Kranks filming had taken place.  We pinpointed the escalator used in the movie easily enough.  In the scene, Nora and Luther use the down escalator situated near PacSun to go from the mall's third level to the second.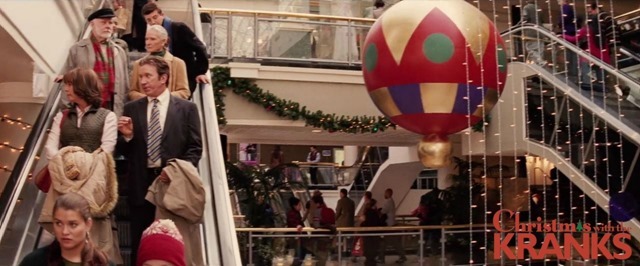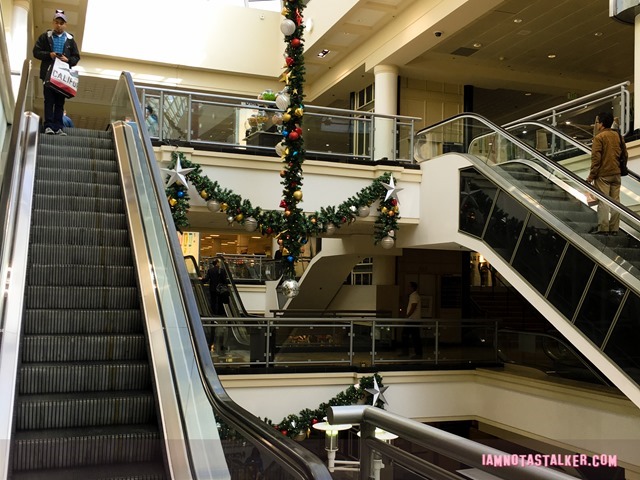 Even though I knew the general vicinity, pinpointing the spot where the Tans Forever storefront had been set up proved more difficult.  It was not until I got home and enlisted the help of my friend/guest poster extraordinaire Michael (you can read his many amazing posts here, here, here, here, here, here, here, here, and here) that I was able to figure it out.  As we discovered, the Tans Forever salon was created in what is now Kid's Club (that's the teal storefront in the photograph pictured below).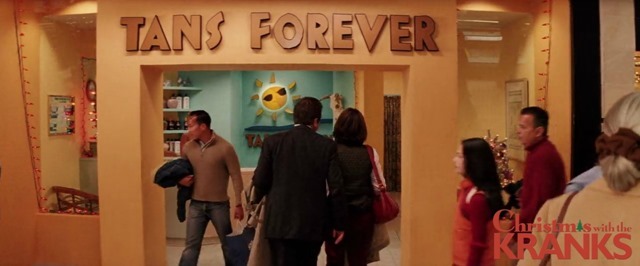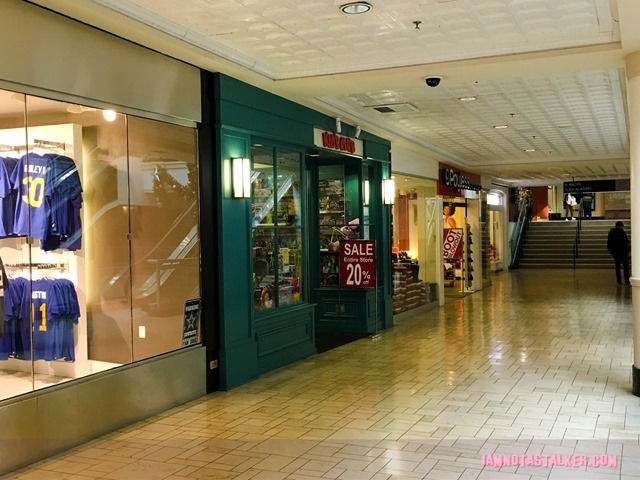 Thanks to some old Westside Pavilion maps that he found online, Michael learned that at the time of the filming the Kid's Club space was vacant and had most recently housed a Ritz Camera.  Sadly, but not surprisingly, the storefront does not currently look anything like it did in Christmas with the Kranks.  Sadder still, while stalking the mall, I came to believe that a different shop had been used in the shoot, so I barely took any photos of Kid's Club.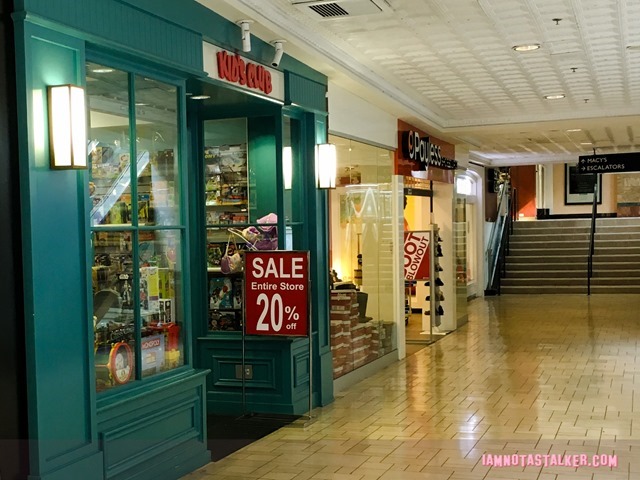 We did venture inside, though, while looking for some gifts for the kids on our list and, while the real life interior of the space was also used in Christmas with the Kranks, because it was a shop created especially for the movie, it currently bears no resemblance to its onscreen appearance.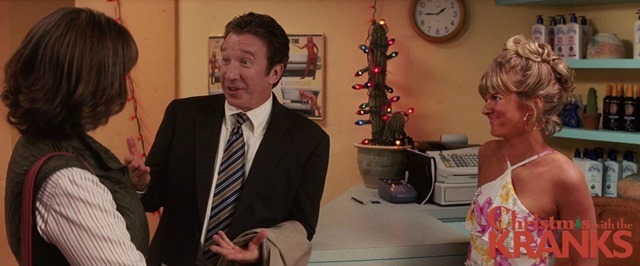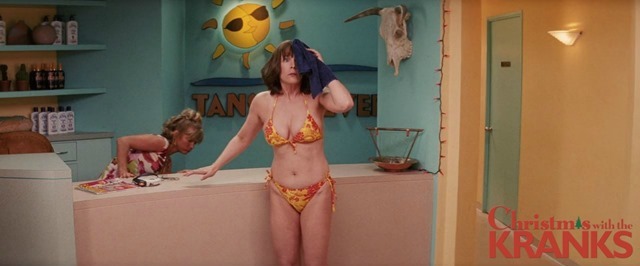 Westside Pavilion has been featured in a few other holiday-themed productions, as well!  Though not a Christmas movie, in 1987's No Man's Land, Ted Varrick (Charlie Sheen) and Benjy Taylor (D.B. Sweeney) shop at – and steal a Porsche from – the mall during Christmastime.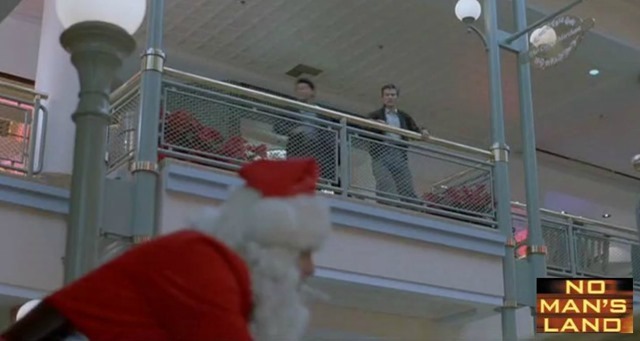 The Season 5 holiday-themed episode of Modern Family titled "The Old Man and the Tree," which aired in 2013, was also shot at Westside Pavilion.  It is there that Mitchell Pritchett (Jesse Tyler Ferguson) shops for a Puppy Pound toy for his daughter, Lily (Aubrey Anderson-Emmons), and that Alex Dunphy (Ariel Winter) and Haley Dunphy (Sarah Hyland) work as Mrs. Claus and an elf, respectively, for an absentee Santa Claus.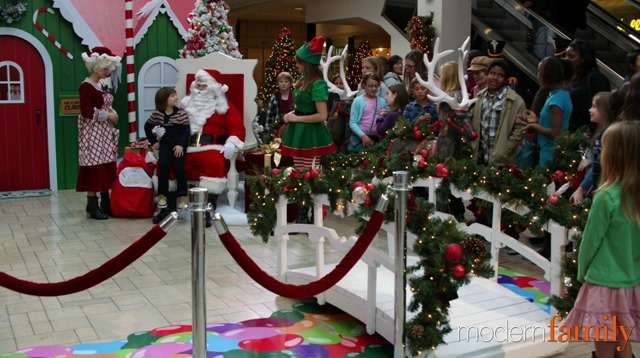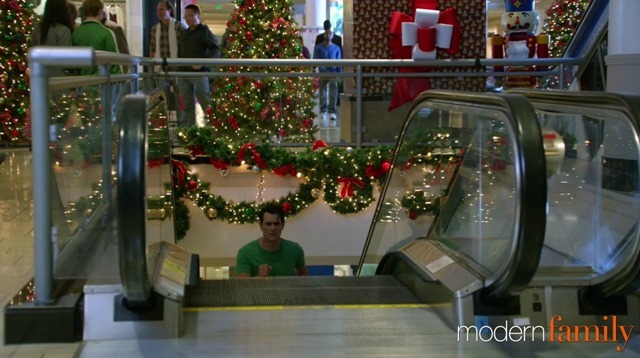 The mall has also appeared in a couple of non-Christmas-themed productions.  Tom Petty rode the escalators there in his 1989 "Free Fallin'" music video, which you can watch here.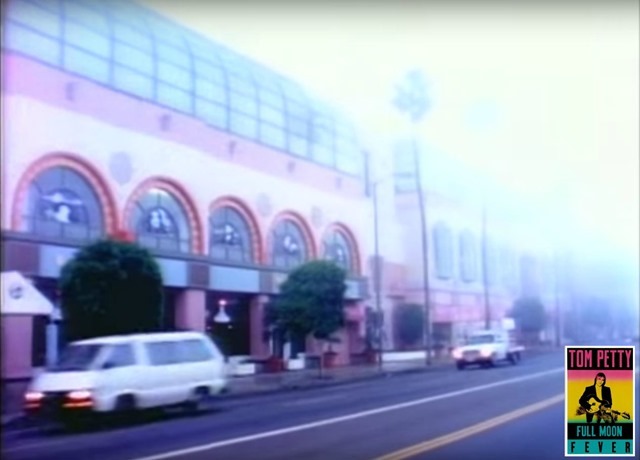 And the exterior of the Pavilion was used in an establishing shot in the 1995 comedy Clueless.  (All of the movie's interior mall scenes were lensed at Westfield Fashion Square in Sherman Oaks, which I blogged about here.)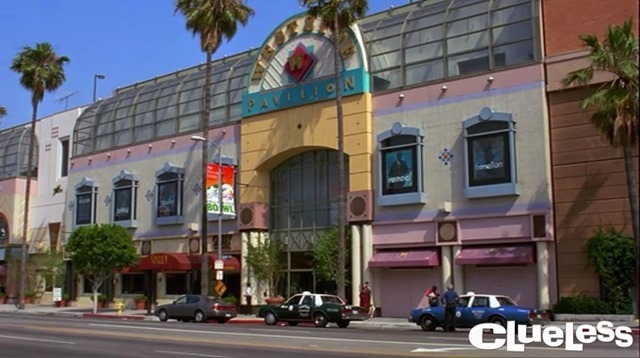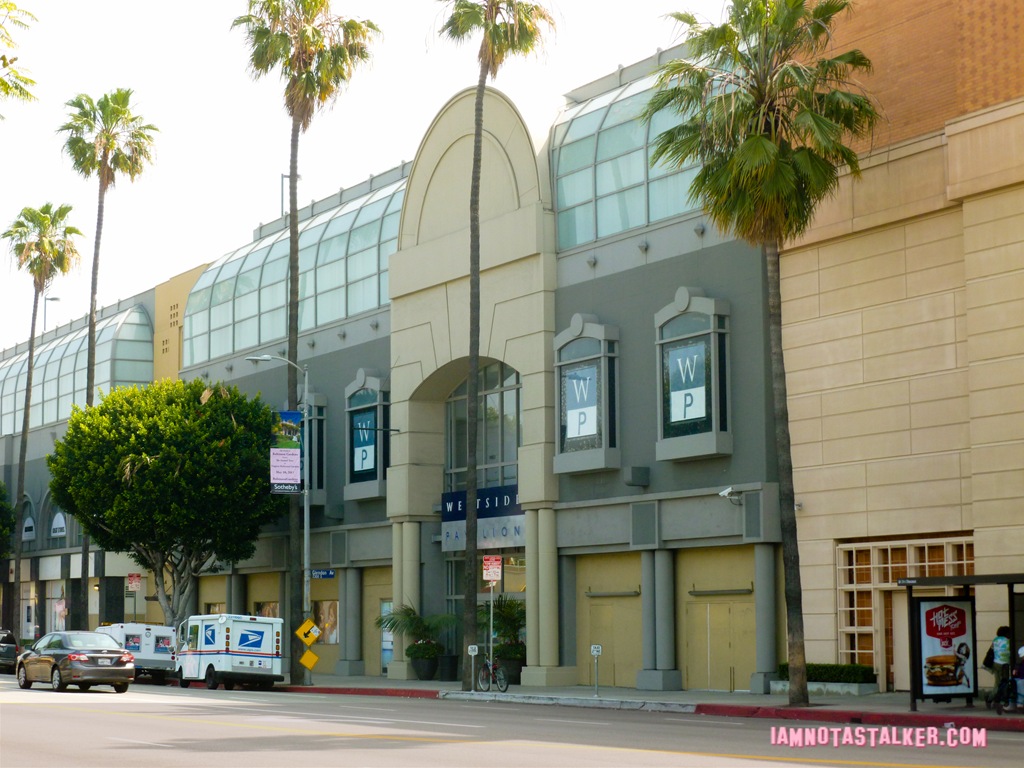 For more stalking fun, follow me on Facebook, Twitter, Instagram, Los Angeles magazine and Discover Los Angeles.
Big THANK YOU to my friend Michael for all of his help in pinpointing the Tans Forever storefront! 

Until next time, Happy Stalking! 

Stalk It: Westside Pavilion from Christmas with the Kranks is located at 10800 West Pico Boulevard in Rancho Park.  Filming took place on the second level in and around what is now Kid's Club.  You can visit the mall's official website here.
101596