The Cunningham House from "Happy Days"
Aug 25th, 2017 | By
Lindsay
| Category:
TV Locations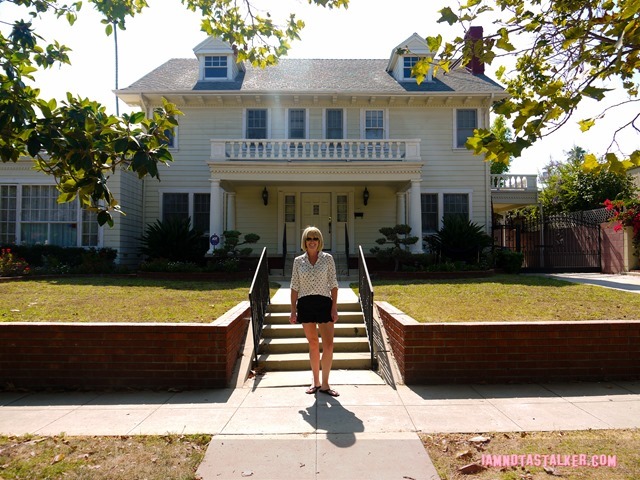 I consider myself a seasoned stalker.  I think most would agree.  Somehow though, until last month, I had never stalked one of the most iconic homes in television history.  I am talking about the Cunningham residence from Happy Days.  I did not even realize my colossal blunder until I was contacted by The Meredith Vieira Show about using some of my photographs in a segment they were running called "Name That Hollywood Home" last spring.  Producers were interested in utilizing a pic featured in my 2009 post about The Golden Girls pad, but also inquired if I had any images of the Cunningham dwelling.  I was ashamed to admit that I didn't and had never actually seen the place in person.  I finally amended that situation last month while in L.A. for the weekend with the Grim Cheaper.
On Happy Days, the Cunningham family – Marion (Marion Ross), Howard (Tom Bosley), Richie (Ron Howard), and Joanie (Erin Moran) – along with their friend/tenant Arthur 'Fonzie' Fonzarelli (Henry Winkler) were said to reside at 565 North Clinton Drive in Milwaukee, Wisconsin.  Their traditional two-story home can actually be found at 565 North Cahuenga Boulevard in Hancock Park, less than a mile from Paramount Pictures, where the series, which ran from 1974 to 1984, was lensed.  (I would be remiss if I didn't mention that there was actually a third Cunningham child named Chuck, portrayed by Irish actor Gavan O'Herlihy, who was unceremoniously written off the show after its inaugural season, never to be seen again.)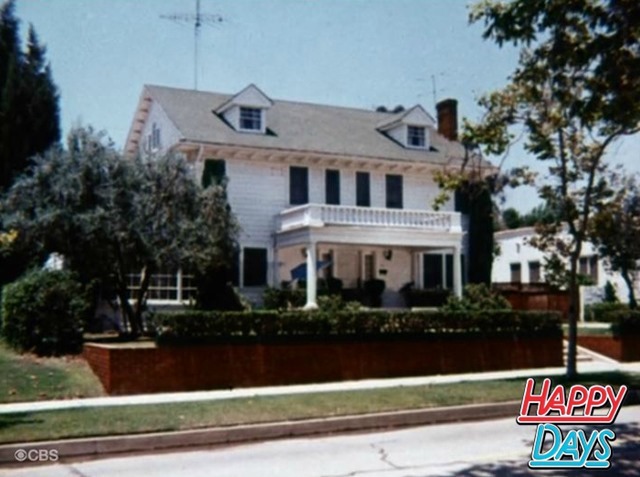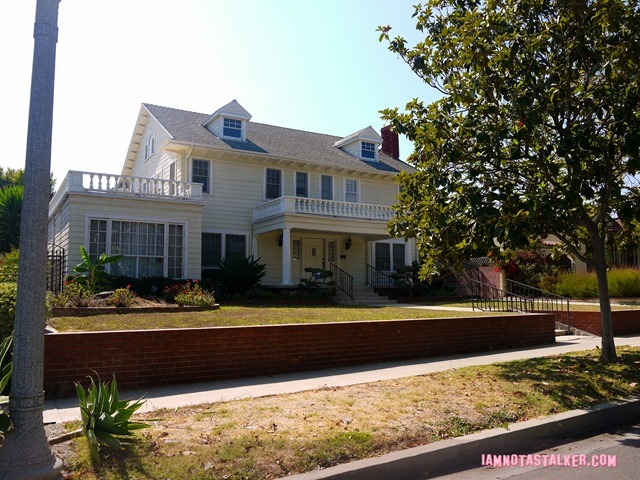 In reality, the Cahuenga Boulevard home, which was built in 1923, boasts 6 bedrooms, 2 baths, 3,904 square feet of living space, a 0.29-acre lot, and a swimming pool (which, per Bing's Bird's Eye view, appears to be dry).  According to Zillow, the Colonial-style pad is currently worth a whopping $3 million!  It last sold in February 1995 for $422,000, so the owners have made quite a profit on the place.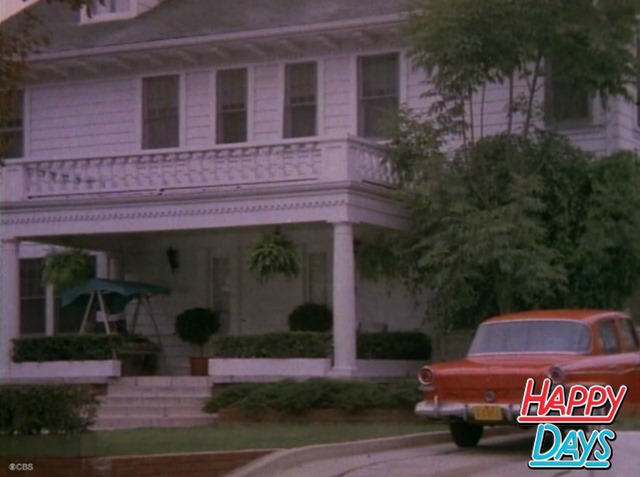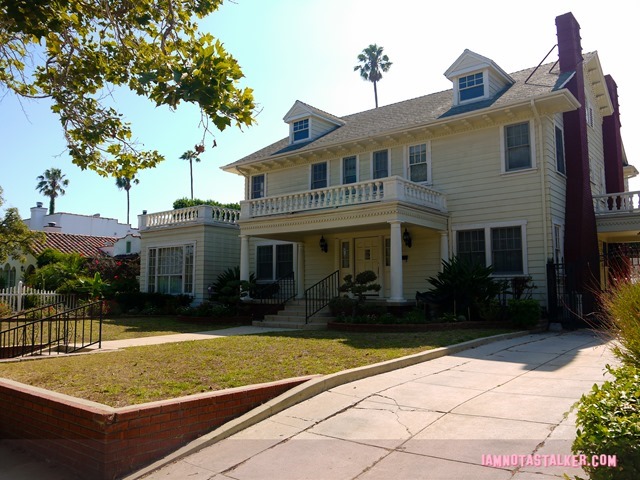 The property did not show up on Happy Days until the series' third episode, titled "Richie's Cup Runneth Over," in the scene in which dancer Verna LaVerne (Louisa Moritz) drove a very drunk Richie home from a bachelor party (pictured below).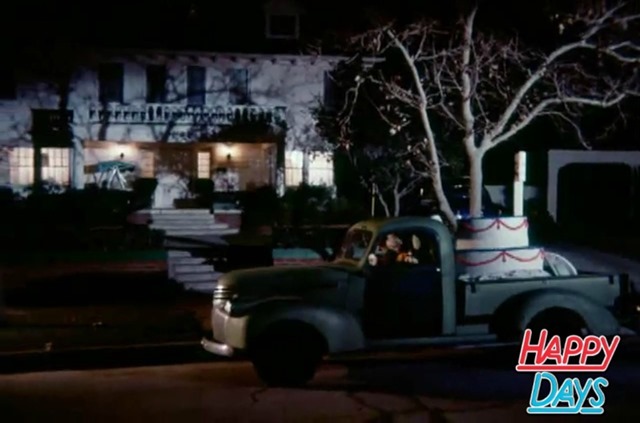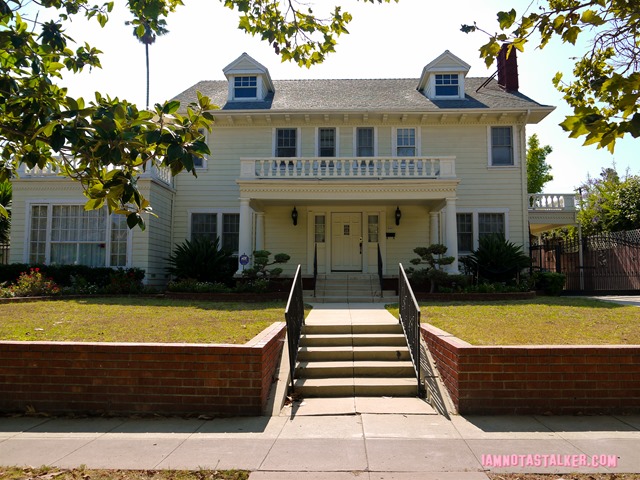 The house then went on to be featured regularly in establishing shots throughout the show's ten-year, eleven-season run.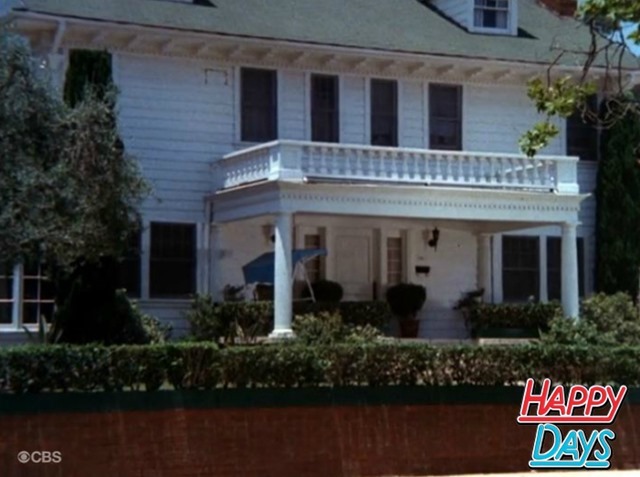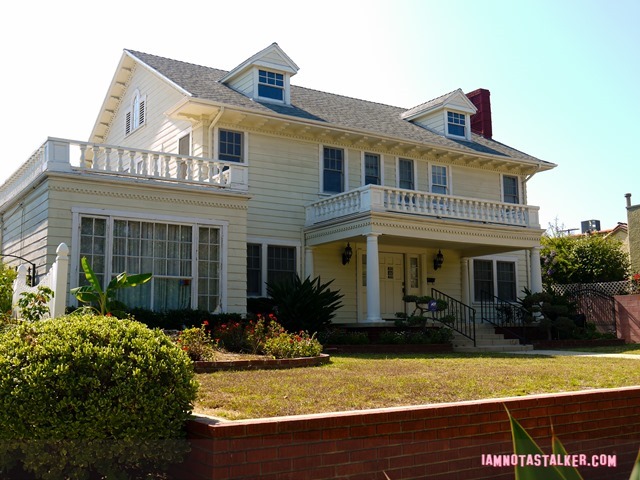 It is amazing to me how little the residence has changed since Happy Days first premiered more than 43 years ago.  Aside from the addition of a railing on the exterior steps and the removal of the planter boxes lining the porch as well as the perimeter of the front yard, the place appears frozen in time from the days when the Cunninghams called it home.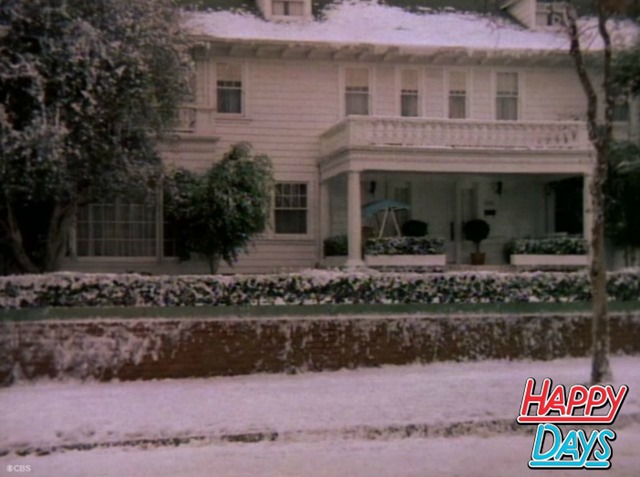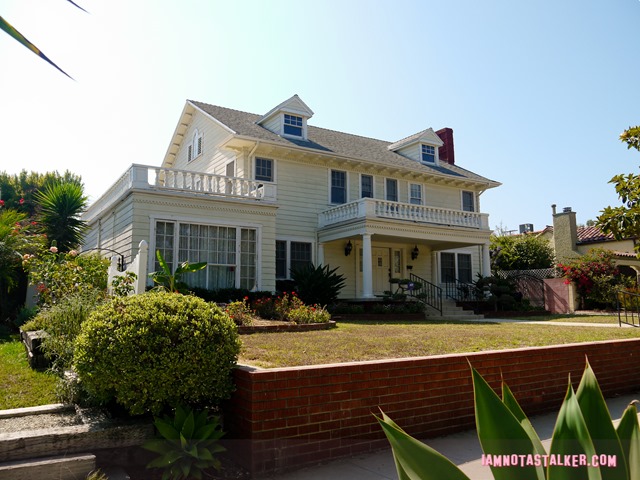 Only the exterior of the Cahuenga pad was utilized on Happy Days.  The interior of the Cunninghams' house was a set built inside of Stage 19 at Paramount Pictures.  Eagle-eyed viewers undoubtedly noticed that the set looked a bit different during Seasons 1 and 2 (pictured below) than it did during the rest of the series' run.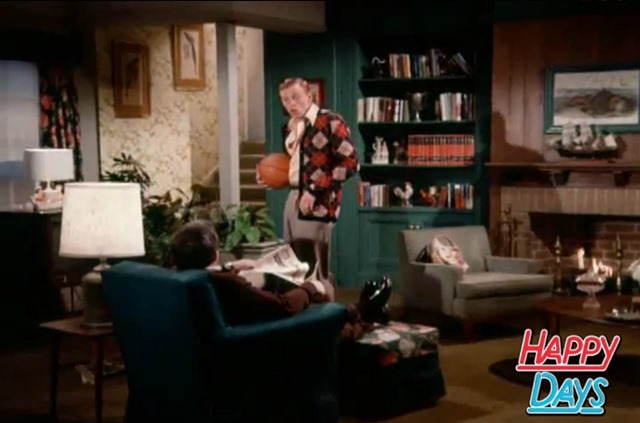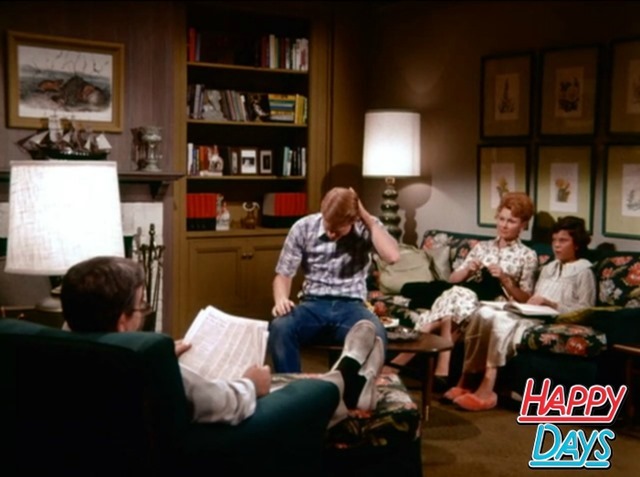 Filming of Happy Days shifted from a single-camera setup with no audience to a three-camera setup with a live studio audience during Season 3 and the set had to be altered to accommodate that change.  The altered Cunningham home interior featured during Seasons 3-11 is pictured below.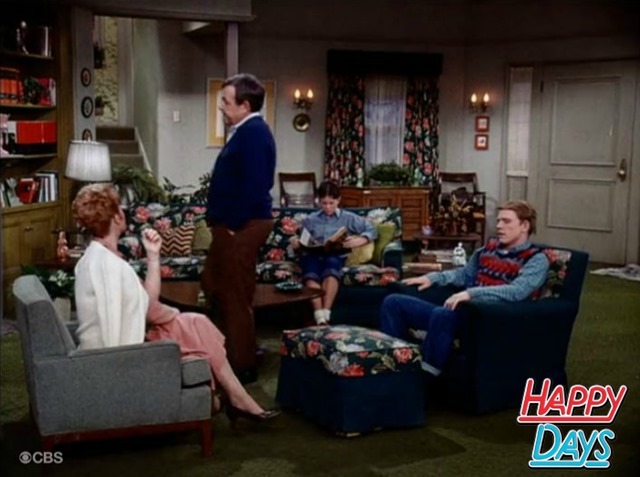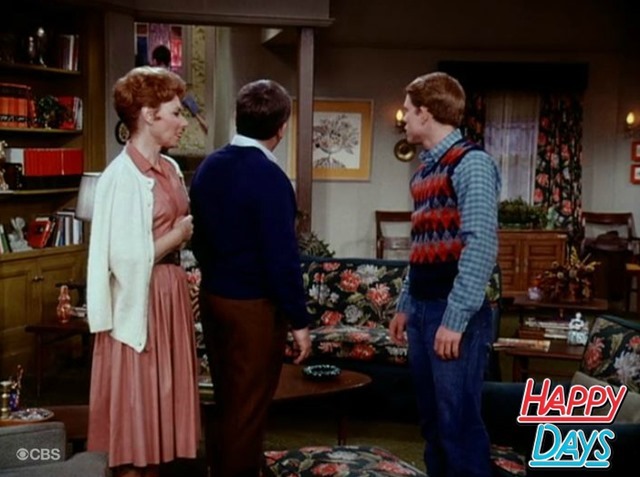 Though the Cahuenga Boulevard residence does boast a detached garage situated at the rear of the property, the scenes taking place in that area of the Cunningham pad were not shot on location at the actual house, but on a set re-creation built on Stage 19.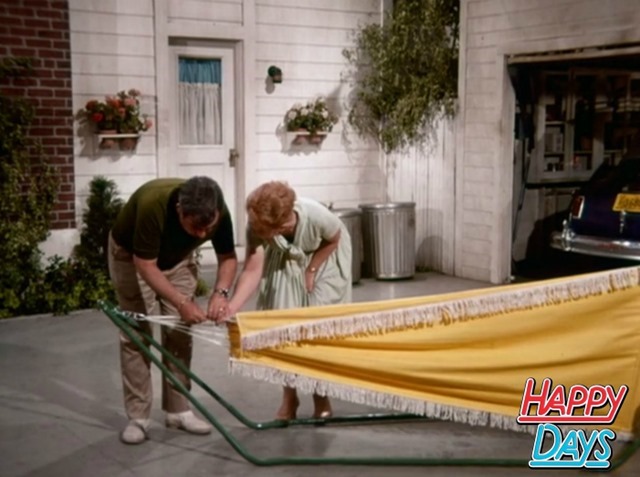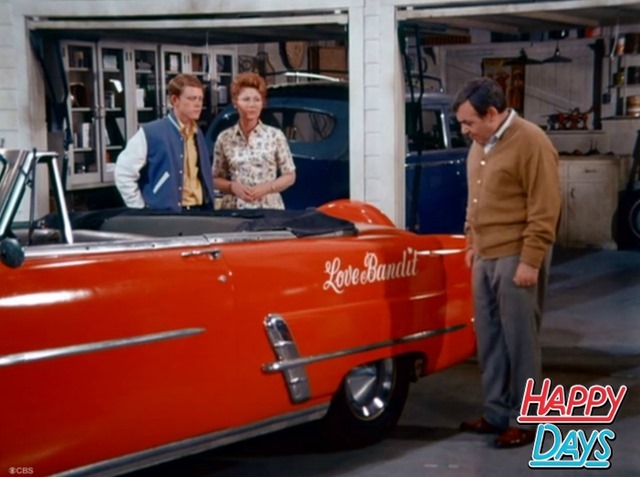 According to my buddy E.J.'s book Hollywood Death and Scandal Sites, actress Lupe Velez called the Cunningham residence home in the late '20s/early '30s while she was dating Gary Cooper, whose parents lived just five houses down at 529 North Cahuenga Boulevard.  Supposedly, Cooper's parents were wildly opposed to his love affair with the "Mexican Spitfire" and would walk by her dwelling on a nightly basis, peering in the windows to see what the two were up to.  It wasn't long before Lupe relocated to a more secluded spot at 1826 Laurel Canyon Boulevard in Hollywood Hills West.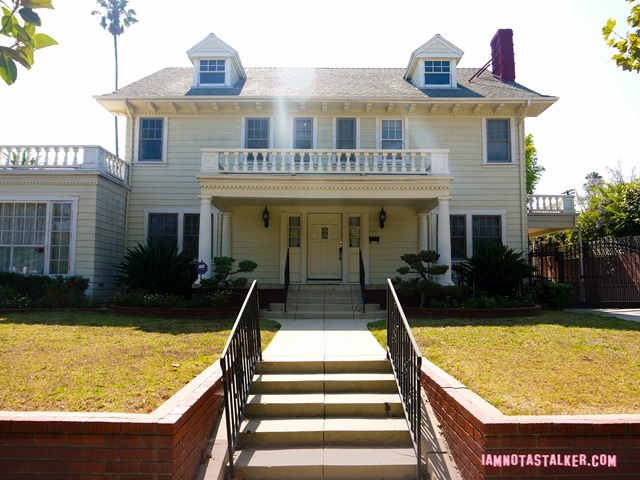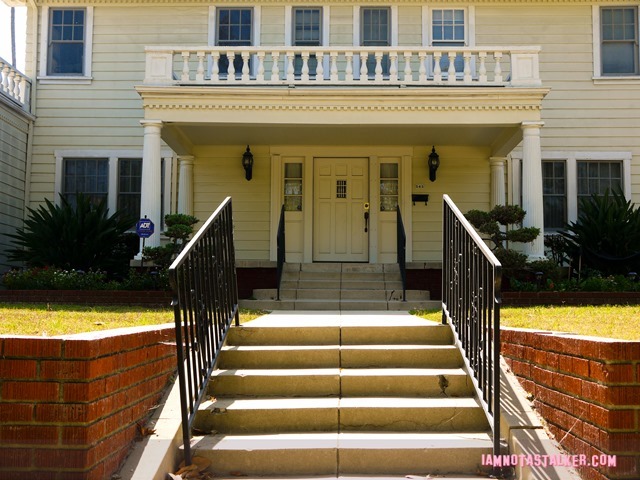 For more stalking fun, follow me on Facebook, Twitter, Instagram, Los Angeles magazine and Discover Los Angeles.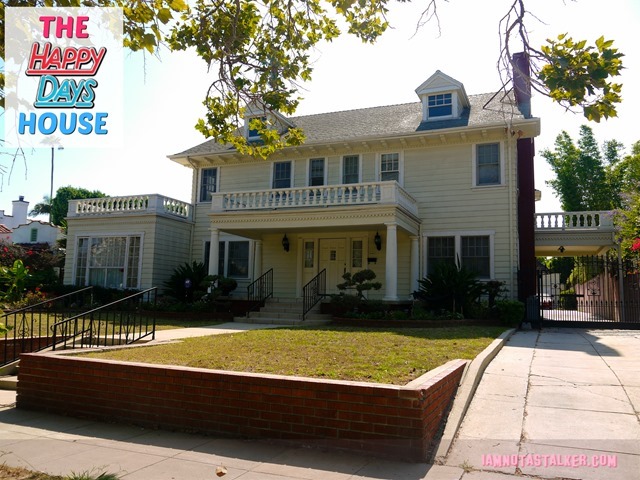 Until next time, Happy Stalking! 

Stalk It: The Cunningham home from Happy Days is located at 565 North Cahuenga Boulevard in Hancock Park.
106958