Grub Restaurant from "The Hills"
Apr 11th, 2012 | By
Lindsay
| Category:
The Hills Filming Locations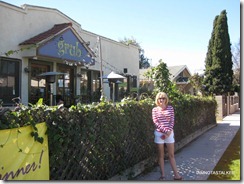 While scanning through episodes of The Hills this past weekend looking for the scene that was filmed at Pinches Tacos in West Hollywood, which I blogged about yesterday, I just about fell off my chair when I spotted Grub Restaurant pop up in Season 5's "Can't Always Get What You Want".  Amazingly, way back in February of 2011, I had dragged the Grim Cheaper out to Grub as part of his Valentine's Day scavenger hunt across L.A. (during which we had stalked LACMA, Boardner's of Hollywood, and the HMS Bounty Bar and Restaurant), but at the time I was completely unaware that the place was a filming location.  Thankfully, I snapped some pictures of it regardless, as I am always apt to do when visiting new eateries.  I first learned about Grub thanks to fave book Peaceful Places Los Angeles: 110 Tranquil Sites in the City of Angels and Neighboring Communities, which I read while planning the GC's hunt.  Of the Hollywood hideaway, author Laura Randall had this to say, "Hidden by a high trellis bloom-full of seasonal morning glories, the restaurant's small patio is marked by homey touches such as potted plants, mismatched umbrellas, and flea-market antiques.  It sort of feels as if you're eating in a friend's back garden."  Because the place sounded so absolutely idyllic, I decided to make it the very first stop on our hunt.
Grub Restaurant was founded in 2001 by former San Francisco actress Betty Fraser and Arkansas native Denise DeCarlo, BFF's who originally met a few years prior while waitressing at a L.A.-area California Pizza Kitchen.  The two first launched a catering company in 1995, which they dubbed "As You Like It Catering" and ran out of a 1920s-era bungalow-style duplex in the heart of Hollywood's Post-Production District.  When neighbors began suggesting that they open an eatery in the charming little space, they thought "Why not?" and Grub Restaurant was born.  The eclectic and humorous menu (one entrée is named "Our Friggin' Amazing French Toast") features upscale "California comfort food" with offerings such as the White Truffle Burger – a large patty topped with roasted mushrooms, Swiss cheese, caramelized onions, white truffle oil, and fresh arugula, and served on a toasted brioche bun – and the After School Special – a cheddar and Swiss grilled cheese sandwich on thick sourdough bread paired with a cup of homemade Creamy Dreamy Tomato Soup.  Um, love it!  Grub Restaurant has won countless well-deserved accolades over the years including LA Citysearch's "Best Lunch Spot" in 2003, 2004, and 2005 and "Best Breakfast in Los Angeles" in 2009 and 2010, Los Angeles Magazine's "Best Tuna Melt in LA" in 2009, and Zagat Survey's "Top Five Breakfast Spots" in 2007.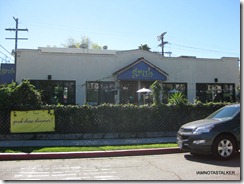 Thanks to Grub Restaurant's proximity to various Hollywood studios and post-production offices, the place has become a mecca for celebs.  Just a few of the stars who have gotten their grub on there (see what I did there

) include Sacha Baron Cohen, Charlize Theron, Courteney Cox, David Arquette, Tom Sizemore, Jim Caviezel, Bob Guiney, Galen Gering, Zac Efron, Luke Wilson, and Daryl Hannah.  Owner Betty Fraser is even a minor-celebrity herself, having appeared on Top Chef, The Today Show and Rachel Ray's Tasty Travels.
In the Season 5 episode of The Hills titled "Can't Always Get What You Want", Brody Jenner and my girl Kristin Cavallari discussed Brody's tumultuous relationship with ex-girlfriend Jayde Nicole over breakfast at Grub.  Upon first arriving at the eatery, Brody turned to Kristin and said, "You swear by this place", so I am guessing that KCav used to be a frequent customer.
On a Hills side-note – while watching Season 5 of the series way back in 2009, I became just a wee-bit obsessed with the gold square-shaped necklace that KCav wore in almost every episode.  And while I spent countless hours scouring the web trying to figure out who made the darn thing, I came up completely empty-handed.  Then, last October, I happened to come across a post on the fabulous The Budgetista blog detailing exactly where I could order one.  I ended up buying a gold-plated replica of the necklace (the GC would have killed me had I spent $300 on the actual thing) and not only is it absolutely adorbs, but it is also now one of my favorites.  (I am wearing it in the above pic with Idris Elba.)  Can't thank you enough, Budgetista!
Until next time, Happy Stalking! 

Stalk It: Grub Restaurant, from the "Can't Always Get What You Want" episode of The Hills, is located at 911 Seward Street in Hollywood.  You can visit the restaurant's official website here.
51309