Brad Pitt and Jennifer Aniston's Honeymoon Suite at the Ingleside Inn
Jun 17th, 2011 | By
Lindsay
| Category:
Jennifer Aniston Locations
,
This and That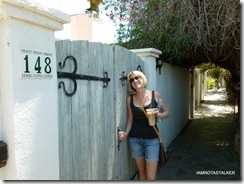 As I mentioned in Monday's post, I spent my recent birthday weekend in Room 148 of the Ingleside Inn in Palm Springs – the very room where Brad Pitt and Jennifer Aniston stayed during their mini-honeymoon shortly following their July 29th, 2000 wedding.  I first found out about the Ingleside Inn back in April of 2009 thanks to this Jetsetters Magazine article and, as you can imagine, just about died upon hearing that my girl Jen had honeymooned there.   Then, shortly thereafter, the Grim Cheaper ended up proposing to me at the Ingleside, so the hotel has always had a very special place in my heart.  During that proposal weekend, I, of course, just had to ask Melvyn Haber, the Ingleside's longtime owner, what room it was that Brad and Jen had stayed in.  Before I could even get the question fully out of my mouth, he replied, "Room 148, the Princess Room."  And that right there is just one of the many reason that I fell in love with the hotel!  Almost a full decade later, Melvyn STILL knew the exact room where Brad and Jen had stayed right off the top of his head!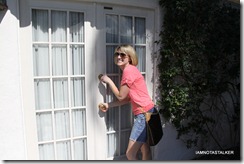 Flash forward to a couple of weeks ago.  My dad called me up to let me know that he had booked Brad and Jen's honeymoon suite as a surprise for my upcoming birthday.  (He had to tell me about his plans a few weeks early as the GC and I had been thinking about spending my birthday at Disneyland and were thisclose to booking a hotel room there.)  I happened to be driving at the time and got so excited upon hearing his news that I literally almost crashed the car!  For those who have never visited the Palm Springs area, it gets EXTREMELY hot there during the summer months – we are talking like 115 to 120 degrees hot – so hotels drastically drop their rates from early June through the end of August.  Because of this, and the fact that the Ingleside inn is not overly-expensive to begin with, my dad was able to get Brad and Jen's room for only $200 per night!  My birthday just so happened to fall on my mom's very last day of work ever (she retired this year), so he also booked a suite at the hotel for them, and talked the GC into booking a second night in Brad and Jen's room so that we could all spend the weekend together.  Now mind you, my dad was extremely sick during this time and was in and out of the hospital, so how he managed to come up with such an incredible idea AND do all of the planning without me or my mom's help – not to mention that he also purchased some FABULOUS gifts for the two of us – is absolutely BEYOND me!!  It was one of the best, most exciting weekends of my entire life and I cannot believe he pulled it all off while feeling so incredibly sick!  Best.  Present.  Ever.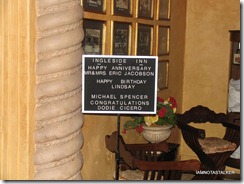 When we first arrived at the Ingleside Inn and were checking in at the front desk, I saw the above-pictured "Happy Birthday Lindsay" message displayed on the marquee in the front lobby and just about fell over.  So incredibly cool!!  The lobby sign is very typical of the personal touches that the Ingleside Inn employs in order to make guests feel at home.  Love it!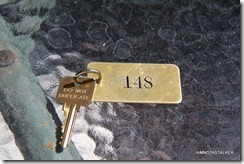 After checking in, we were handed the above-pictured room key.  As you can see, the Ingleside Inn still uses actual brass room keys, not the keycards that are typically found in hotels today.  So, as you can imagine, as soon as those keys were handed over, I turned to the GC and said, "OH MY GOD!  Jennifer Aniston once held this key in her hand!"  Granted, the key quite possibly could have been swapped out for a new one in the decade that has passed since Jen stayed at the Ingleside, but just let me have my fantasy!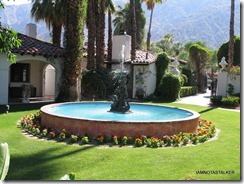 I covered the Ingleside Inn's vast history in the post I wrote about the hotel back in May of 2009, so I won't go over it again here. But needless to say, the tiny, 30-room inn, which sits on just over 2.5 acres of land, has had quite a celebrated history since it was first founded in 1939. Thanks to its extreme privacy and award-winning service, celebrities have long been drawn to the place like moths to a flame. Just a few of the luminaries who have stayed there over the years include Frank Sinatra, Kate Hudson, Goldie Hawn, Kurt Russell, Greta Garbo, Elizabeth Taylor, Debbie Reynolds, Lance Bass, Donald Trump, Marla Maples, Ava Gardner, Clark Gable, Marlon Brando, Gary Cooper, John Wayne, Bob Hope, John Travolta, David Boreanaz, Joan Collins, Cher, Howard Hughes, and Rita Hayworth.  The Ingleside is by no means fancy or extravagant, though. It is a very simple, low-key retreat where people go to truly get away from it all. The Inn is not a party hotel, it is not a place for families, and it is not modern in any way, shape, or form. It is an extremely quiet, private, and relaxing sanctuary; the type of place where an A-List star can lay out by the pool and not worry about being approached by a fan or fellow guest.
Brad and Jen's honeymoon suite features a wood-burning fireplace, a sitting area, a king-sized bed, two picture windows, and a plasma TV, and while it is extremely nice, it is not overly-luxurious or the type of place one would expect one of the most famous couples in the world to have spent their honeymoon.  And that right there is why I LOVE Jen so much!  Of course she would choose a simple, laid-back, low-key space to spend her first few days of married life.  And while Brad and Jen's room is a suite, it is by no means the Ingleside's largest.  There are two others that are far bigger than the Princess Room, which led me to wonder how the couple ending up choosing it for their honeymoon.
Besides the fact that Jen has always been a fan of small spaces (the bungalow she rented in Malibu post-divorce measured a scant 1,531 square feet, the home on Blue Jay Way where she lived during the height of her Friends' success measured only 2,903 square feet, and she is currently selling her 9,105-square-foot Beverly Hills manse as it is reportedly too large for her), as it turns out, the Princess Room is by far the hotel's most private and secluded suite.  It is located towards the very back of the property, far away from the pool and the award-winning Melvyn's restaurant, but close to the back parking area, which means that Brad and Jen could have parked their car and been inside of their room less than ten steps later.  As you can see above, there is also a gate surrounding that particular wing of the hotel, which consists of three rooms, and the actual suite itself is bordered by a large stucco wall.
The Princess Room is one of the few at the hotel that also boasts a completely private patio area, which I absolutely fell in love with while there.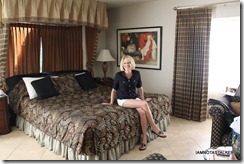 As you can imagine, pretty much all weekend I was saying things like "I just took a shower where Jennifer Aniston once showered!" or "Jennifer Aniston sat on this couch!" or, my personal favorite, "Jennifer Aniston slept here!"  My head was literally about to explode the entire time I was there!  And poor, poor fellow stalker Owen!  I must have sent him about 100 text messages, all saying things like, "I just washed my face where Jennifer Aniston once washed her face!"  

My parents stayed in Room 145, aka "Margaret's Room", which according to one of the super-nice front desk clerks that we spoke with while there, was one of Arnold Schwarzenegger and Maria Shriver's favorite suites.  The former Governator and his soon-to-be ex-wife stayed at the hotel on an almost monthly basis at one point in time.
My parents' room boasted a HUMONGOUS semi-private patio (semi-private as it has an opening on the backside that is accessible to the public) that was honestly bigger than most backyards!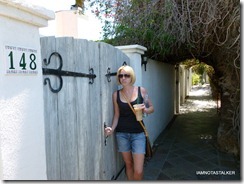 All in all, it was an A-MA-ZING weekend and, as you can see above, I was BEYOND sad to check out of what the GC and I had dubbed "our perfect little room".
Ingleside Inn–Brad and Jen's honeymoon hotel
You can watch a video about the Ingleside Inn, in which owner Melvyn Haber is interviewed, by clicking above.
Ingleside Inn Palm Springs
And you can watch another video, which shows the Inn's beautiful grounds, by clicking above.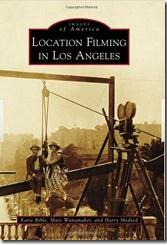 On a stalking side-note – This Sunday (June 19th), stalking gods Harry Medved and Karie Bible will be signing copies of their new book Location Filming in Los Angeles at Vroman's Bookstore, which is located at 695 East Colorado Boulevard in Pasadena.  They will also be conducting a walking tour of some famous Pasadena movie sites, including locations from Knocked Up, The Prestige, Live Free and Die Hard, and Charlie Chaplin's The Great Dictator immediately following the signing at 4 p.m.
Until next time, Happy Stalking! 

Stalk It: The Ingleside Inn is located at 200 West Ramon Road in Palm Springs.  Brad Pitt and Jennifer Aniston spent their honeymoon in the hotel's Princess Room, aka Room 148.  Arnold Schwarzenegger and Maria Shriver frequently stayed in Margaret's Room, aka Room 145.  You can visit the Ingleside Inn's official website here.
35098