Rebecca's Apartment from "Lights Out"
Oct 24th, 2017 | By
Lindsay
| Category:
Haunted Hollywood
,
Movie Locations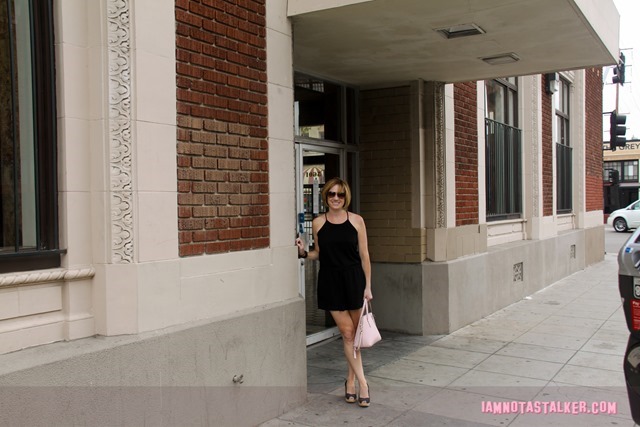 I am always tickled when I spot a location I have already stalked pop up in additional productions.  Amazingly, that happened twice in the past month with today's locale, the former Highland Park branch of the Security Trust & Savings Bank.  I originally learned of the site thanks to its many appearances as the Battle Creek Police Department/FBI field office on CBS' short-lived 2015 series Battle Creek, which was one of my and the Grim Cheaper's favorites.  I ran out to stalk the building the day after the show was given the ax, just prior to writing this Scene It Before post for Los Angeles magazine.  Flash forward to earlier this month.  Not only did I spy the branch in a Season 1 episode of my and the GC's latest obsession, Leverage, which we have been feverishly binge-watching on Netflix, but I also recognized it immediately as the apartment building where Rebecca (Teresa Palmer) lived in the 2016 horror movie Lights Out, the main house from which I blogged about on October 3rd.  So I figured that, even though I previously covered the building for LA mag, it was worthy of its own Haunted Hollywood write-up.
The Security Trust & Savings Bank's Highland Park branch was designed in 1923 by Parkinson & Parkinson, the father-and-son architecture team that also gave us Union Station (which I briefly blogged about here), Bullocks Wilshire (which I blogged about here), and Los Angeles City Hall (an oft-used filming spot that I somehow have yet to stalk).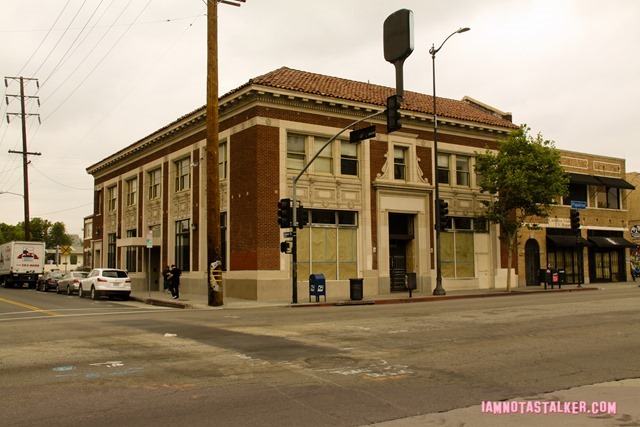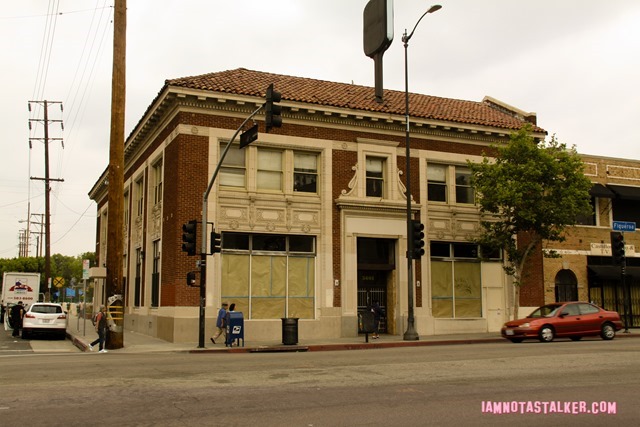 Throughout the 1920s, Parkinson & Parkinson built a series of branches for the Security Trust chain, all of which boasted very similar brick and concrete Renaissance Revival-style façades.  While there were about a dozen of the structures dotting the L.A. landscape at one time, most have been lost to the wrecking ball.  But the Highland Park outpost still stands.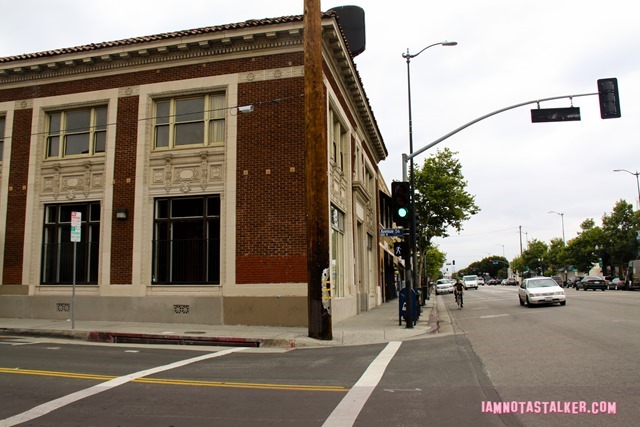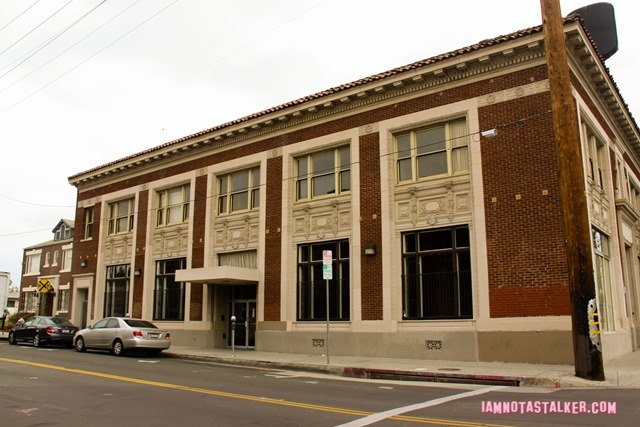 As does its sister branch and virtual twin, the former Security Trust & Savings Bank at 5303 Lankershim Boulevard in North Hollywood, which was erected in 1926 and currently houses The Federal Bar.  That property (pictured below) has appeared in everything from Perception to It's Always Sunny in Philadelphia to Parks and Recreation.  You can read my 2015 post on it here.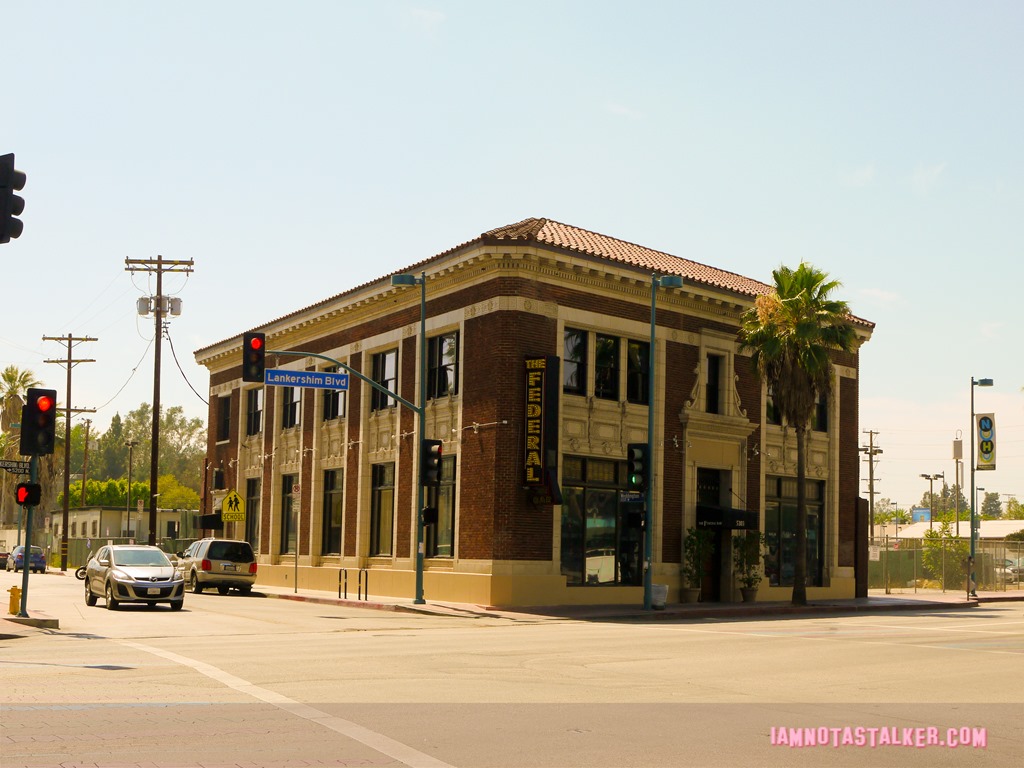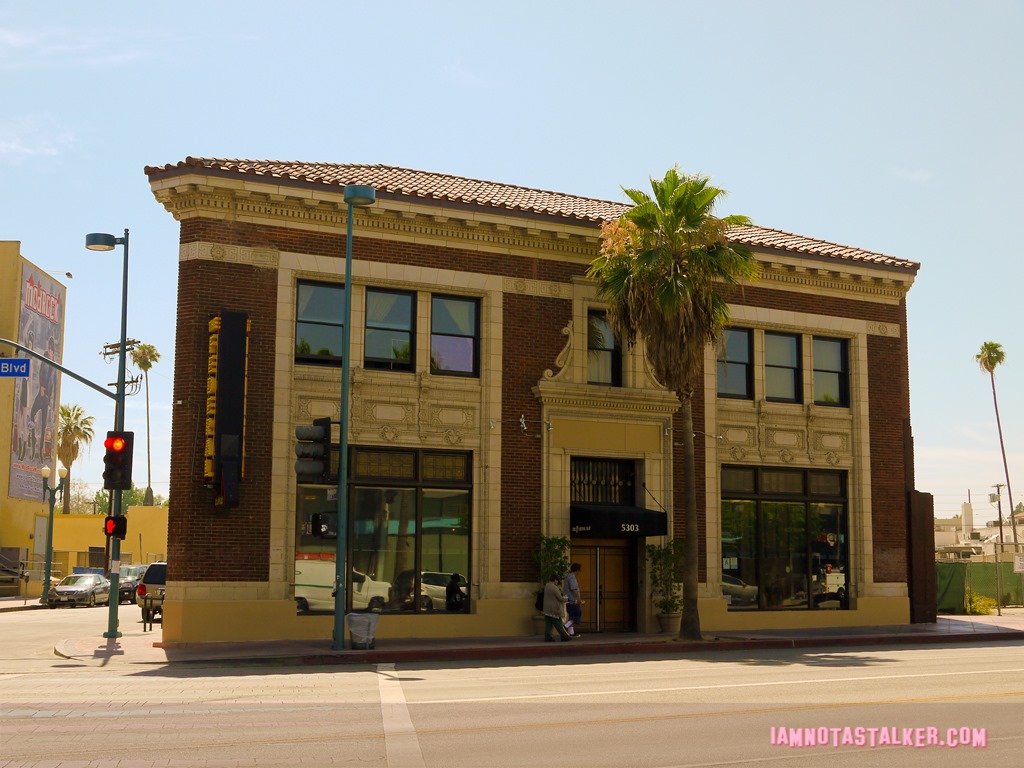 The Highland Park structure, Los Angeles Historic-Cultural Monument #575, boasts 2 stories (plus a basement), 11,500 square feet of space, and a marble and granite interior.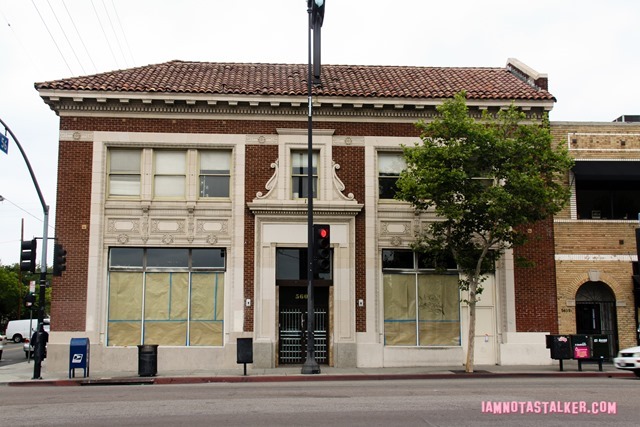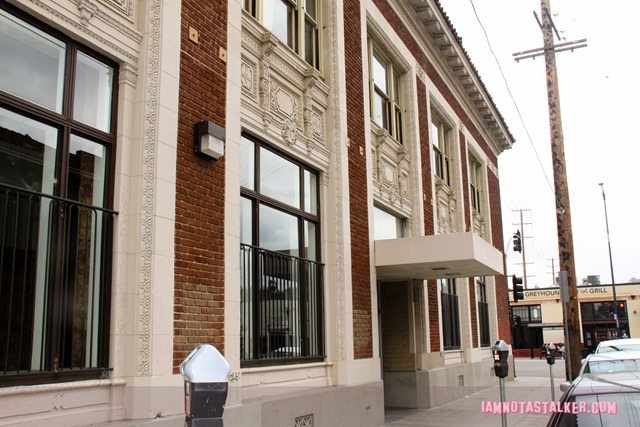 I managed to snap a photo of that interior, which is really quite spectacular, through one of the building's side windows while I was there.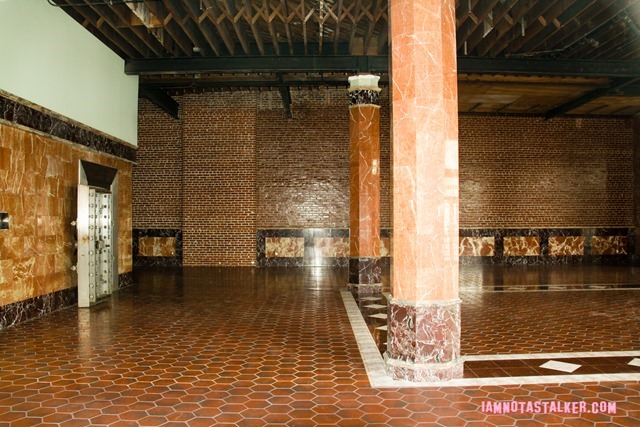 I am unsure of the exact date that Security Trust & Savings shuttered the Highland Park branch or what the site was utilized for afterwards.  In recent years, though, the property has been the cause of much controversy, beginning in 2004 when City Councilman Ed Reyes started spearheading a campaign to transform it into a "constituent service center" that would provide office space to several municipal departments.  The only problem with Ed's project, which was dubbed "Highland Park City Hall," was that the building's then owner, Dr. Richard Rutgard, wasn't interested in selling – at least not for the price that was being proposed.  The original bid of $1,590,000, made on September 30th, 2004, was quickly denied.  In 2006, a higher offer of $2 million was introduced, but it was, again, declined.  The city continued to make offers up until March 2007, to no avail.  Then, the following month, a move was made to acquire the former bank branch via imminent domain.  Rutgard subsequently filed a lawsuit and, though he did lose the property, he was eventually awarded a settlement of $725,000 in 2009.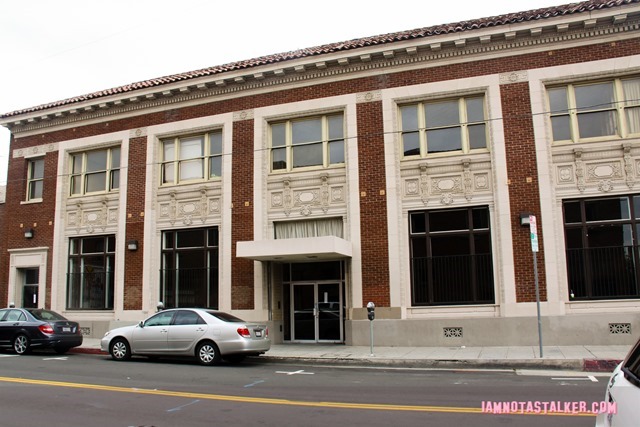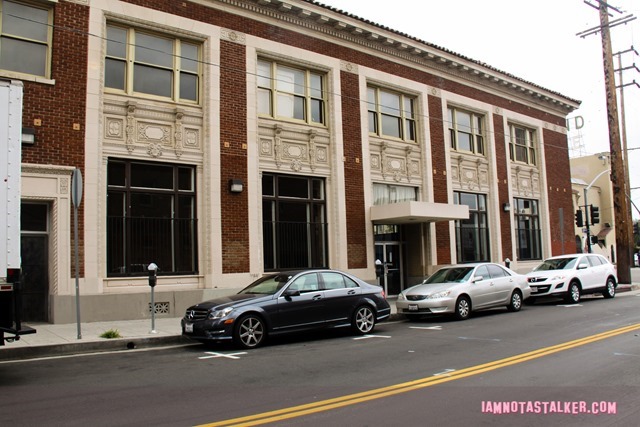 The Highland Park City Hall project never found its footing, though, and the former bank was left vacant and unused, except for the occasional filming.  And then things got really hinky.  Per the California Code of Civil Procedure, if a site is taken over via imminent domain, the city has ten years to either complete its plans with said site or propose a reauthorization of the existing stated public use.  If neither of those actions are taken, the property must be offered back to its original owner.  In this case, the city did not complete (or even begin) the renovation project within the decade.  And while a reauthorization was proposed, it was not done so by the ten-year deadline.  Regardless of that fact and over objections from Rutgard's lawyers, according to The Eastsider website council members went ahead and approved the reauthorization.  What the wha?  Talk about shady!  Not to mention unethical and seemingly illegal (though I'm no lawyer, so what do I know?).  I am unsure of where this leaves the bank, but hopefully it will be rehabilitated and brought back to its original glory à la The Federal in the near future.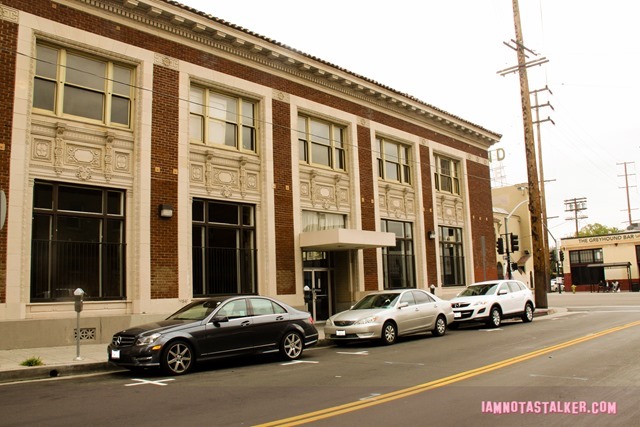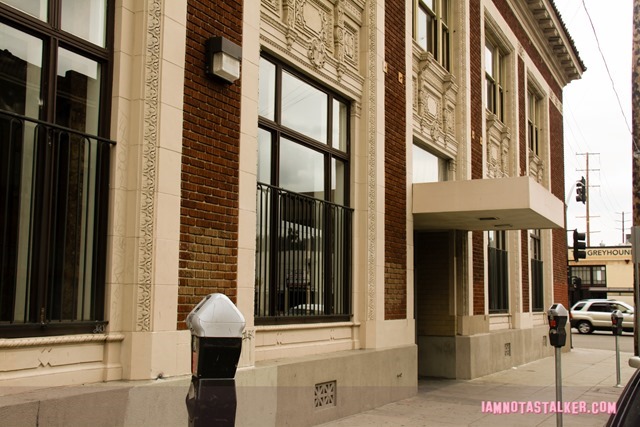 Security Trust & Savings Bank's Highland Park branch pops up a couple of times toward the beginning of Lights Out.  It is there that Teresa first sees – and gets attacked – by the shadowy being that has been tormenting her brother at night.  For those who have not seen the movie, the utterly creepy segment involves Teresa waking up to discover the specter at the end of her bed.  If you're feeling brave, you can check out a portion of the scene via the movie's trailer here.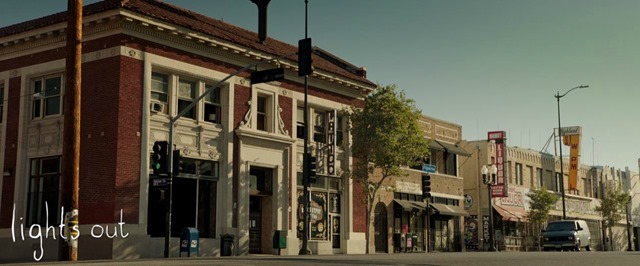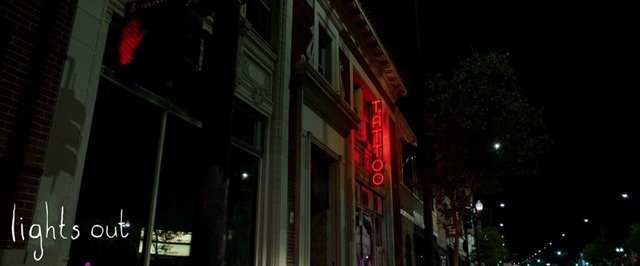 The bank building is shown from both its Avenue 56 and Figueroa Street sides in the film.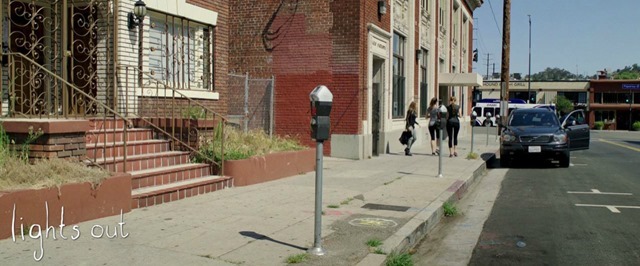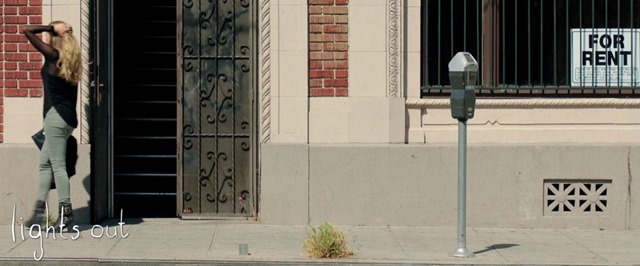 Only the exterior of the site appeared in Lights Out.  The interior of Rebecca's apartment was a soundstage-built set.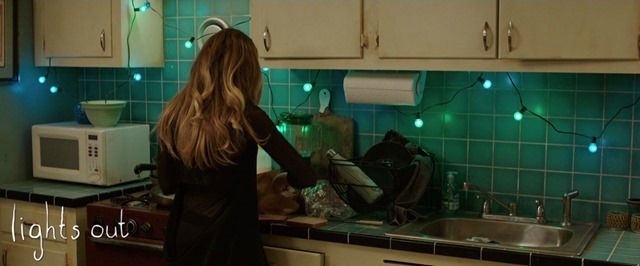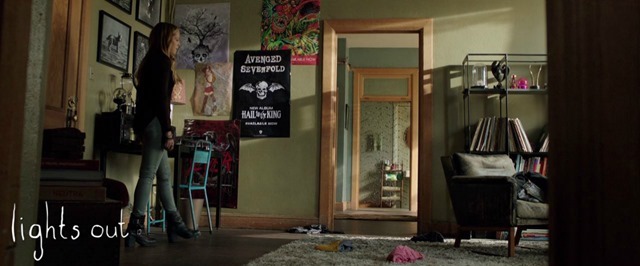 As I mentioned earlier, Security Trust's Highland Park branch was also featured in an early episode of Leverage.  In Season 1's "The Bank Shot Job," which aired in 2008, the building portrayed the Imperial Valley Bank in Juan, California, where Nathan Ford (Timothy Hutton) and his team thwarted a robbery.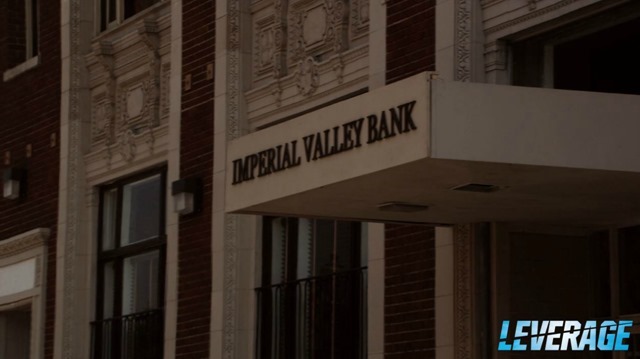 The structure's real life interior appeared in the episode, as well.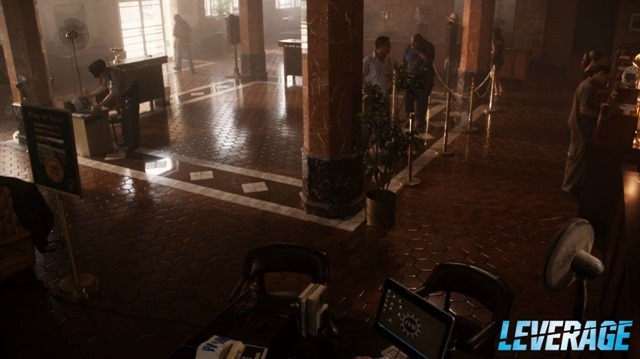 As I also mentioned earlier, the former bank portrayed Battle Creek PD on Battle Creek.  Only the building's Avenue 56 side was ever shown on the series.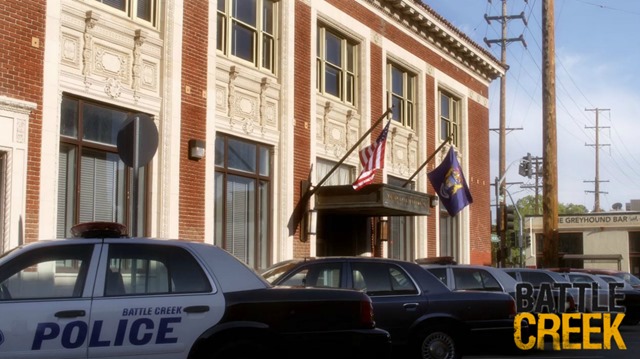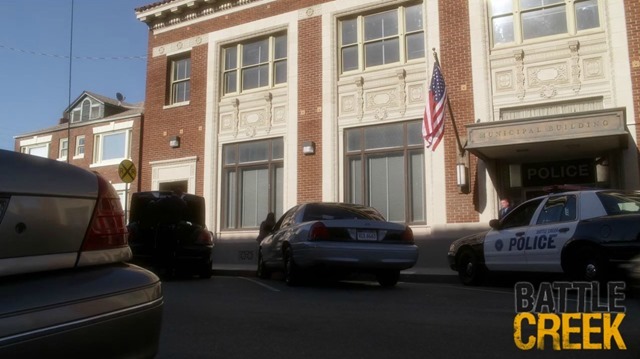 The inside was not utilized, either.  The interior of the Battle Creek Police Department, as well as that of the FBI field office were sets.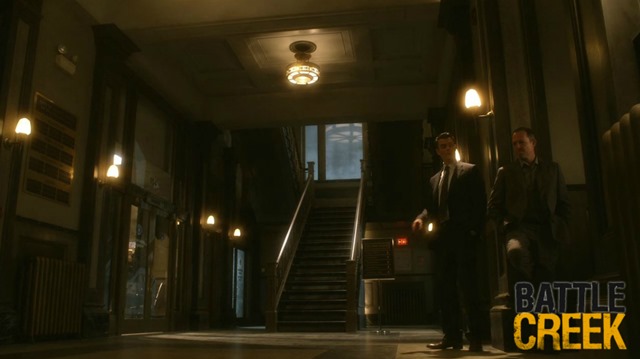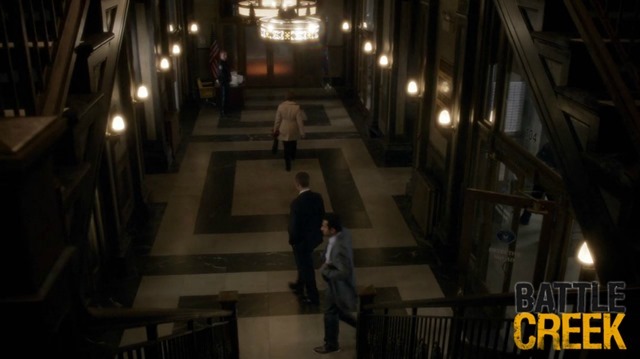 For more stalking fun, follow me on Facebook, Twitter, Instagram, Los Angeles magazine and Discover Los Angeles.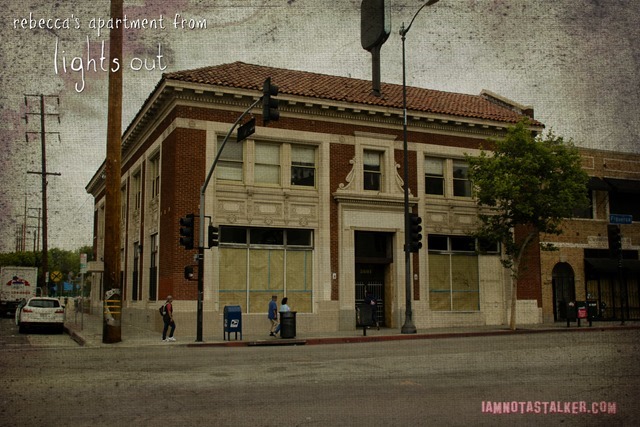 Until next time, Happy Stalking! 

Stalk It: Security Trust & Savings Bank's Highland Park branch, aka Rebecca's apartment from Lights Out, is located at 5601 North Figueroa Street in Highland Park.
109125